Al Iaquinta scored one of the most impressive victories of his MMA career when he demolished longtime fan favorite Diego Sanchez in the co-main event of April 22's UFC Fight Night 108 from Nashville, but instead of celebrating the huge knockout win, "Raging" Al continues to focus on his long-standing feud with the UFC and their way of treating fighters.
After touching on his beef with the UFC in his post-fight interview, Iaquinta continued to go off on his employers on social media in the moments directly following the fight, and today (Mon., April 24, 2017), the Long Island-born fighter elaborated on just why he's so incensed with the UFC during an appearance on The MMA Hour with Ariel Helwani.
Iaquinta, who made headlines by destroying a hotel room when he failed to receive a post-fight bonus for his knockout of longtime bonus winner Joe Lauzon, didn't receive one for knocking out Sanchez, either, and believes the UFC uses the broken reward system to control fighters:
"If anything, I hate that even more now,. Just not winning the bonuses, I don't know. I don't know whether they didn't give it to me because I didn't deserve it, or whether they didn't give it to me to kind of shaft me, because they said in the past that I wasn't eligible to win bonuses and maybe they're just sticking it to me. The whole bonus thing is just ridiculous. The fact that they're giving $50,000 bonuses, it's like their little way to control everybody.

"I don't understand how everyone just thinks that's normal. Fifty-thousand dollar bonus — a bonus is like a little something extra. Fifty-thousand dollars is like three times some of these guys' pay. That's not a bonus. That's like life-changing stuff. And oh, it looks great. But guess what? That's their little way to control you. You've got to suck up to the man. You suck up to the man, you get on the mic, you thank Joe Silva, 'thank you guys, you guys are the best, thank you Dana White, thank you Lorenzo Fertitta,' and those are the guys who get the bonuses. So it's their little way. Like, 'kiss my ass and I'll give you a little scrap.'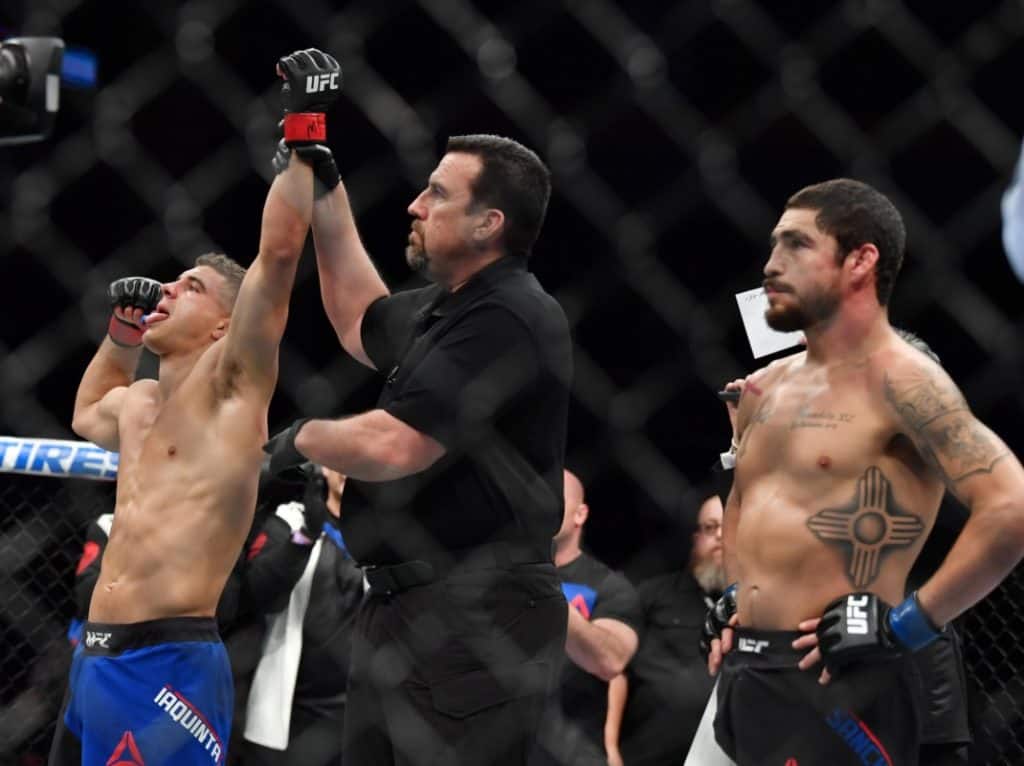 Iaquinta noted he had set up an alternative way of supporting himself during his recent two-year hiatus from fighting to recover from knee surgery. He's now carving out a career in real estate if fighting doesn't pan out, and he's clearly sticking to his stance that he'll never become a UFC stooge after they wouldn't pay for his surgery:
"But I don't have to do that anymore. I don't care. I took time out of my life to set myself up to where I don't have to suck up to anybody, and I can do it my way. And if I want to fight again, I'll fight. And if not, I'm not the guy who's kissing up to the UFC.

"I don't fight for the UFC. I fight for myself, I fight for my team, my family. The UFC has done nothing. They've done nothing for me. They freakin' left me high and dry. I had to beg them for freakin' knee surgery."
Understandably angered by the injury and how he was and is treated financially, Iaquinta described a scene where UFC President Dana White was blasting fighters who put their health on the line by calling the best part of the recent UFC 208 pay-per-view (PPV) 'the plane ride home.' Iaquinta correctly pointed out that White does not know what it's like to suffer harm as a fighter, and to completely write off the sacrifices they make is insulting:
"What I would like is to just be financially set to where, if I get hurt and I'm out for two years, I don't have to worry about teaching private lessons to pay my mortgage," Iaquinta said.

"Is that crazy? I'm a professional freakin' athlete who just was on TV, FOX Sports 1 co-main event, and $50,000 is what I walk away with? Are you kidding me?

"Dana White has done a lot for this sport, but he's not gotten one injury from this sport. And for him to say, 'the best part of UFC Brooklyn was the flight home' — you're on a private jet, bro. Shut the f*ck up. You're on a private jet. Most people, that would be the highlight of their life. Forget the night. You're on a private jet, of course it's the highlight of your night. Two guys are fighting in a cage, getting hurt. Jim Miller probably couldn't [walk]. Who was the leg kicks, someone was getting their f*cking leg kicked in? [White] owes an apology to all those motherf*ckers. That's some bullsh*t. Shut your f*cking mouth."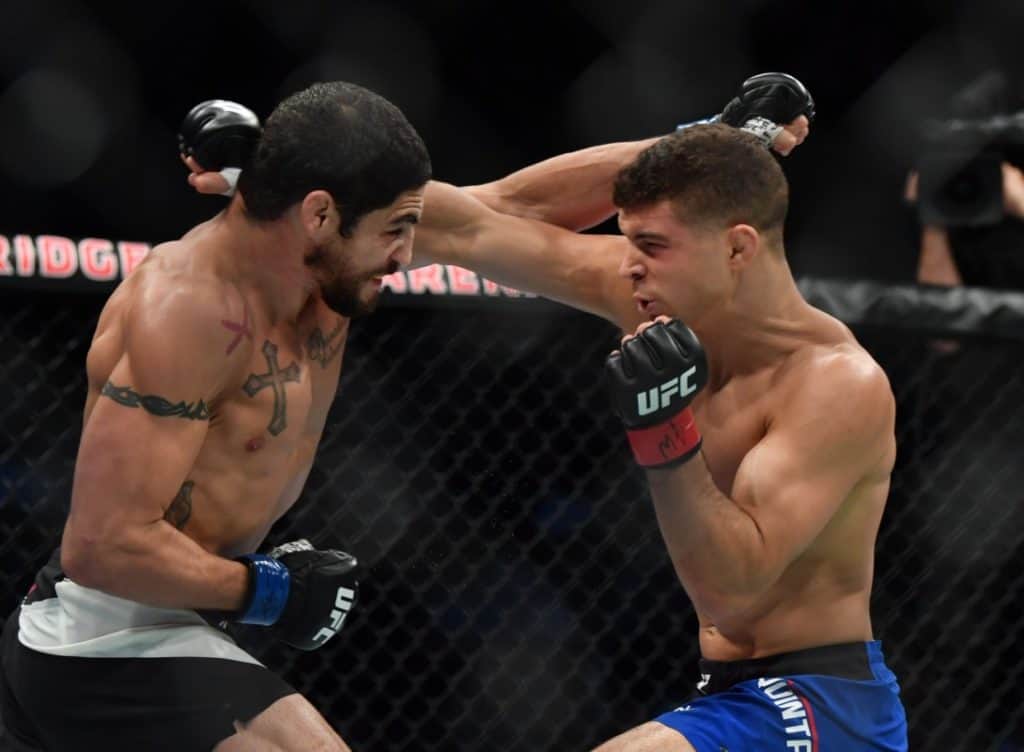 With fighter pay arguably the hottest topic of discussion in the year following WME-IMG's $4.2 billion purchase of the company from Frank and Lorenzo Fertitta, there remains little if any feasible representation for fighters in a selfish sport, as the many proposed unions and associations have floundered with little to no progress made.
Iaquinta believes it's actually White and the UFC who should be pushing for a union just like the UFC pushed the Reebok deal on the fighters. If the two sides could simply work together – an unlikely outcome as revnue would have to be shared with fighters more fairly – then the Reebok deal could actualy become a positive thing according to Iaquinta.
But since they only want to try to force him to sign less than lucrative contracts as White blasts fighters' performance in a very dangerous blood sport, Iaquinta instead had some choice words for the bosses he believes have given him the shaft:
"I think Dana White is the one who should be pushing (for a fighters union)," Iaquinta said. "It's not going to be great for them, but he should be the one pushing for it.

"Their whole thing with the Reebok deal is, 'it's like an investment for the future.' Alright, so invest in the future and get this union going. Help the fighters, and you know what, we could work with the Reebok deal. We could make it so that everyone is happy. But shove a piece of paper in my face, you say 'sign this or you're getting released,' I want to say f*ck you. That's not how you do things. That's not the right way. It's gotta be done right, and the Reebok deal could be good in some way.

"There would be a way to make me happy, to make us (happy). Are the rest of the fighters not seeing this? I don't understand how they just take it up the ass all the time. It's f*cking bullsh*t. It really is. For what we do, f*ck man, (Jake) Ellenberger got elbowed (on Saturday), he was unconscious for a while and I was like, 'f*ck, I don't even want to fight. Do I even want to do this?' I almost left the f*cking arena, I was like f*ck this. And [White] is going to say that 'the best part is the ride home.' Shut the f*ck up. Are you kidding me? Go f*ck yourself. Don't ever talk about a fighter like that. You're not a fighter. You don't do it. You don't know. All those guys."