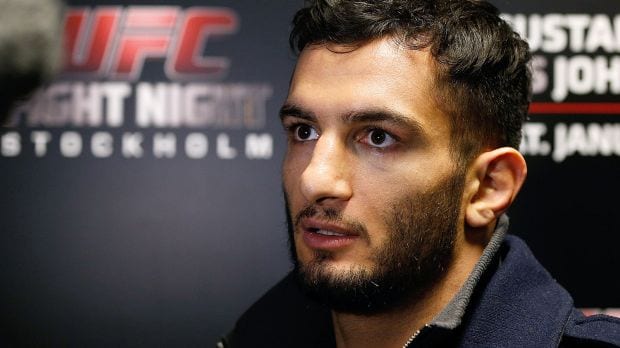 Former Strikeforce light heavyweight champion and No. 7-ranked UFC middleweight Gegard "The Dreamcatcher" Mousasi extended his win streak to two at UFC Fight Night 66 yesterday (May 16, 2015) when he scored a completely one-sided decision win over Costas Philippou. Prior to that, he starched ageing veteran Dan Henderson via first-round TKO last January.
Now back on track, "The Dreamcatcher" has his sights set on who he would like to square off with next. Speaking at the post-fight press conference (via Bloody Elbow), Mousasi put forth his desire to meet No. 9-ranked Michael Bisping, while taking a shot at the Brit in the process:
"I wanted Jacare. The only one who makes sense is Michael Bisping. But let's not challenge him, because he overreacts."
Bisping has split wins and losses in his last eight bouts, but recently got back on track as well. Meeting CB Dolloway at April's UFC 186, "The Count" scored a unanimous decision win in a back and forth slugfest.
With the top of the extremely stacked middleweight division being either booked or waiting for a title shot, this fight makes a lot of sense as both are looking to make their way back into title talks. For Bisping, his time is limited and a win over Mousasi would do a lot for his current stock.
For "The Dreamcatcher", this would extend his win streak to three and add a win over an established veteran. Having already fought twice this year, Mousasi said he would like to fight one more time this year, and once more next year before he eventually sees himself challenging for the gold:
"I'm hoping to fight this year. I'd have three wins, and next year maybe one more fight and go for the title. I see myself going for the title, but there are guys ahead of me."

Would you like to see this fight, and do you see Mousasi climbing up the rankings of the crowded 185-pound division?