Daniel Cormier: There Are 10 Guys Like 'Rumble' Johnson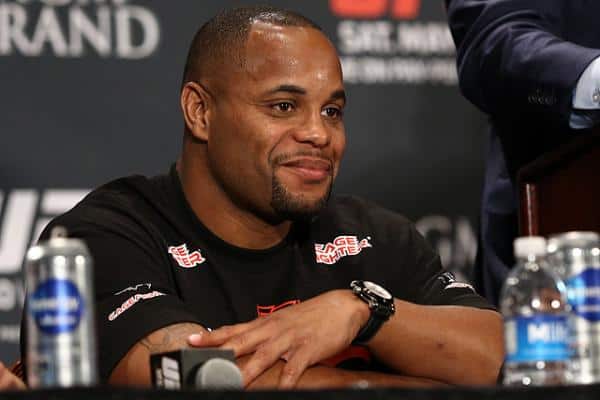 UFC light heavyweight champion Daniel Cormier had a rather frustrating 2016.
Cormier was scheduled to fight rival Jon Jones at UFC 197 in April of last year, but pulled out of the fight due to a leg injury. The fight was remade for that July's UFC 200, but again the fight was cancelled due to Jones testing positive for a PED. Although Cormier fought and beat a smaller Anderson Silva, he could not hide the disappointment that  he could not prove himself against Jones yet again.
Things didn't get better for the champ when his rematch with Anthony Johnson at UFC 206 fell through due to a groin injury.
It was recently been announced that he and "Rumble" will face off again at UFC 210 in April, speaking on The Luke Thomas Show yesterday, Cormier expressed how excited he is to get back into the Octagon and fight.
"I'm excited. Just last year was a very, very tough year, having to pull out of two fights, only getting to fight once. I usually fight a lot. 2015 I fought three times, I fought three of the best guys in the entire world. And last year, to only get one fight in, a three-round fight at that, it was tough. I feel excited now because I get to go back and do what I love to do, which is fight."
"DC" also believes that Jones should fight somebody first before he is granted another title shot, but there may not be much of a point to that, as Cormier admits that he's the only fighter he specifically game plans for.
"It's very difficult to say that he doesn't get a title shot because of who he is. For him competitively, he probably should fight somebody first because it's been so long in between fights but I just don't know if he'll be granted that opportunity. I fight in April, July is when he comes back. If he wants to fight right back in July, that would be a pretty quick turn around for me… So he would essentially have to end up waiting for me which would put him more time on the shelf, or he would try to fight before."

"I'm not really worried about what Anthony Johnson does. I have to worry about what I do to prepare myself. If I can be completely honest with you, the only guy that I actually watch what he does – try to game plan for him specifically – is [Jon] Jones. Because I know that against the rest of those guys my skills will outweigh their skills in the fight.

"I have to be specifically prepared for Jones because his skill set is so diverse and so unique, whereas Anthony is a big puncher, a big kicker. There are ten guys in the division like that. You don't see many Jon Jones's. Every heavyweight punches hard like Anthony does. Every 205 pounder's fast. There are a lot of guys that mimic his type of style whereas there's only one Jones so I feel like he's the only guy that I specifically game plan for."
Cormier is still be chomping at the bit to get his rematch with Jones but first he has to get through a knockout machine in Johnson, who has been on a tear, winning his last three fights all by KO.
Do you think "DC" will break "Rumble" once again, or will that cannon land on Cormier's chin for possibly looking past one of the UFC's most powerful strikers?