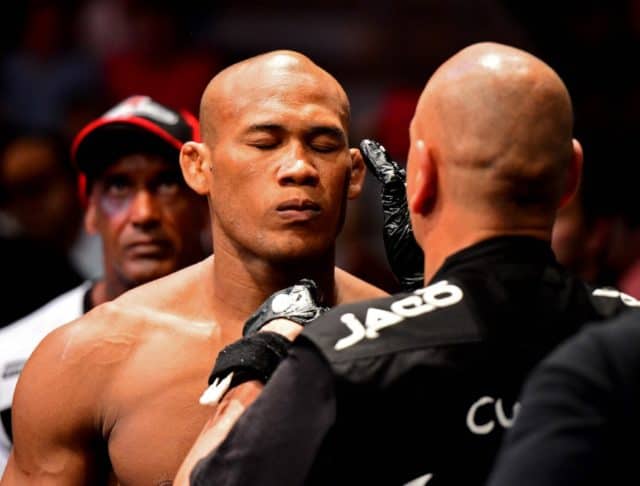 Heading into UFC 194 (December 12, 2015), No. 3-ranked middleweight contender Ronaldo "Jacare" Souza had won an impressive eight straight including five straight in the UFC, landing him on the brink of a coveted title shot.
Taking on fellow surging contender Yoel Romero, however, Souza ended up on the short side of a slightly controversial split decision with the judges handing "The Soldier of God" the victory.
Now almost a month after the fight, the Brazilian's team hasn't appeared to move on just yet. Speaking with Ariel Helwani, "Jacare's" manager claimed that Romero cheated and fought dirty:
"We still have not digested the judges' decision," manager Gilberto Faria told Helwani (via UFC Tonight). "Romero played dirty. If you look at the footage, he held the fence twice to avoid the takedown sequence in the second round and poked Jacare's eyes in the third."
While it's quite evident that Souza would like to get his hands on Romero in a rematch, he may not get his wish just yet.
The 185 pound title actually changed hands in the co-main event of UFC 194 with Luke Rockhold taking out former divisional kingpin Chris Weidman via a fourth round stoppage.
That being said, Romero could indeed be next in line for a shot at gold, leaving an obvious choice of pairing off "Jacare" with Weidman, two elite level athletes both of whom are coming off of loses.
It seems as if the Brazilian would settle with a bout against the former champion and it makes quite a bit of sense, as it would give each a chance to prove that they still belong in the title discussion.
If you were Joe Silva, would you match up Souza with "The Soldier of God" or Weidman?
If you enjoyed this story, please share it on social media!