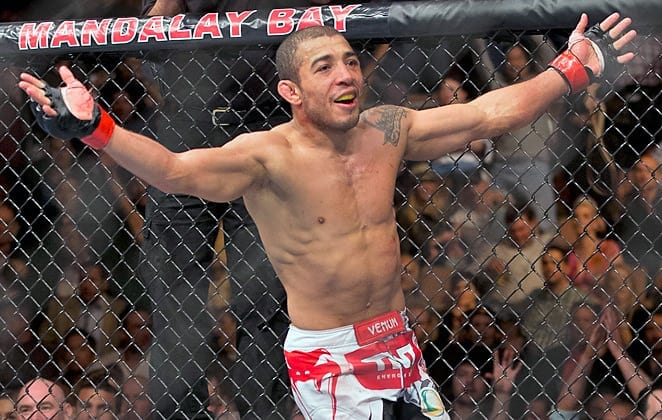 Former long-time UFC featherweight champion and former pound-for-pound king Jose Aldo shockingly lost his title in a brutal 13-second knockout to Irish phenom Conor McGregor in the main event of December 12's UFC 194 from Las Vegas.
Although many considered the "Notorious" one to be a serious threat to Aldo's throne, fans were surprised at the way in which McGregor dethroned "Scarface".
Despite losing the bout, however, Aldo was recently named to the Forbes' 30 Under 30 list.
As the only MMA fighter to be selected, Forbes' felt as if Aldo's resume and achievements speak for themselves:
"Even with his UFC 194 loss, Aldo would still make any comprehensive list of great UFC fighters," Forbes wrote. "He was the defending featherweight UFC champion and was ranked No. 1 in official UFC pound-for-pound rankings. He also went a decade without losing a match since 2005 and reigned as a world champion for 6 years."
Forbes undoubtedly has a point, as Aldo's reign atop the 145-pound division was illustrious, historic, and simply dominant.
Speaking on the selection himself, "Scarface" admitted that he was honored and humbled to be chosen for such a prestigious list:
"I have dreamed about a lot of things in my life," Aldo wrote. "Being a champion in the fighting world, winning the belt and bein #1 pound for pound in the UFC, and as any Brazilian, to play football in the Maracana stadium. Thank God, I've been able to make these dreams come true. But I've never even thought of being in a Forbes list. This is why I'm so grateful and humbled for being selected as one of the most important people in the world under the age of 30."
While expressing his interest in an immediate rematch with McGregor, it's unclear what may lie ahead for the former champion. What is clear, however, is that the Brazilian is in hot pursuit, gunning to reclaim his title.

Can he rise back to the top?