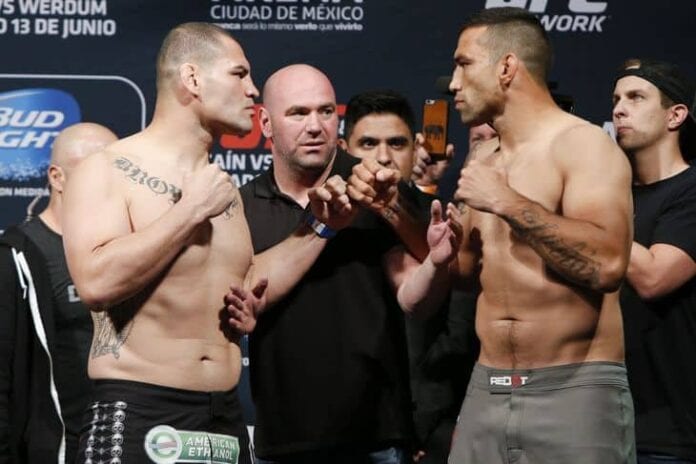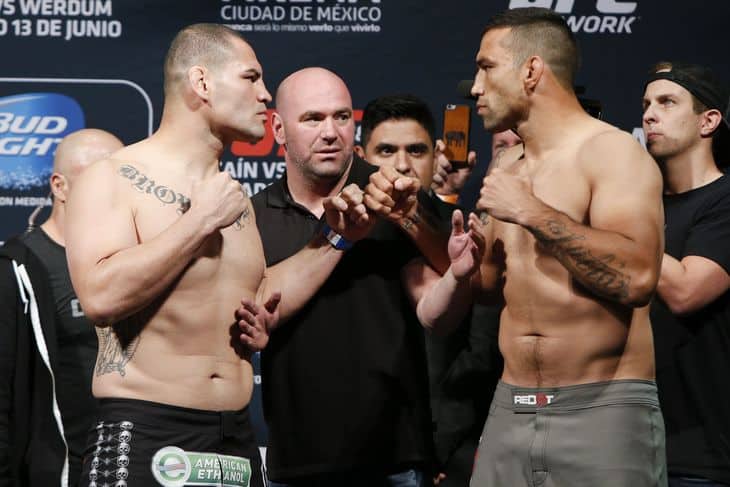 Newly crowned UFC heavyweight champion Fabricio "Vai Cavalo" Werdum will finally make the very first defense of his title when he takes on former champion Cain Velasquez in a rematch at February 6, 2016's UFC 196 from Las Vegas, Nevada.
UFC president Dana White confirmed the news with UFC Total earlier today (December 9, 2015):
Exclusiva de @tdn_twit @danawhite confirma Cain vs Werdum II 6 de febrero 2016 Las Vegas @cainmma @fabriciowerdum pic.twitter.com/Enr4iYj6Pm

— UFC Total (@UFC_TOTAL) December 9, 2015
The two heavyweights met for the first time last June at UFC 188 in Mexico which marked the first time that Velasquez was defending his title in nearly two years due to a slew of unfortunate injuries.
Despite the long layoff, many expected the American Kickboxing Academy (AKA) product to return to his normal form. Velasquez, a man many considered to be one of the best of all-time at heavyweight, is known for his relentless pressure-based attack coupled with his insane gas tank.
However, we didn't see that version of Velasquez show up in Mexico and it cost him big time.
The ex-champ seemed to tire uncharacteristically early, and "Vai Cavalo" jumped on his opportunity. The Brazilian was able to batter and pick apart Velasquez on the feet before ultimately scoring a fight-ending choke in the third round of what turned out to be a dominant performance from Werdum.
After the fight it was quickly confirmed that the two would rematch, but the champion needed some time off. More recently it was noted that the delays were due to conflicts with venues and scheduling, but it seems as if the UFC has settled on Superbowl weekend for the heavyweight rematch.
Did the Mexican altitude really deplete Velasquez the first time around, or is Werdum simply the better man?