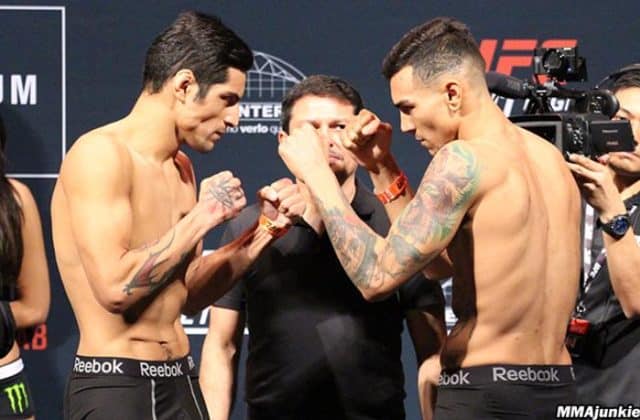 UFC Fight Night 78 is in the books, and now it's time for Reebok to pay the fighters their sponsorship money.
Neil Magny earned $10,000 for his win over Kelvin Gastelum, who earned $5,000, in the main event. Other notable fighters that were paid was Ricardo Lamas, who got $10,000, Diego Sanchez received $20,000, and then there were several fighters that only got $2,500 for their pay.
The full UFC Fight Night 78 payouts include:
Neil Magny: $10,000
def. Kelvin Gastelum: $5,000
Ricardo Lamas: $10,000
def. Diego Sanchez: $20,000
Henry Cejudo: $2,500
def. Jussier Formiga: $5,000
Erick Montano: $2,500
def. Enrique Marin: $2,500
Enrique Barzola: $2,500
def. Horacio Gutierrez: $2,500
Leandro Silva: $2,500
def. Efrain Escudero: $10,000
Erik Perez: $5,000
def. Taylor Lapilus: $2,500
Bartosz Fabinski: $2,500
def. Hector Urbina: $2,500
Alejandro Perez: $2,500
def. Scott Jorgensen: $20,000
Andre Fili: $2,500
def. Gabriel Benitez: $2,500
Alvaro Herrera: $2,500
def. Vernon Ramos: $2,500
Polo Reyes: $2,500
def. Cesar Arzamendia: $2,500
Michel Prazeres: $2,500
def. Valmir Lazaro: $2,500
UFC Fight Night 78 took place on Saturday, on November 21, 2015, at the Arena Monterrey in Monterrey, Mexico. The event aired on UFC Fight Pass and FOX Sports 1.
If you enjoyed this story, please share it on social media!