Tito Ortiz and Affliction Prepare Major Announcements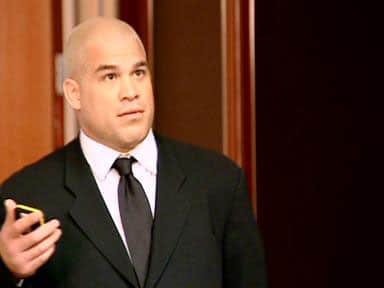 ("I just saved a bunch of money on my hepatitis test.")
In a new interview with MMA Weekly, Tito Ortiz reveals that he's just about done negotiating his next fight contract:
"Most likely I'm not going with the UFC, that's about 99% sure that that's not happening. I've got to be thankful for Lorenzo (Fertitta), what he gave me to this point, but it's too bad that they have a president the way he is, just hot headed the way he is, takes everything personal and I wash my hands clean…

I'm going to move on and I'm going to try another company out, I'm going to see how it goes. By the end of this month there will be a big news break, where Tito Ortiz is going and what I did for a contract."
If it's not the UFC, it has to be EliteXC or Affliction, right? Well, another report on MMA Rated has us thinking that Ortiz could be leaning towards the t-shirt company. As Affliction COO Michael D. Cohen told Ariel Helwani:
At this present moment, I can not give the reason [for the event cancelation] but what I can tell you is that there is going to be a public announcement made and this announcement is truly going to change the world of mixed martial arts. Unlike other similar statements made, the press conference that will be had in the near future will have the affect as I described it. [Ed. note: LOL!]
And when can we expect this earth-shattering announcement?
Within two weeks. We are truly hoping that it will be within one week, but the reality is two weeks. MMA fans all around the world will understand the reason for the postponement of the event. And something I want to make clear…The event has not been cancelled, it's postponed, and the reasons will become very apparent to all.
Call me a cynic, but I'm going to start preparing my FAIL photos. Cohen also discusses "Day of Reckoning"'s slow ticket sales and the UFC's Las Vegas meddling, and while he can try to re-direct our attention all he wants with this talk of a game-changing announcement, a postponed show isn't good news, no matter how he spins it. Although Fedor vs. Tito is certainly a freak show worth waiting for…
Update: Fowlkes just spoke with Cohen and asked him if Affliction's announcement had anything to do with Tito's announcement. His response: "Absolutely not."