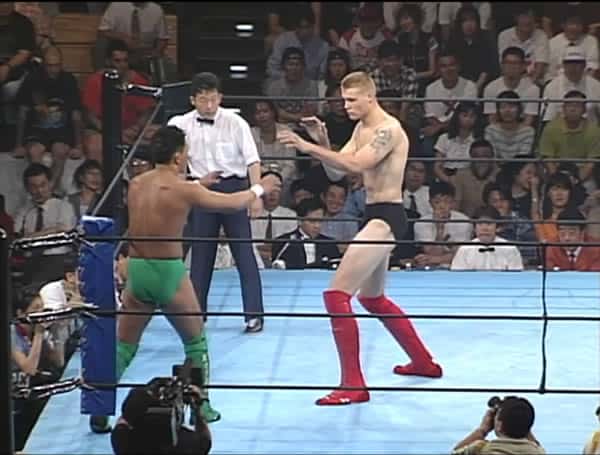 Semmy Schilt vs. Yuki Kondo 4
On three occasions the 6′ 11", 290-pound Dutch behemoth Semmy Schilt tried to defeat 5′ 11", 200-pound Japanese nemesis Yuki Kondo in the Pancrase organization, and on each occasion he lost out by decision.
'If at first you don't succeed: try, try again,' the old saying goes though, and Schilt took that to heart, managing to line up a fourth fight with Kondo at Pancrase: Breakthrough 10 in 1999.
The fourth fight started in curious fashion, with Kondo going for an early takedown against the ropes, only for 'Hightower' to sprawl and end up sliding out of the ring.
Safely reset in the center of the Octagon, they got back to it and as the fight progressed Schilt used his height advantage to easily land hurtful knees to his opponent's face.
Kondo began seeking a takedown with greater urgency, but as he tried for a single leg, Schilt was able to move behind him and partially cinch up a rear-naked choke, then pulled him to the mat with it and locked it up fully to force his rival to tapout.

So, at the fourth attempt Schilt finally emerged victorious, though wisely he avoided going up against Kondo again in his MMA career!