Outspoken, charismatic, foul-mouthed, passionate, brash and unapologetic – it's fair to say there has never been a head of a major sporting organization quite like UFC President Dana White.
It's perhaps no surprise then that his unique rise to the top, from his early days as a broke boxercise instructor in Boston through to becoming the frontman for the UFC and rich beyond his wildest dreams, has proven to be ever bit as colorful as his larger-than-life personality would suggest.
To prove it, in this article, we've lined up 10 tales in chronological order that encapsulate the wild, white-knuckle rollercoaster ride that White has been on over the course of the past few decades.
The Beatdown That Led To His Battle With Meniere's Disease
When he was 21 years old, White was jumped by a group of guys while he was at a bar in Boston and they proceeded to mercilessly punch and kick him for 20 minutes until the police finally showed up.
White recalls one of the attackers in particular repeatedly hammering him in the ear, which left him with a loud ringing noise in his ear that lasted for months afterward.
Doctors confirmed that he had permanent damage to that ear, but it wasn't until many years later that his situation deteriorated to the point that he was diagnosed with Meniere's Disease.
The illness hit White hard and he would start to suffer extreme dizzy spells that would strike at any time without warning and often lasted for many hours, leaving him incapacitated.
Worse still, there is no definitive cure for the disease, and the first surgery he undertook only made the problem worse, leaving him almost deaf in one ear and suffering from more attacks than before.
However, White then spent $10,000 on experimental platelet-rich plasma therapy in Germany with no guarantee of a successful outcome, but it miraculously worked and is believed to have cured his condition.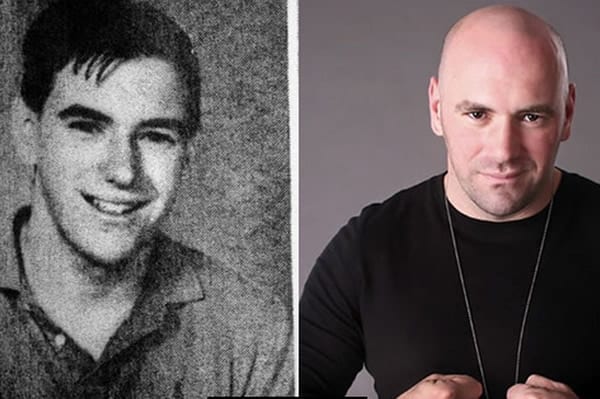 The Day Jobs Before He Struck Gold
After being expelled from school in Las Vegas, finishing his education while living with his aunt in Maine, and then giving up on college in Boston, Dana White took on numerous jobs in his early adult life, including the one he describes as the toughest of them all – shifting asphalt for a paving company in the heat of summer.
"I will credit that job to a lot of my success," White once told the Boston Globe.
White also worked as a bouncer at the Black Rose Irish pub in Boston, while a much more lucrative job saw him serving as a bellhop at the Boston Harbor Hotel.
Regardless of the job, the recurring theme even back then was White's love of fighting.
For instance, his former boss at EJ Paving recalls White arranging wrestling matches between his co-workers, while White himself has admitted that he used to organize brawls with his fellow bellhops in the closet during breaks to settle disputes if someone stepped out of line, only targeting below the neck line so that their customers wouldn't notice the bumps and bruises when they returned to work.
However, though the bellhop gig was earning him $60,000 a year, White wasn't satisfied, describing it as "the most degrading job I ever had," and so he made what would prove to be a fateful decision to embrace his entrepreneurial spirit and somehow get involved in combat sports instead.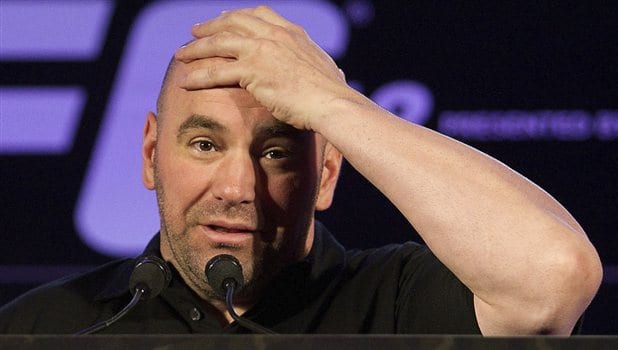 Being Run Out Of Boston By An Infamous Gangster
In the early 1990's, White partnered with boxer Peter Welch to start a 'Get Kids Off The Street' program in Boston that would see them teaching the youngsters how to box.
Essentially it was a charity and wasn't a big moneymaker, but they kept the lights on by also teaching boxercise classes to local people, and that became so successful that they began to expand into health clubs across the city.
Unfortunately for White, that caught the attention of notorious gangster Whitey Bulger, with his henchman Kevin Weeks and other members of his crew showing up in the middle of a fitness class he was teaching one day and made it clear they wanted a cut of the money he was making.
Afterwards, White kept his head down and hoped that he wouldn't run into them again, but it wasn't long before they phoned him at his home demanding that he pay them $2,500 by 1 pm the following day.
White didn't have that kind of money and was in no doubt that something bad was going to happen if he stayed, so that same day he packed his bags, purchased a plane ticket to Las Vegas and fled Boston.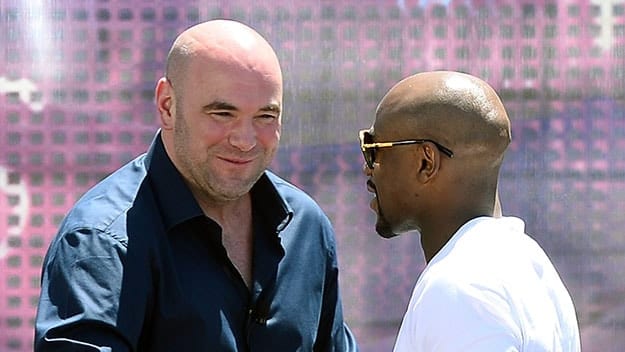 Sponsoring Floyd Mayweather Jr. For His First Pro Boxing Fights
During the mid-1990's in Las Vegas, White was still looking for ways to move into the boxing market.
By this stage, he had befriended the famous Mayweather boxing family and became a familiar face at their gym, where a young up-and-comer by the name of Floyd Mayweather Jr. was about to embark on a journey to become one of the sport's all-time greats.
Back then, White managed several amateur fighters and also owned a boxing apparel company called Bullenbeiser, and so Floyd agreed to wear the brand's gear for his first four professional fights.
The two would later drift apart and had somewhat of an uneasy relationship in the years that followed as both rose to fame and fortune in rival combat sports.
However, things came full circle in the past year when talk of UFC lightweight champion Conor McGregor fighting Mayweather first began to circulate.
"I don't have anything against him but I can remember Dana White used to hang around me and Jeff Mayweather and carry my bags," 'Money' told Fight Hype as he attempted to belittle the UFC President as being just an "employee" and not someone he wanted to do business with.
However, he would later change his tune and apologized to White on a leg of their whirlwind Mayweather vs. McGregor press tour.
"No matter what I've said about you in the past, as a man I look in your face and apologize and tell you I'm sorry," Mayweather told him. "You've done a hell of a job with this company."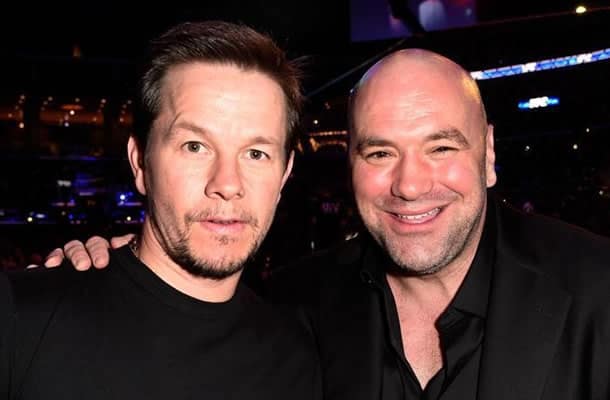 Meeting Robert De Niro While Living With Mark Wahlberg
In 1996, White lived with actor Mark Walhberg at his home in Los Angeles for a few months to help him prepare for a role as a boxer in an ill-fated movie based on the life of Vinne Curto.
The cast also included Robert De Niro, who was playing the role of Angelo Dundee, and one day White was on set training Wahlberg when the movie legend walked in, and it's fair to say that he was starstruck.
So much so in fact, that he started to make De Niro uncomfortable.
"Mark grabs me and pulls me aside and says, 'Dana, you got to stop staring at Bobby. You're freaking him out,'" White recalled in an interview with Sports Illustrated many years later.
"I'm like, 'Mark, it's f—ing Robert De Niro, man. I'm in a room with De Niro and I guess I was staring at him the whole time.' He's like, 'I'm telling you man, if you don't stop staring at him you're not going to be able to go back in the room. You're totally freaking him out!'"
White agreed to play it cool, but it proved to be easier said than done, and let's just say that he didn't end up on De Niro's Christmas card list, though he's still friends with Wahlberg to this day.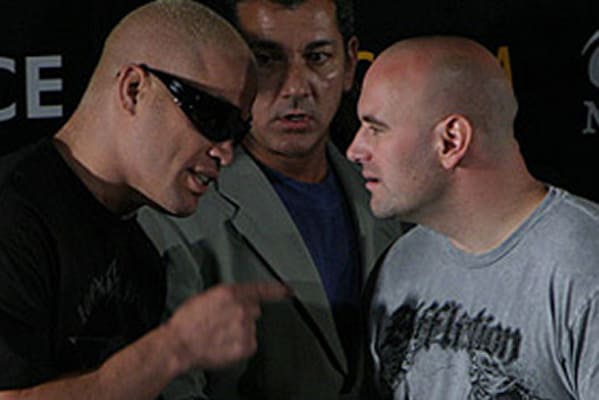 The Time He Brawled With Tito Ortiz On A Private Jet
Dana White and former UFC light heavyweight champion Tito Ortiz have had a rocky relationship over the years, and at one point agreed to have a boxing match that would be aired on Spike TV, though it fell through when Ortiz no-showed at the weigh-ins.
However, White has claimed that he used to, "beat the living sh*t out of Tito" in sparring sessions, while once bad blood between spilled over so much that they started brawling on a private jet.
"Tito and I were messing around, and he put me in what's called a neck crank," White told talk-show host Conan O'Brien.
"I was tapping and he didn't stop. You can seriously hurt somebody in a neck crank, especially as big and strong as Tito is. So, I just started blasting him in the ribs – started punching him in the ribs – and when he let go, (I) just jumped up, and it was just a full blown fistfight in the plane.
"We were literally taking off, and the plane was (going back and forth), and the Fertitta brothers had to jump in and break up the fight."
Ortiz remembers it differently though, stating afterward that, "I was manhandling him. But it was fun."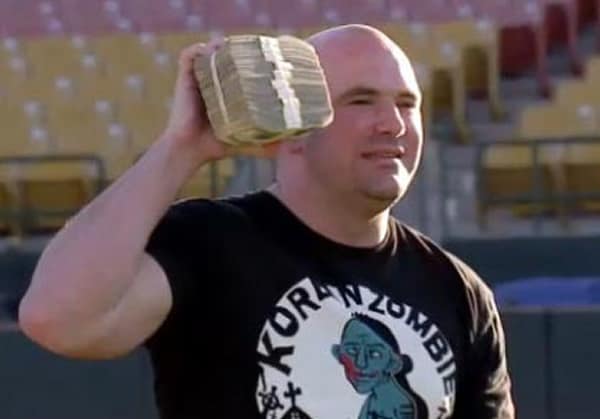 Being Banned From Major Las Vegas Casinos
Few people loving gambling more than White.
In fact, he's been known to have frequent all-night blackjack sessions, get two hours' sleep afterward, then resurface again to take his kids to school.
It turns out that he's very good at it too, as he's also been known to beat the house for staggering amounts of money.
"There's nights I beat the casinos for $5,000,000," White once claimed in an interview, adding that he'd then have to stuff his earnings into trash bags because the casinos wouldn't provide a suitcase.
Some of the major casinos have even gone as far as to ban White, such as The Palms, who faced a backlash from their own workers after cutting his credit as they were cashing in big-time thanks to his notoriously generous tips, while the UFC president further hit them in the pocket by choosing not to book events there anymore.
The bosses at The Palms eventually relented a couple of years later, but then had to drastically reduce the amount he could bet per hand after he won $2,000,000 over a three-month period while playing blackjack for $25,000 a hand.
That again forced White to move on, but not before the Palms awarded him a title belt that declared him to be the 'PALMS Undisputed Blackjack Champion.'
Fixing His Daughter's Severed Ear
Dana White was enjoying the UFC 192 main event between Daniel Cormier and Alexander Gustafsson at cage-side in October of 2015 when he received a call from his wife, who was hysterical.
It transpired that his English Bull-Mastiff dog had just jumped on his nine-year-old daughter and bit her ear off after she refused to give it the ice-cream cone she had in her hand.
White frantically got hold of one of the UFC's own official doctors who was working at the event and he started arranging for a specialist to sew the ear back on again.
However, White intervened, insisting that he wanted a top plastic surgeon to do it instead because he'd seen the results of their work compared to doctors many times over the years in the UFC and knew that they would do a better job of making the stitching look good cosmetically.
Thankfully, the surgeon hand-picked for the surgery was able to reattach her ear successfully, and according to White it now looks as good as new, but the dog had to be put down as a result of the incident.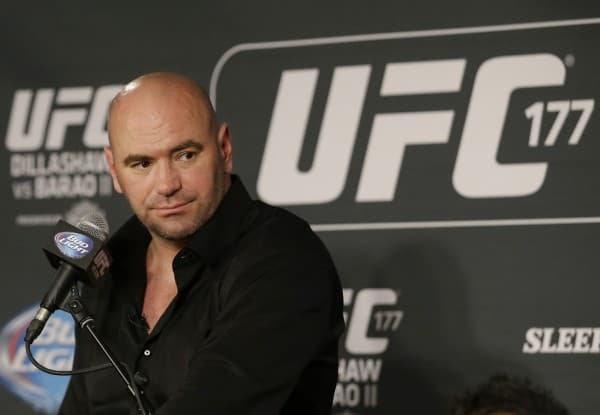 His Howard Hughes Moment
When the UFC was sold to WME-IMG for $4.2 billion in July 2016, White banked an estimated $360 million from the deal while also retaining his spot as the UFC's president in addition to now earning 9% of the company's yearly profits.
However, by his own admission White struggled to come to terms with the life-changing deal, particularly knowing that it marked the end of an era, with his two childhood friends, Lorenzo and Frank Fertitta cashing out and leaving the company.
"When this deal closed, it bugged me out a little bit," White confessed to Jimmy Kimmel. "I kind of Howard Hughes'd myself up into a hotel room for a couple of days. I couldn't eat or sleep, it kind of freaked me out a little bit."
White hasn't gone into much detail about exactly what was going on in there, but in the end, it was Lorenzo Fertitta who helped pull White out of his sudden depression.
"Lorenzo actually got me out of the hotel room. I had to come down and address our employees. I was in a weird place. One-hundred percent, (it doesn't sound like me). If you had told me that would happen to me, I'd have said you're crazy. That would never happen to me. But it did.
"But I'm back. I'm over it now. It was a weird time, it was a weird thing, but I'm back."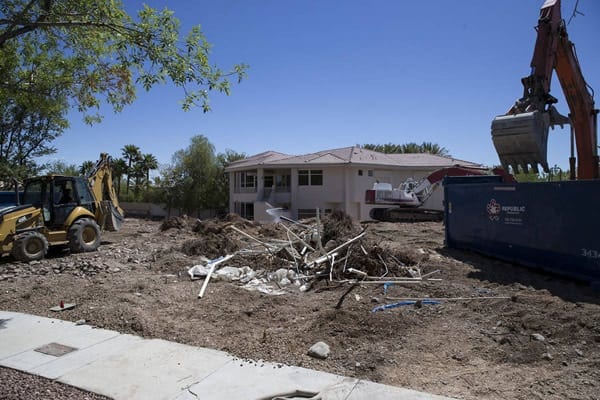 Building His Own Las Vegas Compound
White purchased his UFC business partner Lorenzo Fertitta's old home in the exclusive Tournament Hills area of Las Vegas for $1.95 million back in 2006, but not content with that, he's recently splashed out a total of $6.2 million on three more mansions surrounding it over a six-month period.
However, reports indicated White didn't intend to keep them and instead was looking to bulldoze them in order to expand his own compound.
Part of the reason for this is that he hasn't exactly had the best of relationships with his neighbors, who bitterly complained to authorities after White had an enormous pool with waterfalls and slides built in his backyard without proper planning permission.
White's kids loved it so much that he opted to just pay $2,500 a month in the fines that started coming his way for five years rather than remove the structure.
"I fought that thing right to the end and I ended up winning it," White told the palmbeachpost.com. "They were going to have to send a cruise missile in there to take that pool out."
Meanwhile, In the winter of 2013, White spent a small fortune having snow imported onto the long driveway of his Vegas mansion, just so his kids could sled down it on Christmas day.
The mind now boggles at what White will have up his sleeve next now that he has all that extra space to play with!