When you've been commentating for as long as Joe Rogan has in the UFC, it's inevitable that there will be a few bloopers hiding away in the archives.
Admittedly, the lion's share of UFC gaffes belong to Rogan's long-time broadcast partner Mike Goldberg, who could probably compile a feature-length film with all the time he's put his foot in his mouth live on-air.
Nevertheless, we've sifted our way through the footage to bring you 10 classic examples of things not quite going according to plan for Rogan when the cameras were rolling.
Shoving Fan Away During Broadcast
Anybody who's seen Joe Rogan kick a heavy bag or demonstrate his jiu-jitsu skills will know that he's not a man to be messed with.
With that in mind, this fan inadvertently put himself in harms way when he tried to walk in front of the camera while Rogan and Goldberg were talking live to the audience during an event on Spike TV.
From the look on his face, Rogan clearly has a no tolerance policy for this kind of thing and so he reacted instantly, forcefully shoving the man back the way he came, then chuckled to himself before getting straight back to business.
Rogan vs. Mike Goldberg's Feet Warmers
Some of the best Rogan soundbites have occurred when he mistakenly thinks his mic isn't on, as occurred during the preliminary broadcast at 'UFC Fight For The Troops 2' in 2011.
While waiting for a fight decision, Rogan learned that Mike Goldberg was wearing feet warmers, and that wasn't something he was going to let slide, mocking his co-commentator mercilessly – much to the amusement of those fans who were listening in.
"You got feet warmers?" Rogan asked Goldberg in disbelief. "This motherf*cker I'm working with has got feet warmers. Are you sh*tting me? We're at a fight. We're at a cage fight on a military base, and this a*shole has feet warmers."
Rogan And Goldberg Unaware The Cameras Are Still Rolling
Joe Rogan and Mike Goldberg might be consummate professionals when the camera's are rolling, but off-air thing can get a little weird.
Fans got to witness that first-hand when the camera mistakenly stayed on the two during a commercial break at UFC On FOX 5, catching their ritual of coughing, snorting, stretching, and Rogan pulling weird faces!
Another behind-the-scenes video suggests that it's probably just as well that the UFC's strict drug-testing policy doesn't extend to the commentary team!
Goats Vagina / Rape Choke
There are a number of occasions when Rogan has got carried away and dropped X-rated terminology into his commentary.
For instance, there's the time that Rogan got a little overly creative when he declared that an enormous cut above Marvin Eastman's right eye at UFC 43 looked like "a goat's vagina."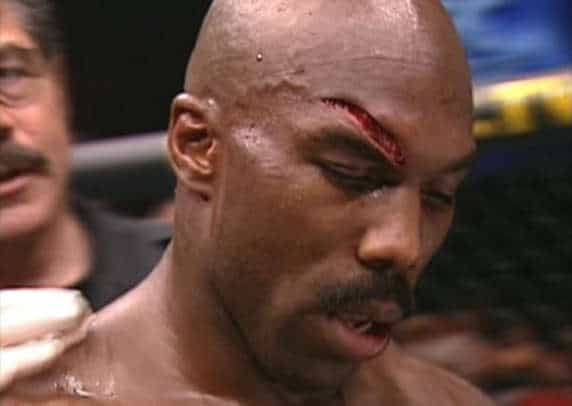 And then there's the occasion that he described a 'Front choke' in a manner that wasn't exactly suitable for the live Spike TV broadcast at UFC Fight Night 13 in 2008.
"Here's the end (of the fight)," Rogan said while commentating on a replay of Matt Hamill's victory. "He's got the rape choke in place and just dropping left hands all over Tim Boetsch."
Rogan used the same risque 'rape choke' terminology again a few years later during Wanderlei Silva's fight with Keith Jardine, but it's not been heard since, with the commentator admitting on a podcast that UFC President Dana White had personally told him not to use it again.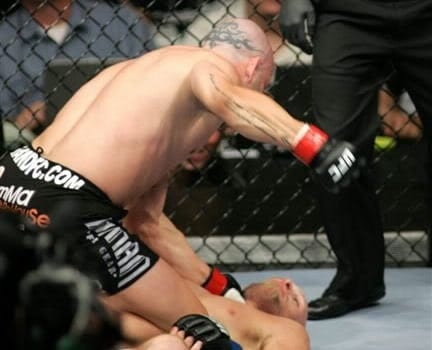 UFC On FOX 14 Weigh-Ins Rant
Live TV broadcasts can be a stressful business, especially when you have the production team barking instructions in the presenters' ear.
Most hosts just grin and bear it, but not Joe Rogan. When the production team got a little too chatty on his earpiece at the UFC On FOX 14 weigh-ins, he shut them down real quick.
"Hey! Calm down with the talking to me!" a clearly annoyed Rogan snapped, unaware that his comment was being broadcast to the world, perfectly in sync with the opening titles for the show.
Brock Lesnar Fixation
There's perhaps no fighter that has captured Rogan's imagination more than Brock Lesnar during his heyday in the UFC.
Rogan used to wax lyrical about the gigantic heavyweight fighter, describing him as, "a freak of a man, the high end of the genetic spectrum," that he believed was, "a direct descendant from ancient, giant warriors."
Rogan's fascination with Lesnar's physique led to him getting a little over-excited as the superstar weighed in for UFC 141.
In all fairness, Rogan has a habit of getting overly caught up in the UFC weigh-ins, though it's usually the staredowns that really get his attention, as this collection of highlights shows.
Rogan vs. Bug
This daring fly was lucky not receive a spinning kick to the head when it landed on Rogan's eyelid while he was presenting to the camera alongside Mike Goldberg at UFC 123.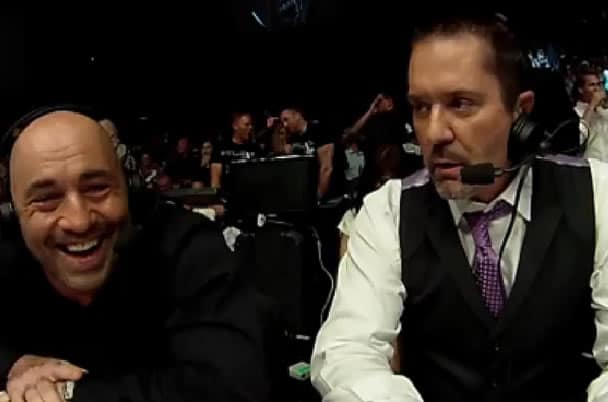 Rogan Calls Out Mike Goldberg's Blooper
There's no question that Mike Goldberg is the king of the bloopers in the UFC, and Rogan is never afraid to call him out when he drops a clanger, as was the case in this classic exchange.
Mike Goldberg: "You can hear the corner speaking Portuguese!"
Joe Rogan: "Uh, that's Japanese, brother"
Mike Goldberg: "I should have known that."
Joe Rogan: "You're the one married to a Japanese chick."
Mike Goldberg: "That is correct."
Joe Rogan Questioning Jose Aldo's Physique
During the fighter introductions to Jose Aldo's blockbuster title fight with Conor McGregor at UFC 194 last year, Joe Rogan mistakenly thought he was off-air as he began to question the champion's physique.
"Looks how smooth his body looks," Rogan told a UFC producer, under the assumption that it was a private conversation.
"Yeah, he looks good, huh, Joe?" the producer replied.
"No, he looks soft," Rogan responded.
"He does?"
"Yeah, he looks soft," Rogan confirmed, before appearing to hint at his suspicions that the Brazilian star had used PED's in the past. "He looks way different, but it could be that he's done a lot of cardio. I mean, I don't want to jump to conclusions.
"Aldo looks nervous as f*ck too," Rogan continued before the feed was cut.
Rogan's criticisms emerged on the net, forcing him to come out later and apologize to Aldo.
"There was an audio "leak" from inside the UFC production truck right before Saturday night's fight where I said that Jose Aldo's body looked smooth and deflated, and that I didn't want to jump to any conclusions and that it could have just been from doing a lot of cardio," Rogan wrote on Instagram. "I also said he looked nervous. Needless to say this caused a lot of controversy.
"Since then people have posted photos of Aldo recently as well as from this fight, and he looked very similar.
So for that, I stand corrected. My apologies for being wrong to Aldo and his trainer Andre Pederneiras. I have nothing but admiration and respect for both of them."
The Blooper That Wasn't Really A Blooper
When Darren Elkins gained the upper hand against Diego Brandao at the UFC 146 prelims, Joe Rogan appeared to drop an almighty f-bomb live on FX.
"He's badly hurt here, Mike. He's getting f*cked up!" some fans swore they'd heard Rogan shout out in the heat of the moment.
As hilarious as that would have been, Rogan later clarified on social media when asked about it that what he'd actually said was, "he's getting thumped on."