MMA fans all around the world are eagerly awaiting the fight of the year between Conor McGregor and lightweight champion Khabib Nurmagomedov at UFC 229 in Las Vegas on October 6, 2018.
Because of that, now seems like the perfect time to look back at the long-running feud between the two that's led to this showdown being declared the biggest fight in UFC history.
Enjoy.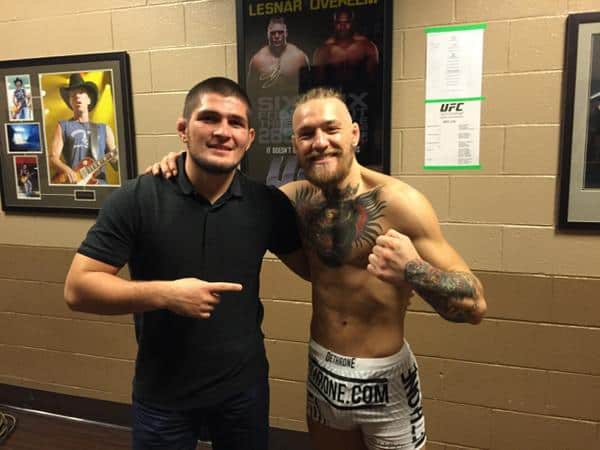 The Warning
While it's long since been forgotten about, in the early days of McGregor's rise to stardom in the UFC's featherweight division, he and Nurmagomedov appeared to have a cordial relationship. They even took a picture together backstage after one of the Irishman's victories in 2014.
In fact, at one stage McGregor even rightly suggested that Nurmagomedov would one day become the champion of the 155-pound division.
However, McGregor defeated Jose Aldo to win the 145-pound title the following year and began to signal an interest in lightweight. Nurmagomedov was quick to warn him that would be a bad idea based on his presence.
"I think Conor is a good fighter but if he thinks he can come to the lightweight division and have a chance of beating me he is delusional," Nurmagomedov told arabsmma.com.

"I'm the worst match-up for him in the UFC. This is why he is trying to move up and fight RDA [Rafael dos Anjos] now. He wants to avoid fighting me. If he comes to lightweight and fights me I will give him a great welcome."
"Four minutes, I smash him – no problem." Nurmagomedov declared in a seperate interview.
The Backstage Confrontation
Prior to the weigh-ins for his lightweight title fight against Eddie Alvarez at UFC 205 in Madison Square Garden, McGregor was all kinds of fired up.
He got into a heated verbal confrontation with welterweight champion Tyron Woodley. Then, he also attempted to square up to his Russian rival.
The two eyeballed each other. Though much of what was said was inaudible, Nurmagomedov can be heard telling McGregor that, "I'll smash your face in."
However, security guards were on-hand to keep the two fighters apart. Nurmagomedov eventually walked off, telling his rival, "we'll see", leaving the Irishman prowling around like a caged animal as he yelled back, "yeah, we will see!"
Asked by the media about the confrontation afterward, Nurmagomedov warned that, "I have big experience fighting in the streets."
But when a UFC official attempted to cut the interview short, he reluctantly acknowledged that at the same time he was now a professional fighter and a father. Because of those dynamics, he wanted to fight 'The Notorious' in the cage, not outside of it.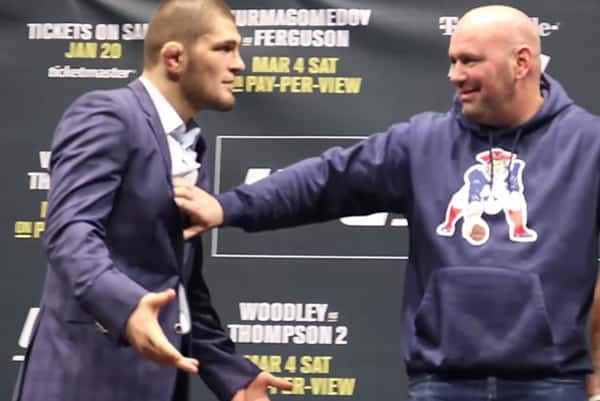 Shouting At Dana White
A fight between McGregor and Nurmagomedov appeared to be in the works for UFC 205 in 2016 after contracts were sent out when talks stalled between 'The Notorious' and the champion at the time, Eddie Alvarez.
However, the Russian fighter's camp would later put the UFC on blast for using him as a pawn after Alvarez signed on the dotted line to fight McGregor at the NYC event soon afterward.
Nurmagomedov fought Michael Johnson at the same event instead, and he took out on his anger on both his opponent and also Dana White, who got an earful from 'The Eagle' in between rounds.
"I said, 'Hey, don't send me no more of your fake contracts, I need real contracts,'" Khabib recalls yelling at the cage-side White. "So he said, 'Hey, you have to finish this fight.' I told him, 'You already know I deserve this. After this fight, you need to send me a real contract.' And then he told me to go finish it.

"After I finished fight I told him I'm waiting for agreement; maybe in Brooklyn, UFC 209, why not? February, UFC 210 in Las Vegas. Anywhere, it doesn't matter. Russia, Ireland, I can fight in his backyard, anywhere. I know all of you know I deserve this."
Nurmagomedov also had an ominous warning for his boss.
"Be careful, I'm going to smash your boy!"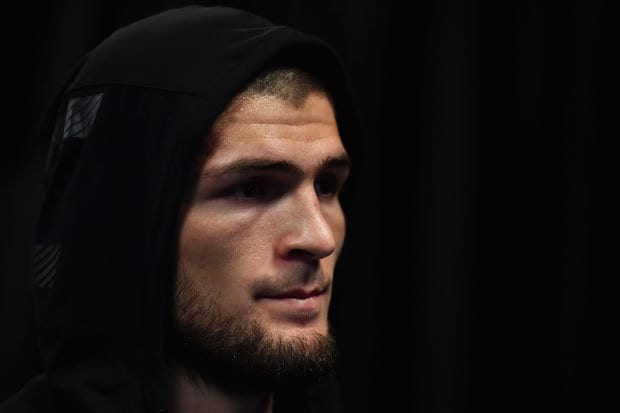 Die Like A Samurai
After winning the lightweight title at UFC 205, McGregor was asked about the possibility of fighting Nurmagomedov next. He questioned whether he deserved the opportunity due to his history of injuries.
"He ain't fighting too frequent for my liking," McGregor told the media backstage. "For me to commit to something like that, I need to see solid proof that people are gonna show up and he's a consistent pull-out merchant."
Nurmagomedov believed McGregor was simply trying to duck him. Because of that, he decided to send a direct message to McGregor on Twitter.
"Conor you the Champion now you need to fight with me," Nurmagomedov wrote.

"If you run every time you look in the mirror you not going to respect yourself, your kids not going to respect you, your friends, your family won't respect you.

"Die like a Samurai don't chicken out please. I know I'm bad matchup for you but you the champion and you need to fight the best. It's ok.

"Die like Irish warrior don't run like chicken. Irish people have history and fight for long time you need to represent your people with honor."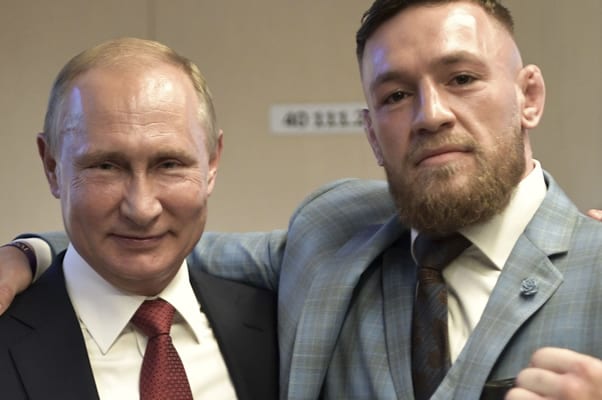 Russian Showdown
McGregor's boxing debut against Floyd Mayweather in the summer of 2017 was an enormous global spectacle.
But even in the midst of the media circus that was their pre-fight world tour, he was still planting the seed for his eventual return to the Octagon against Nurmagomedov.
""Conor tells me, 'I want Floyd Mayweather then I want f***ing Khabib in Russia,'" a beaming White told reporters at one of the stopovers on the tour. "How do you not love him? How do you not love Conor McGregor? Amazing."
Of course, as it turned out the fight won't take place in Russia after all. But according to McGregor's long-time striking coach Owen Roddy, the fighter did genuinely want to fight Nurmagomedov in his own backyard.
"Conor's a mad thing," Roddy told BBC 5 Live Sport. "He's very funny. He turned around to me and he's like, 'There's talk of me fighting Khabib. I might do it in Russia'.

"And he's like, 'You know what we'll do? We'll do it like Rocky, we'll go to Siberia. We'll train in the snow and I'll get one of those yokes that you put on your shoulders to get the lats'.

"He was serious. He was like, 'Let's go!' I says, 'I'm not going to Siberia!'

"But that's it. He could go. Conor does mad things, and that's what we love him for. There's not many people would do that but Conor's like, 'I'll go to Russia and fight you in your back garden just to prove who I am'."
McGregor has since attended the 2018 World Cup final in Russia as a guest of President Vladimir Putin while Nurmagomedov was also in attendance Nonetheless, the fight will still take place in Las Vegas.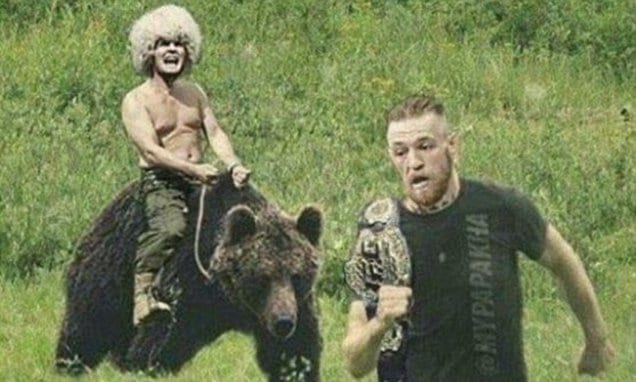 I Slaughter Your Pets
After handily defeating Edson Barboza at UFC 219, Nurmagomedov used his post-fight interview to call out his two biggest rivals in the division.
"If UFC gives me one hour rest, I can fight one more time with Conor or Tony, no problem," Nurmagomedov told Joe Rogan.
That caught the attention of McGregor, who was quick to respond on social media.
"Truly truly truly get on your fucking knees and beg me," McGregor wrote. "Otherwise I don't give a bollox.

"My whiskey is out this year and that's Diddy bread."
Nurmagomedov fired back by posting a photoshopped picture of McGregor running away from him while he was seated on the back of a bear.
However, McGregor then upped the ante again.
"I slaughter your pets and wear them as coats. And I only wear them once."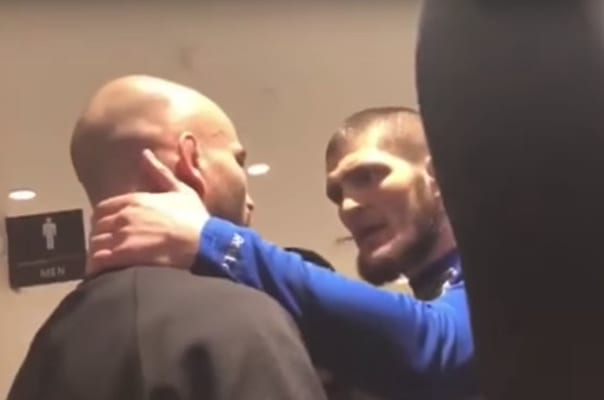 The Artem Lobov Showdown
Lobov is a longtime teammate of McGregor, and he's never been short of something to say about his friend's rivals.
So when Nurmagomedov suggested that the Irishman was scared to fight him, he retaliated.
"Did you see Conor pulling out of a fight even once?" Lobov told Sport24ru last year. "Everyone has injuries, everyone has problems making weight, but one is a champion and shows up no matter what, and the other one is a coward who pulls out every time."

Apparently, Nurmagomedov didn't take kindly to being called a coward. So during UFC 223 fight week in New York City earlier this year, the Russian and several members of his entourage confronted Lobov in a hotel lobby.
"Don't say my name, you understand me?" Nurmagomedov told Lobov as other members of his team gathered around him. "You got it or not? I'm asking you…say it to my face…You said I'm a pussy? Did you?"
Nurmagomedov had his hand around the back of Lobov's neck and appeared to slap him too, before eventually going their separate ways. Nurmagomedov gave a final warning not to speak about him anymore.
However, that would prove to only be the start of this particular story…
The Bus Attack
McGregor reacted with fury because of the video of Nurmagomedov intimidating his teammate Lobov at a Brooklyn hotel during UFC 223 fight week.
He instantly decided to gather his entourage and get on a private jet from Dublin to New York City in order to confront his rival.
After landing in "The Big Apple," McGregor and his crew swarmed into a UFC 223 media day in Brooklyn looking for Nurmagomedov. But by then the Russian and a few members of his team were already down in the parking bay getting into a bus.
However, the angry mob led by McGregor managed to reach them before they left and immediately set upon the bus The Irishman was caught on camera picking up a steel dolly and throwing it through one of the side windows.
Nurmagomedov was unharmed. However, the smashed window left fellow fighter Michael Chiesa bleeding from cuts to his face, while Ray Borg had tiny fragments of glass in his eye, therefore leading to both fighters' bouts being scrapped.
McGregor didn't stop there, however, almost managing to throw a trash can and a chair at the bus too before being restrained, while the front window of the bus was also smashed after a chair was thrown by another member of his crew before they all fled the building into a waiting vehicle and sped off.
Send Me Location
In the aftermath of McGregor's attack on the fighter bus, everyone was waiting with baited breath to see how 'The Eagle' would respond.
As it turned out, Nurmagomedov was as cool as a cucumber despite the chaos that had just ensued. He opted to mock his rival for his actions. Meanwhile, he made it crystal clear that if McGregor wanted to settle their differences behind closed doors then he'd be there.
"I am laughing inside," Nurmagomedov said. "You broke window? Why? Come inside. You know UFC don't let you come inside. If you real gangster why don't you come inside?

"This is big history gangster place. Brooklyn. You want to talk to me? Send me location. We have to talk? I am gonna come, no problem; I grew up like this, I don't grow up throwing chairs at window. This is not my bus.

"To be honest, I don't want him to go to jail. We have to fight. If we have to fight, let's fight. Send me a location. Please, we have to fix this. Me and you. One-on-one. You want 10-on-10? OK."
McGregor's Arrest
In the aftermath of the bus attack a warrant was released for McGregor's arrest and his plane was prevented from leaving New York. The star eventually turned himself into the police. He was charged with three counts of assault and one of criminal mischief due to the attack.
At the time there was talk of potential jail time for the superstar. A few months later a plea deal was reached to ensure he'd escape time behind bars.
After his court hearing, McGregor tweeted, "Cavalry, Canada," before quickly deleting it, suggesting that he may have been looking to confront Nurmagomedov. The Russian was set to be the special guest for a Q&A at that weekend's UFC on FOX 31 event.
However, despite McGregor having gotten off lightly in court, Nurmagomedov would go on to insist that he would still be punished. The punishment was being locked in the Octagon with him for 25 minutes at UFC 229.
"To be honest, inside my heart I am a little bit happy about this," Nurmagomedov said of McGregor getting little more than community service for the attack.

"Because if he goes to jail, what happens? How can I catch him? How? Only inside the cage. I can't believe we're going to fight, because I really want this guy. Make him humble, a little bit teach him, and not only smash but change his face. I want to change his face. Of course, with face I can change his mind, too.

"…Even if I have a chance for a submission or choke, I'm going to keep punishing, talk with him, enjoy inside the cage. I can't wait.

"It's going to be [like] jail [for McGregor]."