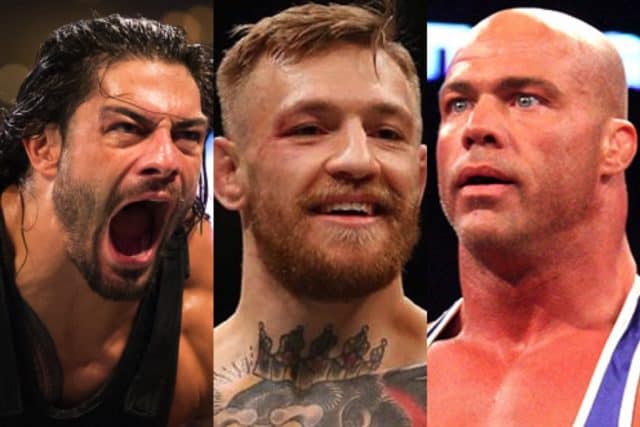 UFC featherweight Conor McGregor may have another fight to worry about instead of his UFC 202 contest against Nate Diaz, and it's with the entire World Wrestling Entertainment (WWE) locker room.
In a recent media conference call for UFC 202, McGregor was asked if he would ever consider a career in the industry of professional wrestling, and had this to say:
"For the most part, those WWE guys are p*ssies, to be honest," McGregor said. "They're messed up p*ssies, if you ask me. Fair play to Brock [Lesnar], he got in and fought, but at the end of the day he was juiced up to the f*cking eye balls, so how can I respect that? And then what's the other guy? The other guy hasn't fought yet, so I don't know about him yet."
"There's some dons in that wrestling game," McGregor said. "The McMahons, they're dons. Triple H is a don. The Rock is a don. But the rest of them are p*ssies."
"I haven't really thought of that to be honest," he said. "Again, that's a little more show business. This is the fight business."
McGregor would take a lot of heat from WWE fans following his comments, and took to Twitter to apologize in his own special way:
I didn't mean no disrespect to the @wwe fans. What I meant to say was that I'd slap the head off your entire roster. And twice on Sunday's.

— Conor McGregor (@TheNotoriousMMA) August 7, 2016
Current and former WWE stars wasted no time to respond to the 145-pound champion on Twitter, you can read their reactions here:
Your the size of my leg. Shut up. https://t.co/fBVEdf8hE1

— Roman Reigns (@WWERomanReigns) August 7, 2016
@TheNotoriousMMA @WWE very funny little guy. Why don't you get your head out of Dana White's ass

— Kurt Angle (@RealKurtAngle) August 7, 2016
Sorry pal no disrespect to u, but my fights are legit, unlike the fixed fights u have in @UFC. I'll embarrass u. https://t.co/X5WCyeHYbf

— Chris Jericho (@IAmJericho) August 7, 2016
Coming from a guy who built a career copying my persona, I expected the type of class we get from Ronda or Anderson. pic.twitter.com/iVoC0Xva5g

— Ric Flair® (@RicFlairNatrBoy) August 7, 2016
After Diaz finishes you again, I dare you to try guys like Dolph, Brock, or Fit.

Oh you're welcome for your gimmick pic.twitter.com/0qziVjlMav

— Ric Flair® (@RicFlairNatrBoy) August 7, 2016
I beg to differ kid https://t.co/u6KmP7C1Sy

— Baron Corbin (@BaronCorbinWWE) August 7, 2016
Maybe I'm late to the party……..what weight class and what size locker room is being called out #WWEGuy

— Bill DeMott (@BillDeMott) August 7, 2016
I think McGregor could do well in the featherweight division……if the WWE had one. https://t.co/90XGpSICS9

— AJStyles.Org (@AJStylesOrg) August 7, 2016
Never show a Jack Russell a mirror. It thinks it's a majestic Irish Wolfhound. Really, just an annoying wee yapper trying to sell tickets.

— Sheamus (@WWESheamus) August 7, 2016
Yikes, looks like @TheNotoriousMMA could really use a bowl of Booty O's right about now. Someone hook him up…https://t.co/aLuSQvt7P2

— Kofi Kingston (@TrueKofi) August 7, 2016
Would you prefer to find us individually or have us all line up at once? I know your time is valuable, sir. https://t.co/XPnKhWAlza

— ShinigamE (@WWEBigE) August 7, 2016
I would pay good $$ to see @RealKurtAngle STRETCH THE PISS outta @TheNotoriousMMA and make him tap. #itstrue https://t.co/Uvo8H34nHy

— Bubba Ray Dudley (@BubbaRayDudley) August 7, 2016
Bring it https://t.co/e9guQ9bi0f

— $asha Bank$ (@SashaBanksWWE) August 7, 2016
Hey @TheNotoriousMMA, cool name by the way. U think u could slap my head off? Come try me! I'd mop ur sorry ass! @WWE

— Curtis Axel (@RealCurtisAxel) August 7, 2016
Remember what I always say smart dudes know what is good for business. #classicheel. @TheNotoriousMMA https://t.co/TOsat43cz0

— Jonathan Coachman (@TheCoachESPN) August 7, 2016
McGregor will take on Diaz in the main event of UFC 202 live on pay-per-view (PPV), from the T-Mobile Arena in Las Vegas, Nevada on August 20, 2016.
If you enjoyed this story, please share it on social media!