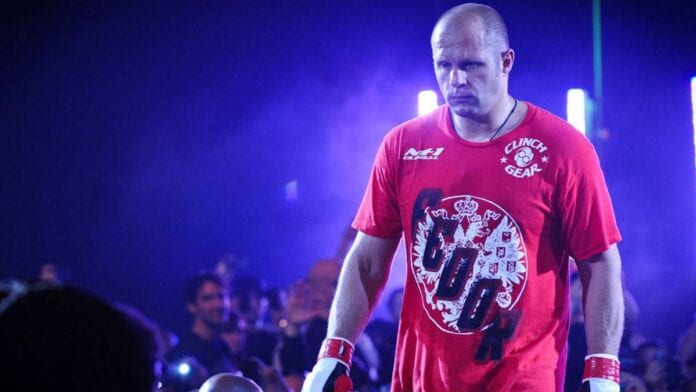 The news that all-time MMA (mixed martial arts) legend Fedor Emelianenko has un-retired shook the media this week. After a brief stint as a politician, it seems even the spiritual 'Last Emperor' was unable to resist the lure of a fighting return. The question now is where and who will he scrap upon his return? The obvious candidate for the best challenges is the UFC, but that's by no means a sure bet for Emelianenko. Dana White remained non-committal on the subject, and there's every chance that Fedor goes back to the promotion that he rounded out his first MMA stint with, M-1 Global.
That's arguably not what his millions of fans want to see, but aside from the aforementioned, there's only really Bellator MMA, ONE FC at a very long shot, and (fill this space). Yes, WSOF (World Series Of Fighting) might just fill in the blank there, as their executive Ali Abdel-Aziz tells MMAFighting's Marc Raimondi:
"We're just making moves," Abdel-Aziz said. "We can afford Fedor. We can afford Brock Lesnar. We can afford whatever we want to afford. But somebody has to move the needle, and I think Fedor definitely moves the needle."
"If M-1 is interested in doing stuff with us, I'm open to do it," Abdel-Aziz said. "It's not only going to be World Series of Fighting. I think M-1 is an amazing promotion. They've been around for a long time. And I think if we want to go to Russia and do something with M-1 and Fedor is involved, some kind of co-promotion, I'm OK with that. I don't know if any other promotion would do that, but we are open."
Co-promotion was essentially what kept Fedor from fighting in the UFC, but for a smaller organization like WSOF, it could be a huge benefit to the deal. The lesser known brand will essentially be buoyed by not only one of the biggest names in the game, but Eastern Europe's largest fight promotion. As he continues, Aziz explains that Fedor could get revenge on Blagoi Ivanov, their heavyweight champion, who defeated Emelianenko in Russian combat sambo:
"I think maybe Fedor would like to get revenge, because I know sambo means so much to him," Abdel-Aziz said. "Even more than MMA. And now he can get revenge against our heavyweight champion. We'll give him a chance to get revenge and pay him top dollar."
"We have such great partners and they entertain ideas," Abdel-Aziz said. "I think NBC would entertain the idea and I think bringing in someone like that can really move the needle. He's one of the guys that moves the needle, that we can write big checks for.
"We can compete with anybody. We can definitely compete with Bellator, we can compete with the UFC. It depends what Fedor wants to do. He can come here and be the biggest star, we can put him on NBC and NBC Sports. Or he can go to UFC or Bellator and be one of the guys."
Aziz makes an intriguing arguement, but is there any weight to his claims? For a true icon of the sport like 'The Last Emperor', the bigger brand orgs will likely dig very deep in to the kitty, will Ray Sefo's WSOF stand a chance in the shark tank?
The race for Fedor is truly on, we'll keep you updated throughout here at LowKickMMA!