Woodley "Excited" For Hendricks Bout, Plans To "Capitalize"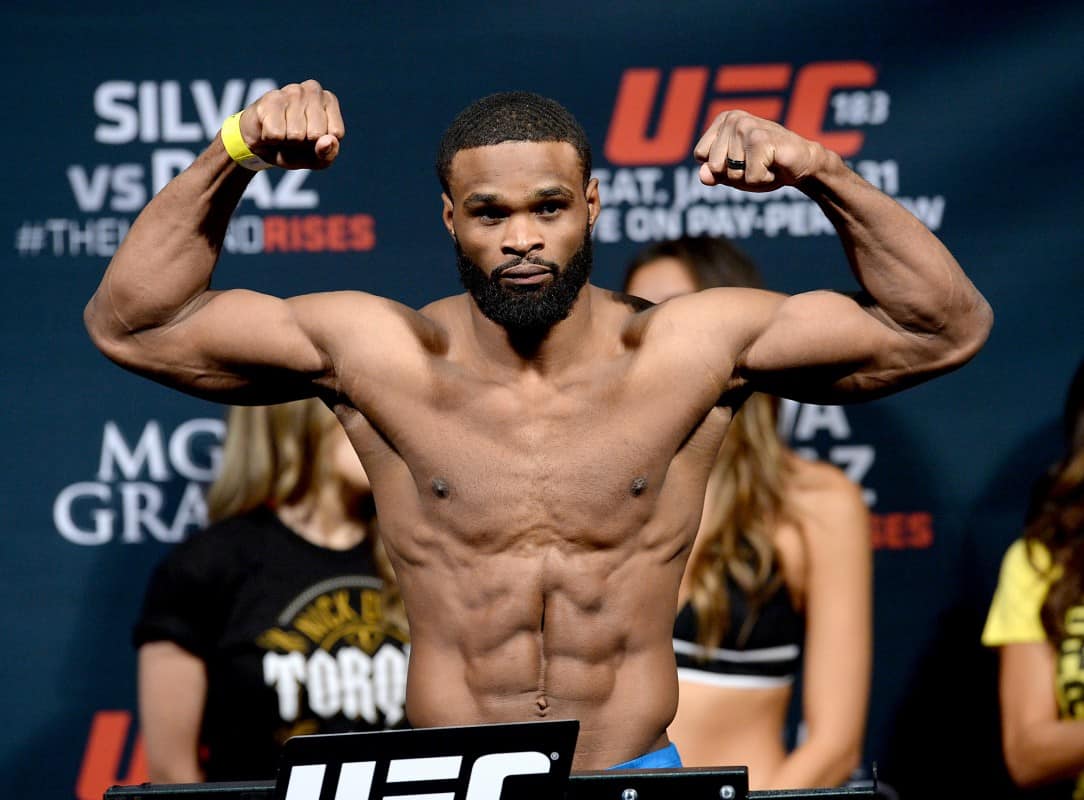 No. 3-ranked welterweight contender Tyron "The Chosen One" Woodley has been campaigning for a fight with No. 1-ranked former champion Johny Hendricks for quite some time now, and "The Chosen One" has finally gotten his wish. The UFC recently announced that Woodley and Hendricks would be squaring off at UFC 192 on October 3, 2015 in Houston, Texas.
Woodley, who spoke on the MMA Hour recently, stated that usually he gets butterflies when offered a bout agreement, but this time he was excited and calm, but not because "Big Rigg" isn't a challenge. "The Chosen One" is fully aware of Hendricks' skill set, but Woodley plans to capitalize:
"I was excited. Sometimes you get offered a fight and you get those butterflys like 'man this is a good fight.' Especially in our division. Everybody in our division is so tough, and they're so gamey, man. Every fight is a hard fight but this was really calm. It was really relaxed. It was, 'alright, when? What's the date? When can I get my contract?' It as really subtle," he recounted.
"It was not because he's not the type of who doesn't give you that fear or anxiety because he can knock you out. He can wrestle you. He can do a lot of different things. He can take punches. It's just, I'm a man of faith and I believe that when I put my mind to something – remember, they told me I wasn't going to get the Carlos Condit fight, either, and what happened? I ended up getting it and making the best of it – So I expect to go out there and do the same thing, [and that's] capitalize on this moment."
Moving on, Woodley explained why he's wanted to fight Hendricks for so long, noting that he wants to fight the best, and that he wants his title shot, if he earns one, to be well-deserved:
"I'm a sportsman, man. I want to fight the best. He's a former champion, he's had three or four title shots. One he pulled out and the other were very close. He is arguably one of the best if not some people think he's the best guy in the world," he began.
"Me, I can go out and fight a guy that is outside the top 10 or one that is a good style matchup and I can go out there and put on this crazy performance, beat him up and look all amazing and get a title shot that way. But me, I know beating the best and continually and consistently doing that, is going to make my road to the title deserved and earned. That's when i can look in the mirror and sleep at night and feel comfortable about that."
This fight is perceived to be a title eliminator bout, as it without a doubt features two of the best 170-pounders in the world squaring off against each other. Hendricks is coming off of a win over Matt Brown, while Woodley has won four out of his last five, his most recent win being a unanimous decision over Kelvin Gastelum last January?
Who are you picking in this one?