From the title, you might be thinking "If someone has missed weight, haven't things already gone wrong? When is missing weight ever a good thing?" Well, last night it turned out alright for the guys who lost their battle with the scale. The men it went poorly for were their opponents.
Last night's (October 1, 2016) UFC Fight Night 96 had several fighters in prominent positions on the bill miss weight. On the undercard, Hacran Dias missed the featherweight limit by 2.5 pounds, and wound up on the wrong side of a unanimous decision to Andre Fili. This is an example of when missing weight goes right, or at least according to plan. The competitor who struggles with his weight cut, whether because of injury, illness, or lack of discipline, is supposed to get outperformed on fight night. His opponent "did everything right", and fans hope he will be rewarded for that. Fili left Portland with 20 percent of Dias' purse and a win over a ranked opponent to boot.
The fact that all three offenders are Brazilian is probably irrelevant. There are half a dozen Brazilians fighting on just about every card, never mind the cards in the South American country when the number is north of a full dozen. They make weight the vast majority of the time. So it's not as if Brazilian fighters aren't disciplined or don't know how to cut weight. Gleison Tibau has been making 155 for a decade for goodness' sake.
If the list did not include Lineker and "lightweight" Oliveira, the fact that three Brazilians missed weight on the same card would highlight the difficulty of making weight in a foreign country. Local food and culture are sometimes radically different, and it can be difficult for a fighter to stick to his usual pre-fight diet when what he normally eats might be hard to come by.
While it might be true in theory, that explanation is a hard sell when considering the offenders in this case. Lineker has always had issues on the scale, having missed the 126-pound flyweight limit in a full half of his eight UFC flyweight bouts. Now back up at bantamweight, the struggles continue. And of his 12 fights in the UFC, only three have been in his home country. So it's not as if Lineker is unfamiliar with trying to make weight away from home.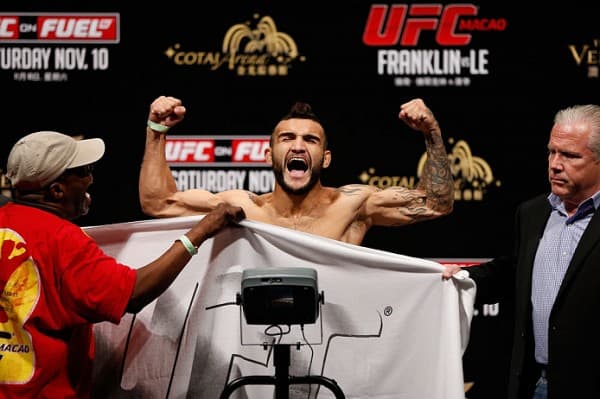 The more disturbing trend is that Lineker hasn't really been disincentivized from missing weight by what happens on fight night. The only time he tipped the scale heavy and then lost was his UFC debut. After going five hard rounds in which he threw north of 300 strikes but looked fine doing it, the weight "cut" clearly doesn't affect his performance. Often when fighters come in heavy, they look awful on the scale, drawn or otherwise out of peak shape. 'Hands of Stone' looks fine at the weigh-ins and sensational on fight night. Lineker can continue to brush off his weight troubles because he is exciting, keeps getting W's, and finds himself on the cusp of title contention. Why risk hurting his performance with an arduous cut when the results so far have been great?
I saw on Twitter last night something to the effect that Anthony Johnson has to be asking himself how Lineker is still in the UFC after so many mishaps on the scale (h/t @ZPGIFs). The answer is that Lineker doesn't fold up like a cheap tent the first time he gets his back taken, and he is must-watch television in victory or defeat. And it's victory most of the time.
Lineker only came in half a pound over, so he was nowhere near the worst offender on the night. That ignominious distinction goes to Alex 'Cowboy' Oliveira, who missed the lightweight limit by an astounding 5.5 pounds. As soon as the fight started, it was clear that Oliveira was a full weight class above Will Brooks, at a minimum. He made it work for him too. The Brazilian 'Cowboy' outmuscled the former Bellator champ in the clinch, broke his rib with a knee in the first, and polished off the compromised Brooks with ground and pound two rounds later.
Getting 20 percent of Oliveira's purse has to be small consolation for Brooks, who had his climb up the lightweight ladder interrupted in frustrating fashion. A sizeable favorite coming into the contest, Brooks no doubt believed his superior skill set would carry him on fight night. In hindsight, he would probably agree he should have taken the 'Uncle Creepy' route.
Ian McCall might be the fighter to weigh in for the most fights that have never happened. While Ray Borg was forced to pull out due to illness in McCall's most recently scheduled bout, his opponent prior to that, Justin Scoggins, was going to miss weight badly. McCall declined to fight him anyway, received his show money (and his win bonus as well), and got another fight in short order. He learned his lesson after this last opponent missed weight by five pounds and he ended up losing. His opponent for that fight? John Lineker.
The UFC needs to take a lesson from McCall and Brooks' misfortune. They do their job, play the "company men" by fighting anyway, and take a beating for their troubles. There needs to be a black and white rule if a fighter misses weight by more than five pounds. Occasionally it works out, as when Vitor Belfort choked out a 191.5-pound "middleweight" Anthony Johnson, but that is the exception. The whole point of having weight classes is to prevent what happened to Brooks. The fight needs to be called off.
As for repeat offenders in the weight department? If we've learned anything from Conor McGregor, it is that one size does not fit all and every fighter will not be treated equally. Lineker is exciting, so he'll keep his job. Not a fighter with an iron chin who recklessly throws bricks in the pocket? Better make weight.