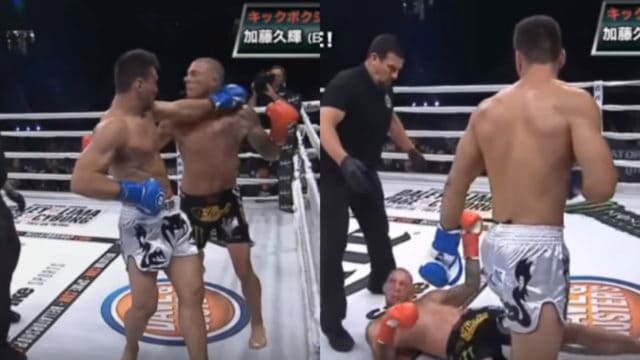 Bellator Dynamite 2 went down last night (Friday June 24, 2016) and provided a number of good viewing fights. Although the return of Quinton 'Rampage' Jackson wasn't what we anticipated, the ex-UFC champion and Pride FC veteran nonetheless picked up a needed win over Satoshi Ishii. Elsewhere on the card Michael Chandler claimed the lightweight title against Patricky Freire with a thunderous KO.
Here's that clip:
HOLY HELL MICHAEL CHANDLER #BellatorDynamite2 #Bellator157 pic.twitter.com/PkBtpjWLPK

— Kevin (@KCeltics830) 25 June 2016

UFC heavyweight veteran Matt Mitrione was back, fighting under the Bellator banner after numerous pay and contractual disagreements with Zuffa. Knocking out some dude called Carl, Mittrione was instantly booked in aainst Oli Thompson for Bellator 158 in just three weeks.
Awesome debut for @mattmitrione and now he gets another fight in London! #Dynamite2 pic.twitter.com/WeqLarBVRW

— Bellator MMA (@BellatorMMA) 25 June 2016

In one of the more shocking results of the evening, Hisaki Kato took on Joe Schilling in the kickboxing ring. Although Kato owns a stunning MMA KO over Joe in their first fight, many believed Schilling would win in his prefererd field of kickboxing. It did not happen.
Amazing KO by @hisakialive!! #BellatorKB2 pic.twitter.com/dcOEoDUyIz

— Bellator Kickboxing (@BellatorKB) 25 June 2016
fatality. #bellatorkb2 https://t.co/0Qkc49XzbU

— Calhoun (@linkcalhoun) 25 June 2016

And here's some more great highlights of the Bellator card:
.@RD_GOAT back at it again with that spinning heel kick! #BellatorKB2 pic.twitter.com/smgFdLhIf4

— Bellator Kickboxing (@BellatorKB) 25 June 2016
And new…@MikeChandlerMMA #DYNAMITE2 pic.twitter.com/JgeJZPtD30

— Bellator MMA (@BellatorMMA) 25 June 2016
.@GeorgesStPierre was impressed by her performance! #DYNAMITE2 @ilimanator pic.twitter.com/uUWnCPQvF1

— Bellator MMA (@BellatorMMA) 25 June 2016

Free agent Dan Henderson teases a Bellator dance: