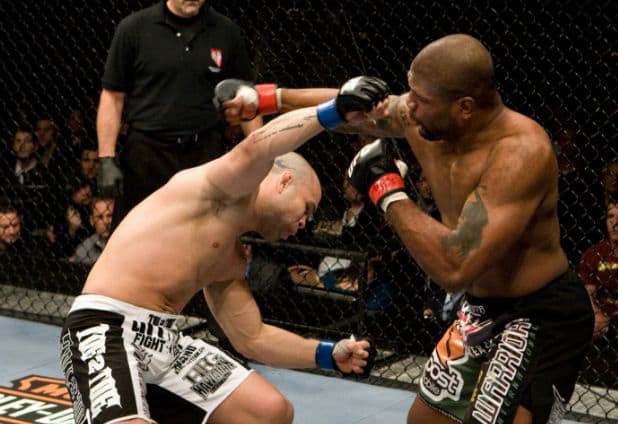 Wanderlei Silva gives another indication that may call it a pro-MMA career following his next bout with Quinton Jackson that is slated to go down next month.
Bellator MMA is going back for more and is hoping that fight fans around the world are interested in seeing Silva fight Jackson for the fourth time.
Jackson was recently active in the Bellator cage as he lost in the eight-man tournament's quarterfinals. However, he fell short to former title contender Chael Sonnen at Bellator 192. The former UFC light heavyweight champion Jackson has fought as a heavyweight for his past three bouts.
This fight would make sense at heavyweight due to the fact that Jackson has gone on record in previous interviews by stating that he suffers from a thyroid condition. For those who don't know, by having it, it makes the cut to light heavyweight too difficult.
Silva returned to action from an extended layoff this past June. But was defeated by Sonnen over three rounds on pay-per-view at Bellator NYC at Madison Square Garden.
Now to the history between these two fighters. Silva and Jackson have faced off three times under two different promoters. By looking at the history books, Silva won the first two in the now-defunct PRIDE, while Jackson won the third in the UFC.
Wanderlei Silva Gives Another Indication
Silva announced over the weekend that he is going to run for a position in the Chamber of Deputies. It appears that he's going to retire from MMA should his political aspirations come to true. The MMA Legend wrote the following on his Instagram account as Wanderlei Silva gives the truth:
"Our time is coming!" Wand wrote on his Instagram. "As I am happy with so many demonstrations of support, I am putting my name at the disposal of your brothers. We will not have stickers, sound cars, painted murals, nobody will pay 100 to receive 50! You see this candidate spending a lot of time opening eyes, my campaign will be the campaign of Gandhi: simple with the ideals of love and honesty and friendship."
New Career
Silva told MMA Fighting that this is a new career for him and it could impact his MMA career and decision to retire.

"I'm facing this as maybe it is my last fight," Silva said. "I will run for federal deputy now. It's a new career, a new time in my life. I'm seeing the need for it. There are guys being elected that have no business being there.A bunch of poor guys, dishonest guys that steal from the people. You have to put guys that have an ideal. Already have money to live so they don't need to steal from the people."
The promotion has already announced that Silva vs. Jackson would go down on the September 29th card in San Jose, California at the SAP Center.