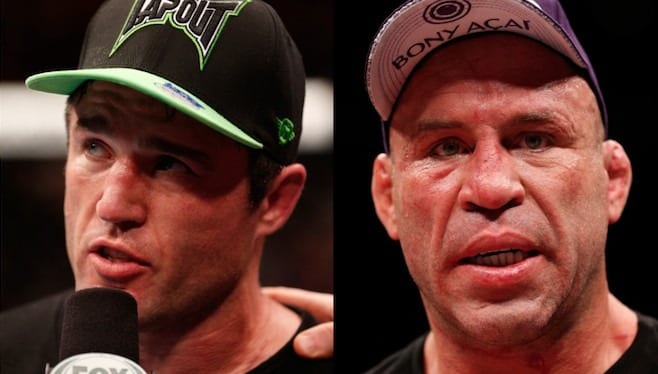 It looks like Wanderlei Silva and Chael Sonnen will get to 'fight' after all…..
An alleged meeting between Chael Sonnen and the WWE (World Wrestling Entertainment) brass is in the works. The former two-time UFC middleweight title challenger and drug test failure has said during an interview with Jim Rome that he and old rival Wanderlei Silva have been invited to Wrestlemania 31.
Check out the quotes per MMAFighting.com:
"That's fact," said Sonnen. "Look, I got a call from the WWE. They said, 'Look, we've got Wrestlemania, we've got a Hall of Fame show coming up in March. If you want to come out, come on out. We want to talk to you about some stuff.'
"They're buying me a plane ticket there, giving me a great seat to the show. I do enjoy that product. I don't know what [WWE and I] are talking about, but I will give you a scoop. Wanderlei Silva was also invited. I don't know if he's accepted and I don't know if the two are related, but there you go."
The event goes down on March 29th, and will likely be viewed by millions of homes across the U.S. But is "The American Gangster" blowing hot air here? The WWE quickly responded to the claim, saying the following:
""There has been no invitation from WWE for Chael Sonnen to attend WrestleMania.""
But Wanderlei Silva posted the following to his Facebook page:
I received a great proposal of wwe and now i am wondering what you think of the idea!!! I received a proposal that is costing millions of wwe the american telequete, and i am thinking, how can only the fighters of Mma receive little, presented figures that i have never seen, what you guys think of the idea????
OK this is getting weird. CM Punk joins the UFC, and two of their biggest ever stars are now off to the world of pro wrestling. Mind boggling. Could see see a future pairing of Wanderlei Silva and Chael Sonnen in the WWE? The worlds of pro-wrestling and actual combat sports continue to slowly merge.