Report – Alexander Volkanovski, Valentina Shevchenko slated as cover stars for EA Sports UFC 5 video game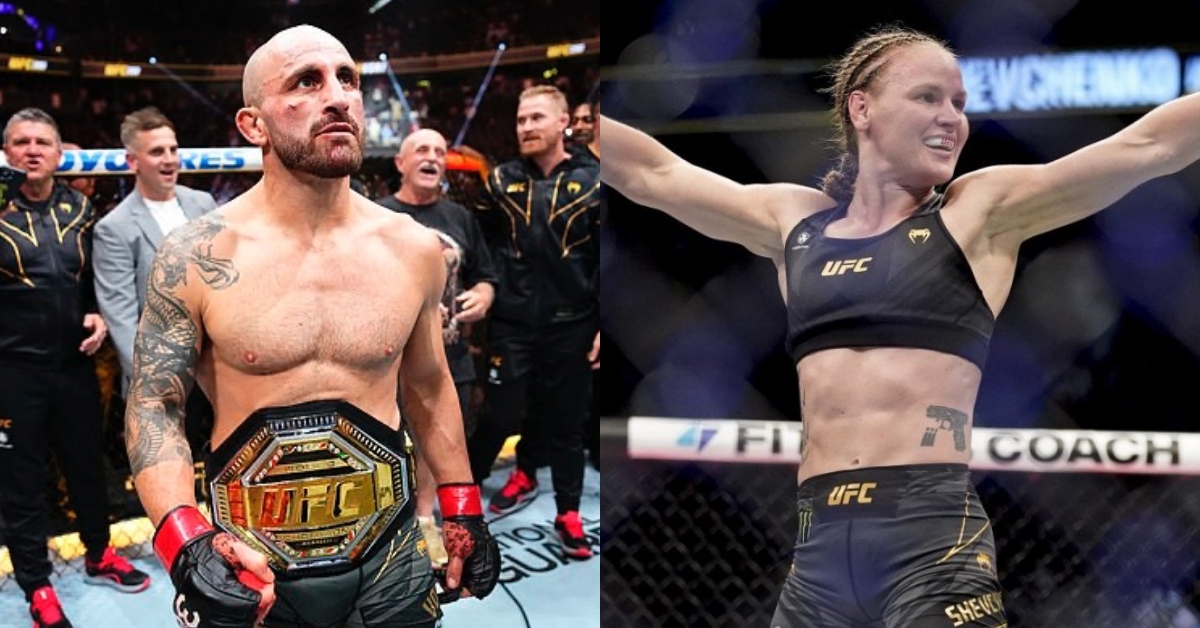 According to reports this Tuesday evening, undisputed featherweight champion, Alexander Volkanovski, and former undisptued flyweight champion, Valentina Shevchenko are set to feature as cover athletes of the new EA Sports UFC 5 video game, with undisputed middleweight kingpin, Israel Adesanya set to feature as a cover athlete on the deluxe version of the game.
As per an initial report from Insider Gaming, EA Sports UFC 5 – which is now scheduled to be released officially on October 27. on PS5 and Xbox Series X|S consoles later this year, will feature Australian favorite, Volkanovski and former flyweight queen, Shevchenko as cover athletes. 
Furthermore, per the initial report, gamers who elect to pre-order the video game released by the Canadian-based publisher and developer, will receive bonuses in the form of playable characters in the game, including former boxing world champion, Mike Tyson, as well as the late, Muhammad Ali, and for the first time in a UFC licensed game, former Pride FC champion, Fedor Emelianenko. 
Israel Adesanya features as EA Sports UFC 5 cover star on deluxe edition
Speculation rose last week when an official, albeit brief trailer for the release of EA Sports UFC 5 was released, that Joe Lopez trainee, Volkanovski would be featuring as a cover athlete – with the Australian appearing to feature in the aforenoted trailer.
As noted, City Kickboxing staple, Adesanya, who featured as a cover athlete on EA Sports UFC 4 alongside former undisputed welterweight title challenger, Jorge Masvidal, will make his return in this instalment, as part of a deluxe option to purchase the EA Sports UFC 5 video game.
Yet to be booked since he successfully unified the featherweight titles back in July at UFC 290, Volkanovski most recently landed a TKO win over then-interim gold holder, Yair Rodríguez.
As for Shevchenko, the Krgysztan striker is set to headline a Noche UFC event in September, taking on Mexican champion, Alexa Grasso in the pair's championship rematch. 
Are you excited to play the EA Sports UFC 5 video game?