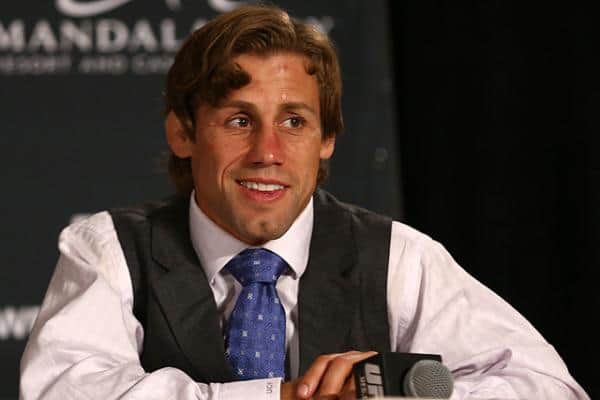 Long-time mixed martial arts veteran Urijah Faber will step into the Octagon in the co-main event of UFC 199 from The Forum in Inglewood, California in hopes of closing the door on a rivalry nearly ten years in the making.
"The California Kid" will face off with bitter rival Dominick Cruz for a third time tomorrow night (June 4, 2016) with Cruz's bantamweight title hanging in the balance.
This will be Faber's fourth attempt at capturing UFC gold, although he's come up short each time out – something that has garnered Faber his fair share of criticism.
In response to the question regarding why he's received so many title shots, however, Faber offered a clear and simple answer:
"The title shot thing, I'm a title fighter. That's it," Faber told FOX Sports.
"Have I had a lot of title shots? Sure. Two of those title shots were again (Renan) Barao because Dominick got injured both times," Faber explained. "One of those times it was supposed to be me and Dominick and Barao had to step in and it was a lackluster performance on my part. Barao did enough to win.
"The second one, Cruz got injured with two and a half weeks to go until the fight, I injured myself three days into that training camp and I still (expletive) fought."
While Faber is obviously focused on the 135-pound title, he also added that fans simply want to see him in big fights which is another factor that has contributed to the level of fights he's been booked in:
"People want to see me fight TJ (Dillashaw). People want to see me fight Conor (McGregor). People want to see me fight Frankie Edgar. People don't want to see me fight guys that aren't top level," Faber said. "I'll do that because we're in the fight game and you fight whoever they put in front of you, but my goal is to always fight the best.
"That's the mentality. That's what's got me here."

Do you see Faber finally securing the title tomorrow night?