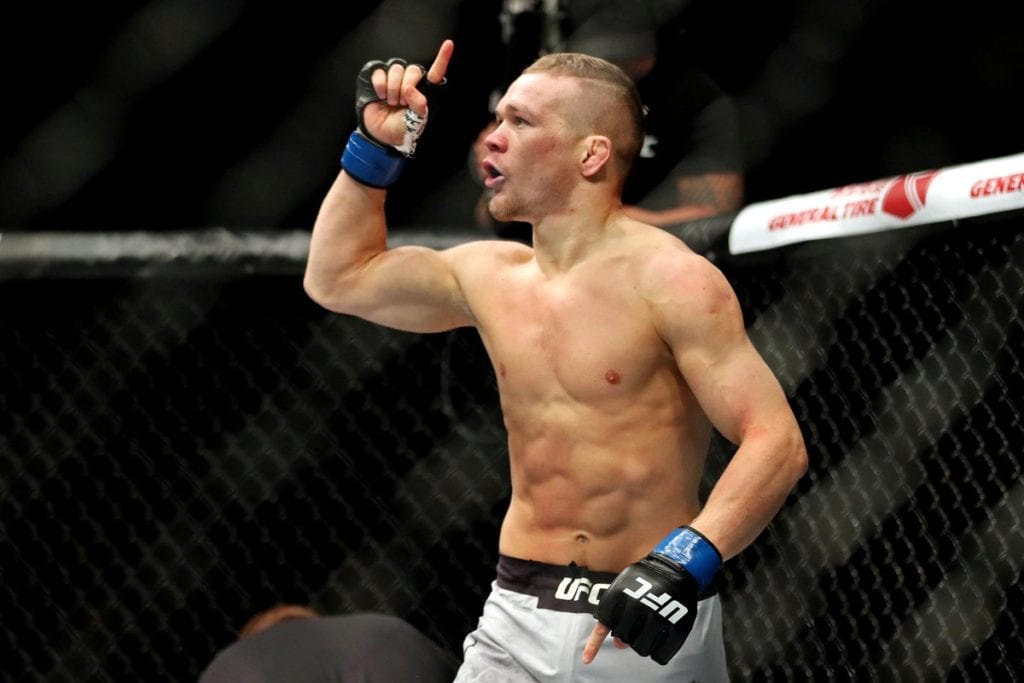 John "The Magician" Dodson will meet Petr "No Mercy" Yan in a pivotal bantamweight contest on UFC Prague's main card.
Stay locked and loaded on LowkickMMA as we will have ongoing results from UFC on ESPN+3.
Dodson (20-10) has alternated between winning a fight and losing a fight since May of 2015. The 34-year-old veteran hopes that trend holds true as he is coming off of a loss in his last outing last September.
As for the 26-year-old Yan (11-1). He will make the walk to the Octagon for the fourth time in Prague and the hopes to add to his six-fight winning streak.
Round One
Yan takes the center of the Octagon. Dodson blitze forward and drops Yan with a flurry of punches. Yan gets up quickly. The pace slows as the men appear to be measuring each other. Dodson goes to the body of Yan. Yan answers with a high kick but Dodson catches his leg and nearly gets a trip. Yan lands a big overhand right hand and then another for good measure. Dodson clinches to slow the action as he is hurt. He looks for a takedown but nothing there. Dodson gains a body lock on Yan but Yan is able to muscle out of the hold. Dodson throws a push kick but Yan lands a left-right-left combo. Then he lands another overhand right hand. Dodson shoots a desperate takedown to no avail. Yan cracks Dodson on the chin as the round ends.
Round Two
Dodson lands push kick to start the round. Yan takes the center of the cage. The fighters briefly clinch then separate. The fighters play patty-cake with their lead hands momentarily. Yan throws a sweeping body kick that Dodson brushes off and counters with a flurry of hands to Yan's face. Yan cracks Dodson's chin with a clean right hand. Dodson moves backward and lands an inside low kick. He drops Yan with a right hand. Yan gets back to his feet as Dodson pressures. Nice defense by Yan, he appears to be fully recovered. Yan now chases Dodson and lands a slicing left hook. Dodson circles off the cage but ends up back on the cage as Yan clinches and lands a hard knee in the clinch. Yan cracks him with a right, Dodson falls. He gets up and falls again. The round ends.
Round Three
Yan takes the center. Dodson pops the jab, Yan misses a sweeping right hook. Dodson clips Yan with a counter left hand. He lands a low leg kick. Yan stalks forward and lands a straight right hand. Dodson doubles up with his left hand. Dodson nearly lands a takedown but Yan muscles through it. Yan goes to the body as he parry's Dodson's lead hand. He moves forward and cracks Dodson with a right hand. Dodson grabs his leg and lands a quick takedown but Yan pops right back up. Yan lands a right hand and an uppercut. He stuffs Dodson's takedown and spins to Dodson's back. He lands a hard left on the break. Dodson looks for a desperate takedown but Yan shuts it down. The fight is over.

Petr Yan defeats John Dodson via unanimous decision (30-27, 30-27, 30-27)