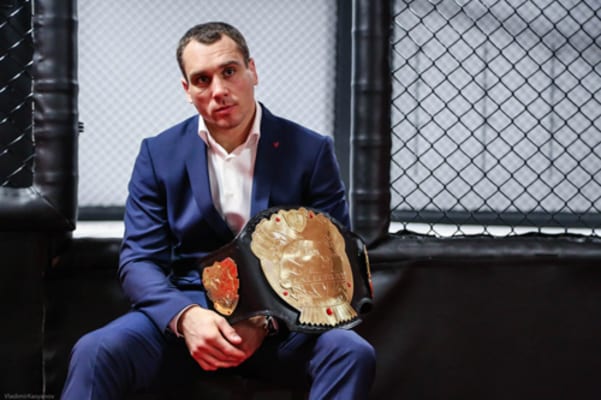 The premier mixed martial arts promotion touched down in mother Russia for the first time in company history today (Sat., Sept. 15, 2018). Kicking off the main card was veteran UFC fighter Thiago Alves, who took on UFC newcomer Alexey Kunchenko.
The 34-year-old Alves entered the night losing three out of his last four fights. He most recently lost to Curtis Millender earlier this year at UFC Fight Night 126. A win for Alves would be his first in a year and a half.
The undefeated Kunchenko enters the UFC after dominating his competition in M-1 Global. Boasting an 18-0 record, some prognosticators have anointed Kunchenko the next Russian star. He first had to get past a very game Alves.
 Round One
The fight begins with both guys being cautious. Alves eventually throws a leg kick and follows it up with some weak jabs. Nothing significant landed, however. Both fighters throwing a number of faints trying to get the other man to bite. Kunchenko occasionally throws a single leg kick but he is spending much of round one trying to figure out Alves. Neither man did much in the opening round but Alves did land a few more punches and thus should've done enough to win the round.
Round Two
Both fighters pick up the pace in round two. Alves comes up with a nice combo and Kunchenko follows with one of his own. Alves attempts a switch high kick that nearly lands. Kunchenko evades and lands a nice body kick to Alves. Kunchenko has had octagon control for most of round two and he has picked up his pace significantly. Alves lands a couple of hard leg kicks in the last 60 seconds of the round. Alves follows with a hard body kick. Close round, did Alves do enough to steal it?
Round Three
Alves has a knot on his left shin to start round three. However, Alves throws that left high kick to start the round. Kunchenko has done a great job at landing strikes while backpedaling all fight and continues in the final round. Again, Kunchenko owns the octagon this round and continues to lead the dance and be the aggressor. He is countering Alves's leg kicks nicely in the final round. Kunchenko takes an incidental eye poke. The last two minutes were largely the Russian's as he briefly knocked down Alves and took him down. Kunchenko should win this round and the fight.
Alexey Kunchenko defeats Thiago Alves via unanimous decision (30-27, 29-28, 29-28)