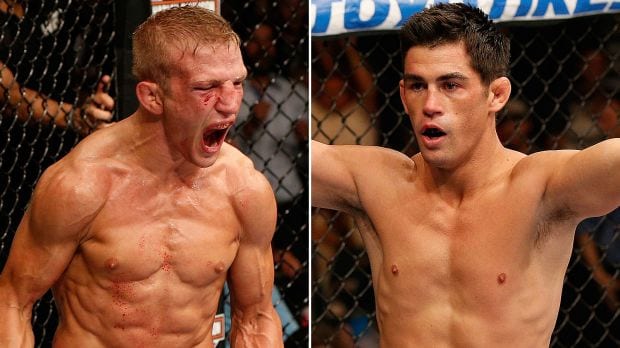 Dominick Cruz vs. TJ Dillashaw:
Mike Drahota: It should be a bantamweight title fight to remember, as a meeting between two elite competitors like Dillashaw and Cruz could be billed as the best 135-pound fight in UFC history and definitely the most hyped. The only thing holding it back from that being a certainty are the question marks about Cruz's health, which have limited him to only one bout since October 2011.
Dillashaw has obviously looked nothing ess than dominant in his run as bantamweight champion in Cruz's absence, finishing his last three bouts with an amazing mix of pinpoint precision and power. But Cruz essentially invented the style that Dillashaw now employs (albeit with less power), so if 'The Dominator' comes back at anything close to one hundred percent here, we could see him regain the belt in impressive fashion.
He's also seemingly got inside Dillashaw's head during the media buildup for this fight where the champion was badly outclassed by the intelligent needling of FOX Sports analyst Cruz.
While I think that Cruz will use his movement-heavy style to give Dillashaw some issues, I still think 'The Viper' is the evolution of the 135-pound landscape, ad there are far less questions about him than there are the former titleholder. The trash talk could come it play here, and so could Dillashaw's highly publicized departure from Team Alpha Male to Colorado's Elevation. I just think the champ gets the job done here by a slim margin. While it's a close one, I'm going with Dillashaw by unanimous decision.
Rory Kernaghan: In Cruz vs. Dillashaw, we have a very rare pairing of fighters with unique styles. Both have incredible footwork, which allows them to cut angles and land the worst strikes possible for their opponents, the ones they don't see coming. A prime example of Dillashaw's advantage over a more 'regular' fighter's style is against Renan Barao, as he cracked the former champion with beautiful head kicks and sharp right hands to finish the Brazilian both times they fought.
'The Dominator' has dynamic head movement, and a style I'd be very surprised to learn that anyone could mimic in the gym for the champion. Cruz also has some serious wrestling chops, and just seems like a new man since all his injury woes in recent years. I don't often go with my gut, but I just get the feeling that the head movement and striking of Cruz will win the day. Also, the trash talking element seems to have got to 'The Viper,' who could resort to little more than pointing out his record against fighters with standard styles, as opposed to what his actual strengths are against Dom. I'm gonna go with Cruz by TKO round one.
Mike Henken: To me, this is simply one of the best fights that the UFC could put on, and it's quite a tough one to predict, as well. While Cruz has been nursing numerous injuries on the sidelines over the last few years, Dillashaw has risen to the top of the bantamweight division in emphatic fashion. Using a similar style to that of Cruz's, the champion has implemented exquisite movement and footwork to bolster an accurate, yet powerful striking arsenal. Cruz, on other hand, is essentially known for his footwork as well, along with his head movement and striking defense. Both men have wrestling backgrounds, and are quite evenly matched in my opinion. It all depends on what shape "The Dominator" returns in, but I also have to go with my gut. Cruz by unanimous decision.

Find our picks for the pivotal lightweight co-main event on the next page….