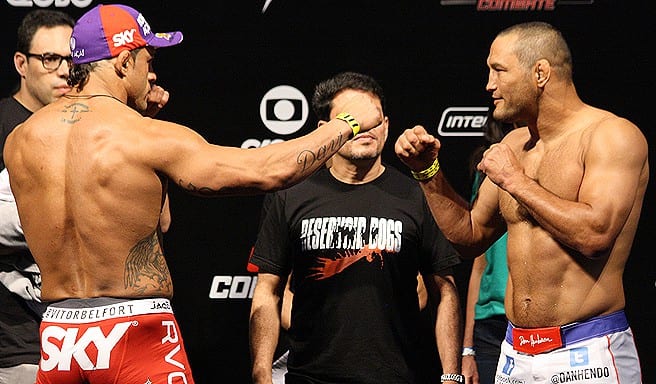 Vitor Belfort vs. Dan Henderson:
Mike Drahota:
This trilogy match obviously would have carried a quite a bit more weight years ago, as age has sapped much of 'Hendo's' ability while controversy has taken much of the endlessly dramatic Belfort's credibility. Based on the fight alone, I see the 36-year-old Belfort as simply having more physical tools than the 45-year-old 'Hendo.' Apart from a massive fight-ending H-bomb, 'The Phenom' should have more speed, accuracy, and technical ability here, earning him another high-level victory. It's impossible not to root for 'Dangerous Dan' here, but Belfort is just on another level in my opinion, despite his advancing age. Belfort by first round TKO.
Rory Kernaghan:
Unfortunately for fans of Dan Henderson, he's facing a once again bulking version of Vitor Belfort. As such, coupled with Hendo's age and slowing reactions, I really don't see anything but a Brazilian victory in the Fight Night 77 main event. Much like the last time Henderson fought the muscly alien that is 'The Phenom,' I expect this fight to end by a knockout, only this time in round one. Belfort wins by KO in the opening round.
Mike Henken:
This is an interesting battle between two ageing veterans, both clearly years past their prime. Vitor "The Phenom" Belfort will return to his home of Brazil coming after suffering a first-round beating at the hands of champion Chris Weidman last May in a bout where he looked like a depleted version of his once ripped and vicious self. Henderson, on the other hand, is currently 45 years old and has only won two of his last seven fights. On the feet "Hendo" still packs the ability to put any man to sleep with his lethal right hand, but Belfort is undoubtedly the more well rounded, faster striker. Henderson is sharper in the wrestling department, and he may want to take "The Phenom" down, as Belfort showed little defense from his back in his last fight. However, I don't see that happening. I see "The Phenom" showing off his vintage skill set on the feet and ending the fight there. Belfort by second round knockout.
Glover Teixeira vs. Patrick Cummins:
Mike Drahota:
Teixeira looked back to his title contender-level form in his most recent win over a game challenger in Ovince St. Preux, and "OSP" recently knocked out Cummins. MMA math rarely adds up, but Teixeira should just be the more dangerous and experienced fighter here. Cummins obviously has the advantage in wrestling, and Phil Davis did control Teixeira on the mat last year, but the Brazilian bomber looks reinvented after healing from the shoulder injury he suffered against Jon Jones. It's certainly true that Cummins provides a tough challenge; however, he also has shown a suspect chin against elite competition like Daniel Cormier and St. Preux. Because of that, I have to pick Teixeira by first round knockout.
Rory Kernaghan:
Glover Teixeira has all the tools it takes to beat Patrick Cummins, and I predict they'll be on full show in the evening's co-main event The hometown crowd will be behind 'GT' and I feel like his submission skills will give 'Durkin' trouble on the ground. A much more refined striker too is Teixeira, although Cummins does have some nice power to his hands. So I don't see Cummins looking to brawl in the stand up, and I think he will be exposed by the BJJ of Teixeira. Teixeira by submission in round three.
Mike Henken:
In the co-main event we have a solid light heavyweight bout between former title challenger Glover Teixeira and rising contender Patrick Cummins. Cummins, known for his decorated wrestling background, has been improving as of late, but will face a significant disadvantage on the feet in my opinion. "Durkin" has also showed a weak chin in the past, which could be a problem, as Teixeira hits like a truck. The Brazilian has solid grappling as well, and usually brings strong takedown defense, although he has been held down before which should be Cummins' strategy. At the end of the day, however, I see the former title challenger landing some huge shots early on and finishing the fight. Teixeira by first round knockout.