UFC Fight Night 64 LowKick Predictions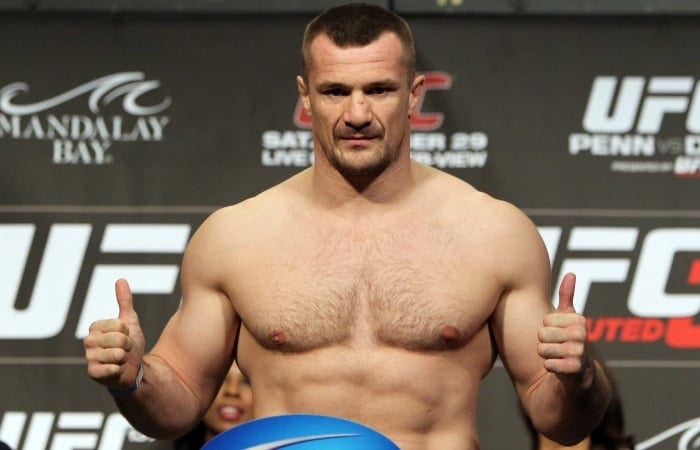 Mirko 'Cro Cop' Filipovic vs. Gabriel Gonzaga:
Mike Drahota:
This rematch of their infamous 2007 affair doesn't carry nearly as much weight this time around, but it does [present an interesting dynamic in that both men are most likely fighting for their future in terms of true world-class MMA. That means they'll both need a win, and Cro Cop should be on high alert to not let Gonzaga knock him out again. The elder Filipovic undoubtedly has the edge in striking, but it's Gonzaga who has a huge edge on the ground with his black belt-level BJJ. He hasn't used it much in recent bouts, but I think this is where he goes back to his roots to take Cro Cop out of his element. Gonzaga wins via second round submission.
Mike Henken:
Gabriel Gonzaga is riding a two-fight losing streak and may not be the same fighter that shockingly knocked out Mirko Cro Crop when the two met in 2007. That being said, Cro Crop has been away from the Octagon for a few years now and has not been competing against top competition. The Croatian clearly holds the striking advantage due to his decorated kickboxing background, but he has always had problems on the mat, which is where Gonzaga strives. If "Napao" can be unpredictable with his striking like he was last time and set up a takedown, I see him finishing the fight on the ground. Gonzaga via third round submission.
Jimi Manuwa vs. Jan Blachowicz:
Mike Drahota:
This fight strikes me as an interesting one in that it features a relative unknown in Blachowicz who could potentially skyrocket into relevancy if he can get past power hitting "Poster Boy." Blachowicz has won six straight bouts including a UFC Fight Night 53 stoppage over hometown favorite Ilir Latifi, and we haven't seen Manuwa fight since his UFC Fight Night 37 loss to Alexander Gustafsson last March. That was the British slugger's only MMA loss, however, and he should come back motivated to prove that he's still a dangerous force in the 205-pound division. I expect Manuwa to rebound with a first round TKO.
Mike Henken:
Jan Blachowicz has quietly strung six-straight wins together and scored an impressive TKO in his Octagon debut, but he is going up against one of the very best pure strikers in the light heavyweight division in Jimi "Poster Boy" Manuwa. Manuwa has been on the shelf since last March when he was starched by Alexander Gustafsson. Blachowicz does have seven submission wins to his name and could cause problems if the fight goes to the ground, but I see a hungry Manuwa coming out with a vengeance. "Poster Boy" by first round TKO