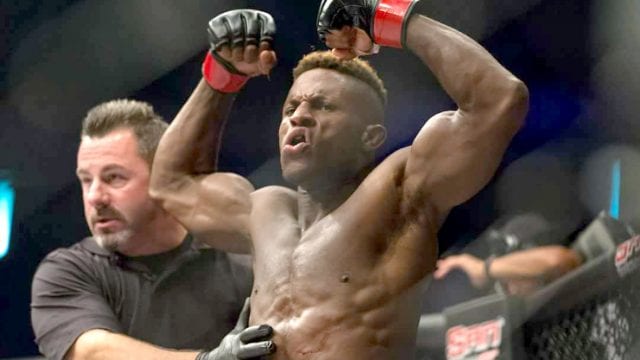 With two title fights on tap the Scotiabank Arena in Toronto, Ontario, Canada will be rocking as the Octagon is in town. We have all of the UFC 231 results here.
When the world leader of MMA travels to their neighbors in the north, they always come proper. UFC 231 is no exception. With 13 fights in total, two of which are highly anticipated title fights, tonight could prove to be a pivotal night of fights for the William Morris Endeavor promotion.
The main card rolls on with an exciting featherweight contest between two hungry prospects. Kyle Bochniak will make his sixth walk to the Octagon as he squares off with Canada's Hakeem Dawodu.
Bochniak is as tough as they come as he demonstrated in his last outing against Zabit Magomedsharipov. Although he lost Bochniak is looking to rebound and play spoiler all in the same night.
Dawodu is looking to close out his 2018 on a high. The Canadian is 1-1 this year in the Octagon and looking to have an early Christmas present come tonight.
Round One
The fighters touch gloves and Dawodu throws a jab. Bochniak circles to the right. Dawodu throws a spinning back kick but misses Bockniak entirely. Bochniak is throwing several faints to start the fight. Dawodu is being very patient thus far. The American is switching his stance up quite frequently. Dawodu kicks Bochniak in the body and follows it up with a hard fight hard that staggered the American. Dawodu is cutting off the angles well and landing first on the exchanges. Bochniak lands a takedown with one minute left in the opening round. Dawodu pops right back up and the fighters seperate. The round ends.
Round Two
Dawodu takes center Octagon to start round two. Bochniak continues to circle to the left. The Canadian lands another body kick. Bochniak is switching stances so often it is confusing. He dumps Dawodu on his butt but the Canadian pops right up. Dawodu moving forward as the halfway point of the round ticks by. Far less action in this frame. Big deep breath from Bochniak. Dawodu lands a left knee to Bochniak's midsection. Bochniak enters throwing a right hand and eats a leg kick. He clinches Dawodu but never gets a hold of him. Bochniak closes the distance again as the round comes to an end.
Round Three
Dawodu throws a double jab to start the final round. He follows it up with a knee to Bochniak's body. Dawodu is mixing up his jab with his leg kicks very well. Bochniak clinches briefly but the Canadian easily breaks free. Dawodu clips Bochniak with a sweeping left hook. Bochniak is tough as nails and shoots a double leg and lands it. He lands a couple elbows before Dawodu manages to get back up to his feet. Bochniak again goes for a takedown but runs into the cage. A front kick to the body landed from Dawodu. He continues to march the American down with 30 seconds left in the round.  The fighters throw til the bell sounds.
Hakeem Dawodu defeats Kyle Bochniak via split decision (30-27, 30-27, 28-29) 
If you enjoyed this story, please share it on social media!