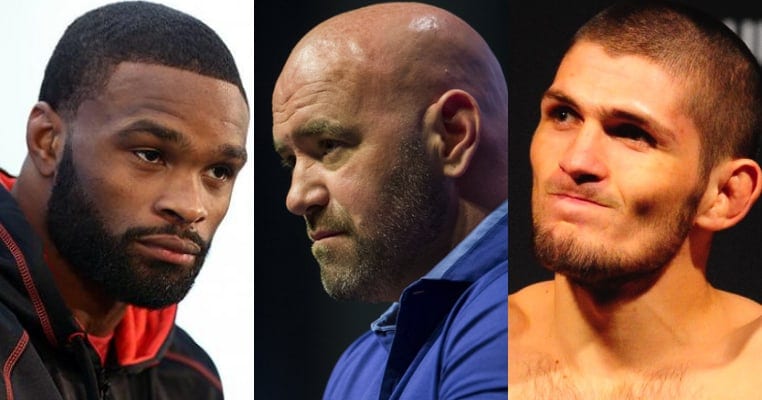 In only two short days, the UFC will put on their so-called biggest pay-per-view (PPV) event of 2017 when UFC 209 goes down this weekend (Sat., March 4, 2017) from T-Mobile Arena in Las Vegas, Nevada.
The card features two high-profile title fights, with Tyron Woodley vs. Stephen "Wonderboy" Thompson for the welterweight belt in the main event and Khabib Nurmagomedov finally meeting Tony Ferguson for the interim 155-pound title in the co-main event. Those two facts alone would suggest UFC 209 is destined for box office success – both live and on PPV – in a so-far otherwise barren year for attraction-quality UFC events this year, but apparently, that's far from the actual case.
In fact, ticket tracking site TicketIQ.com just released some staggering figures that show UFC 209 is set to be a massive flop based on ticket sales and availability:
"Now just two days out from UFC 209, a significant amount of tickets are still available on Ticketmaster as well as over 1,500 tickets listed on the resale market.

"Resale market prices are trending below Face Price, with cheapest seats available for $60 (25% below the cheapest face price of $80). This value continues into most seating areas, including Lower Level center seating with $600 Face Value selling for ~$400.

"The current average list price per ticket is $200, making UFC 209 the cheapest UFC PPV event TicketIQ has tracked since UFC 186 (4/25/15 at Centre Bell with an average price of $165)."
The site tracks UFC seats in realtime, with up-to-the-minute UFC 209 monitoring located here.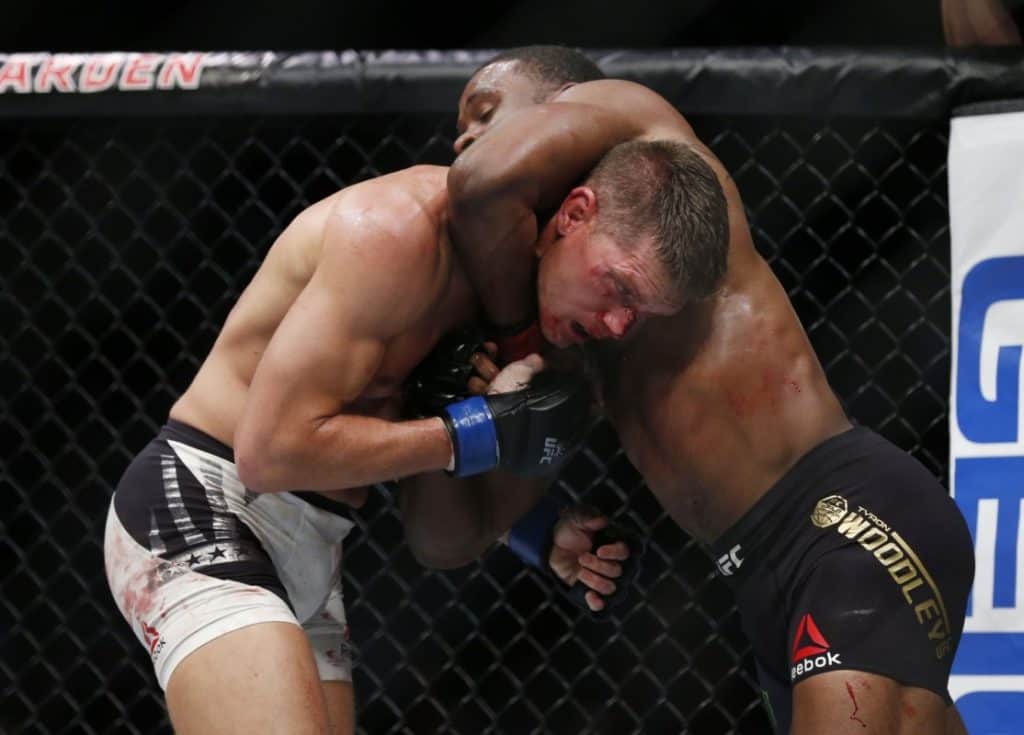 Regardless, the lack of excitement and buzz – in addition to pure sales – for UFC 209 could be due to a vast number of reasons. But in the cutthroat world of MMA, the UFC's new ownership needs to hit big on each and every PPV event if they want to make progress towards paying back the substantial loan they borrowed to purchase the promotion last July. The numbers above suggest they're in for a(nother) rough weekend after UFC 208 predictably floundered from Brooklyn three weeks ago.
The root cause is hard to pin down. Perhaps fans are exhausted by the sheer number of events this year without a true high-profile, attention-driving card like we had with Conor McGregor vs. Nate Diaz at UFC 196 this time last year. That lack of true top-level draws was caused by the promotion's usage of their two biggest stars in MCGregor and Rousey at UFC 205 and UFC 207, respectively, to end 2016. They no doubt boosted buys and ticket sales into the stratosphere to cap off an already record-setting year, but it left the cupboard bare to start 2017, and it's hard to ask fans to come to Las Vegas for a third event after those two spectacle event.
Now Woodley and Thompson are the only ones around to try to carry an event, yet despite their "Fight of the Night"-winning war in the UFC 205 co-main event, the numbers still look like they aren't quite ready to do that.
Yes, Woodley and Thompson are still becoming stars, but you can't hep but wonder if this bout could've been promoted a lot better. Instead, the pre-fight buildup was focused on Woodley and UFC President Dana White deciding who was the bigger drama queen, and Woodley pouting about how he's been promoted while quintessential good-guy Thompson hasn't said much. The focus could have been on the one thing Woodley and Thompson shared – the ability to produce all-out war in the octagon.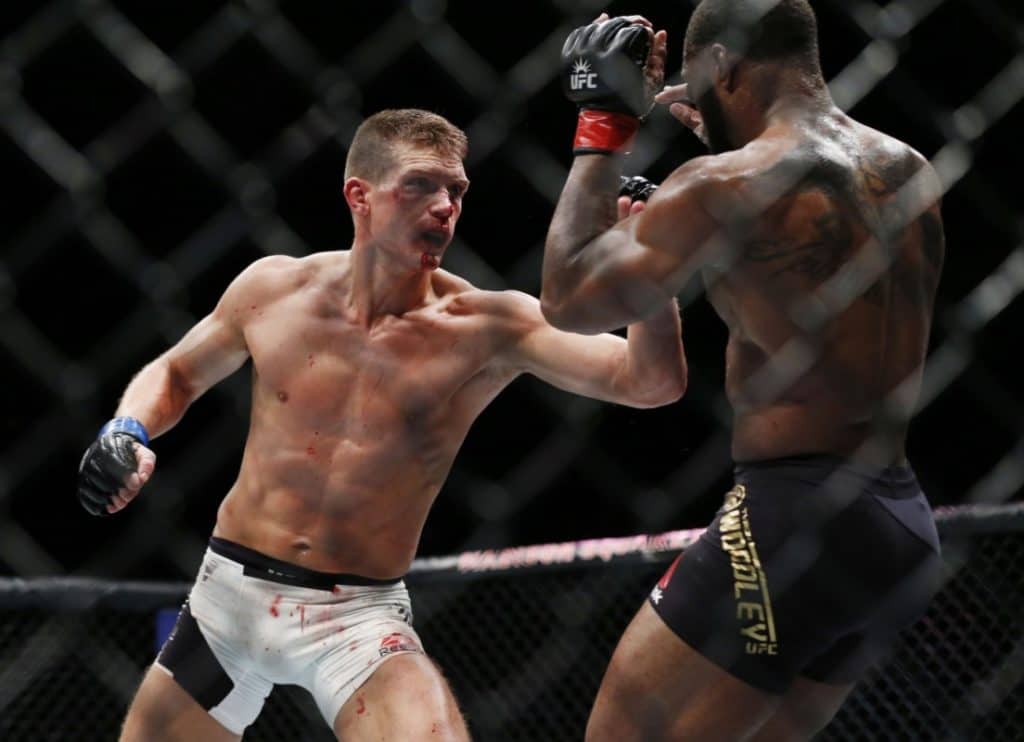 It's just not a recipe for success at a time when the folks at WME-IMG need just that, and they have to find a way to promote cards where the main event fighters might not have the electric drawing power of a McGregor or Rousey pre-installed. Woodley is becoming one of MMA's biggest heels due to his frequent claims of racism in the sport and supposed entitlement in calling out opponents, but he's not yet to the point where people will pay to see him lose like they would someone like Floyd Mayweather.
Thompson is clearly the top contender at 170, but doesn't do much to drive numbers outside of the cage, where he's known more for his flashy karate style inside it.
The second title fight is a huge clash. Undefeated Nurmagomedov meets the surging Ferguson, who has racked up 10 wins in a row heading into the bout. It  would seem like "The Eagle" and his large Russian following coupled with the years of trash talk between the two after the fight had been signed and canceled multiple times, but that just isn't the case based on ticket sales and anticipation. Maybe the fact that it was supposed to go down so many times and didn't took the wind out of fans' sails.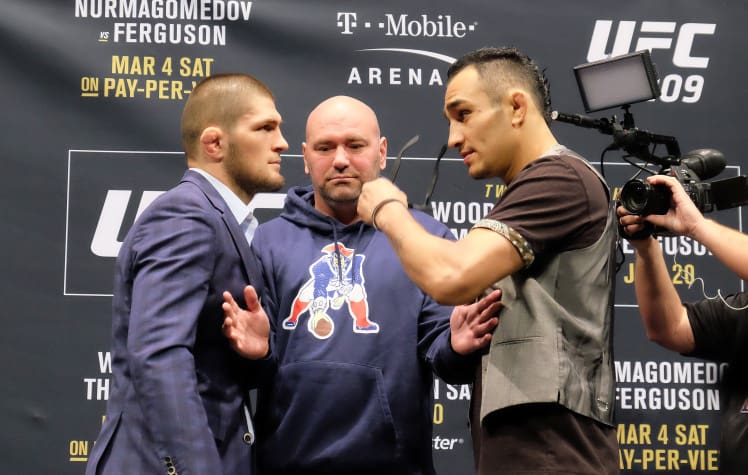 Maybe the uncertainty of knowing if the winner of the fight will face McGregor is another reason for the lackluster interest. The lead-in was filled with a ton of smack talk between Khabib and Ferguson, yet it mostly consisted of canned "I'm gonna smash you" quips with slightly different vernacular. The advertising executives at the UFC could have seen this as an opportunity to build this fight as one of the biggest showdowns in lightweight history, which it is, and they should have made sure it was one where the interim champ would fight McGregor next.

But they just don't know if that will be true, and if the number of tickets available for a card that on paper looks very solid stays where it is, it will be clear that fans also don't know how they feel about how WME-IMG is running MMA's biggest show to start of the year.