This evening (Fri., December 30, 2017), the UFC will end 2016 in style with UFC 207 from the T-Mobile Arena in Las Vegas, Nevada.
They're pulling out all the stops as well, with the main card featuring two high-profile bantamweight title fights and a potential title eliminator also at 135 pounds. However, it's plain to see the main focus for the event rests on the return of former women's bantamweight champion Ronda Rousey, who will return from a 13-month self-imposed exile to face surging current champion Amanda Nunes in the last UFC bout of 2016.
Rousey has created a different kind of buzz before this event, one that's due to her insistence to not participate in any media events leading up to the fight. It's left the MMA world divided down the middle on just what that means for 'Rowdy,' with many believing her to be mentally checked out after she was knocked out by Holly Holm last year while others are of the belief the extra time to focus on the fight will do her good.
It's lent an eerie feeling of uncertainty to the lead-in, and if early projections are any indication, this card is going to be monstrous. That will be aided by quite possibly the most heated men's bantamweight title fight in promotion history between Dominick Cruz and Cody Garbrandt. The year-ending spectacle is full of close fights that could produce some fireworks to end the year. Find out whom we picked in the main bouts here: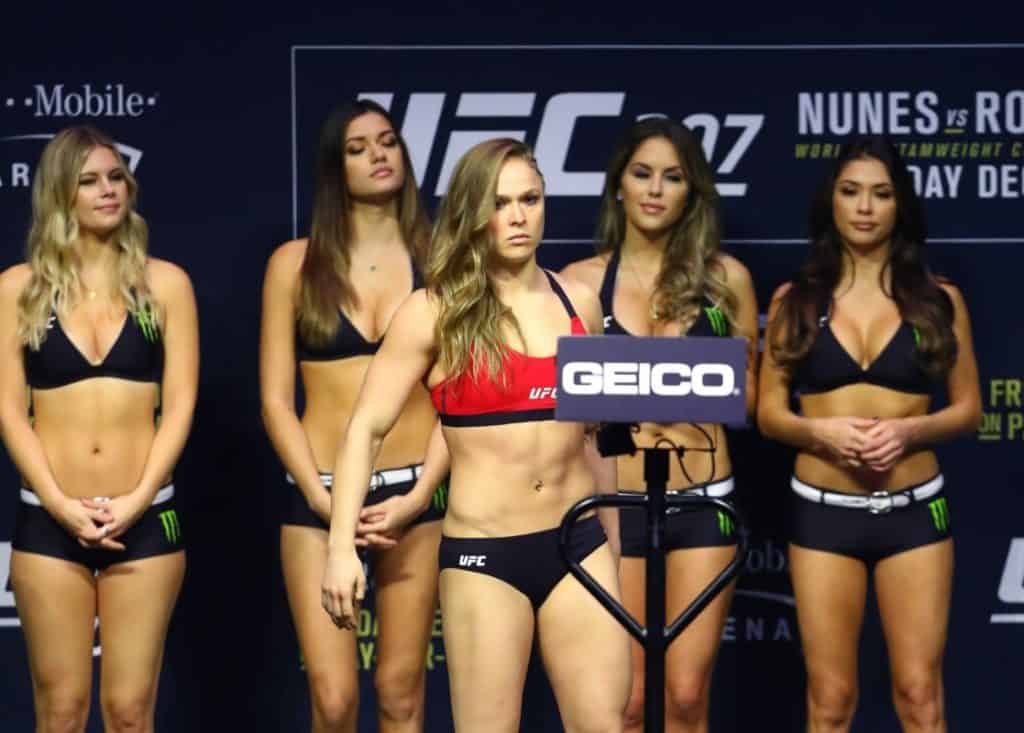 Amanda Nunes vs. Ronda Rousey:
Mike Drahota:
It's becoming cliché to say this fight is an incredibly tough bout to predict, but that's only because it's true. Obviously the Rousey we saw run through most of the women's bantamweight division with six title defenses which all ended in a finish would be a big favorite here, but we simply don't know where her head is at after she's hardly appeared in the days before one of the biggest MMA events of 2016.
Like many believe, she could absolutely not want to be here and doing this because she feels she has to. Or she could be more motivated than ever after having utilized the extra time out of the spotlight to improve her skills. Her current physical shape would certainly suggest the latter, but again, it's all coming down to her mindset.
Her opponent Nunes, on the other hand, appears calm and confident, and is receiving ridiculously little attention herself after a four-fight win streak with three finishes to secure the belt. 'The Lioness' is an absolute freight train in the first round, but the knock on her has always been that she slows as the rounds wear on. Rousey's fights rarely drag on into even the middle rounds, however, so Nunes will have to put 'Rowdy' down or be submitted.
A stand-up battle obviously favors Nunes in a big way, while a grappling war is a no-brainer win for Rousey. Nunes has to keep the distance, but I think she'll be able to do it with her longer reach and vast punching power. I could be wrong, and Rousey could absolutely lock on an armbar in under a minute; I just don't think it will happen tonight. Nunes by R1 KO.
Rory Kernaghan:
The women's bantamweight title fight at the top of UFC 207 is proving hard for me to separate. Obviously if Ronda Rousey is on form, she's capable of anything. That said I really like the long punches and grappling skills of the champ Amanda Nunes. By all accounts, both fighters are in great shape, and I think this fight comes down to controlling the range. Nunes needs to keep the challenger on the end of her punches, but 'Rowdy' needs to work the clinch game. Either could win this on any given night in my opinion, but the only variable I see here is Rousey's mindset. Nunes is determined, ready to fight and in shape. With Rousey, well, we just don't know at this stage. Still a tough pick, but my gut says Nunes by TKO in round 2.
Mike Henken:
I have gone back and forth on this fight multiple times in my mind. Nunes, the champion, has looked phenomenal as of late, as she's compiled a four fight win streak that was capped off by a brutal stoppage victory over Miesha Tate last July. I feel as if the Brazilian will undoubtedly have the striking advantage in terms of aggression and power, which has appeared to be a week point of Rousey's in past years. With that said, the "Rowdy" one has always had the submission advantage over her opponent, but the "Lioness" holds a black belt in Brazilian Jiu-Jitsu and has only been submitted once throughout her professional career. Rousey, in my opinion, does have the ability to finish any female in the division, although it's tough to predict what form she'll show up in after a year off. I could see this fight going either way, but I'll go with my gut here. The "Rowdy" one appears to be in tremendous shape and perhaps the time away benefited her. Rousey by second round submission.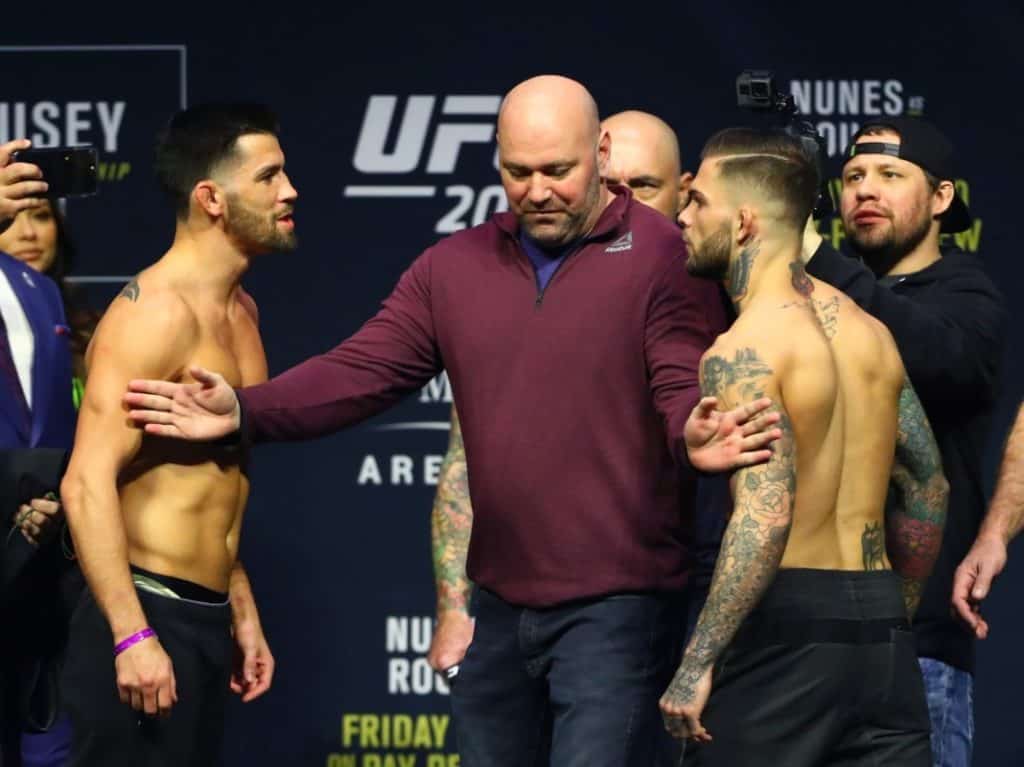 Dominick Cruz vs. Cody Garbrandt:
Mike Drahota:
The lead-in to this fight has also been an exciting one where Cruz has simply taken his already intelligent trash talk to a new level against his latest Team Alpha Male foil. I do think Garbrandt is the most dangerous prospect yet to come of Urijah Faber's Sacramento-based camp, and his results of late show a knockout artist unlike any we've ever seen at 135 pounds in MMA. I was going to pick Garbrandt to shock the world by knocking Cruz out, but after witnessing how emotional "No Love" has been in front of the cameras and at the weigh-ins, I'm no longer confident it will play out in his favor. Cruz has an innate talent to frustrate his opponents inside the cage and out of it, and I believe he'll use his movement to do just that on his way to a title defense. Cruz by unanimous decision.
Rory Kernaghan:
As Dominick Cruz and Cody Garbrandt get it on in the co-main event, we'll know instantly how this fight is going to transpire. When that octagon door slams shut and they exchange for the first time, I feel the fight's result will become apparent straight away. Dominick Cruz is the most elusive fighter in the division, and 'No Love' is the hardest hitter. If Cruz gets his rhythm going, or Garbrandt is able to land consistently, it will be a long night for the other man. My opinion-'The Dominator' will just have too much IQ to lose his title in this bout. Although Garbrandt probably has the best chance at 135 pounds, I truly believe he is facing the divisional GOAT at UFC 207. Cruz by decision.

Mike Henken:
Garbrandt possesses a legitimate threat to the 135-pound title in my opinion. "No Love" has a strong wrestling background coupled with crisp boxing and brutal knockout power, which has been seen throughout his rise to the top. The question is, however, will he be able to knock out Cruz? The champion is one of the least-hit fighters in the sport due to his elite level movement and footwork. I simply feel as if "The Dominator" is too unique, too smart and too good. He's been the best bantamweight in the world for years and I expect him to show why tonight. Cruz by unanimous decision.