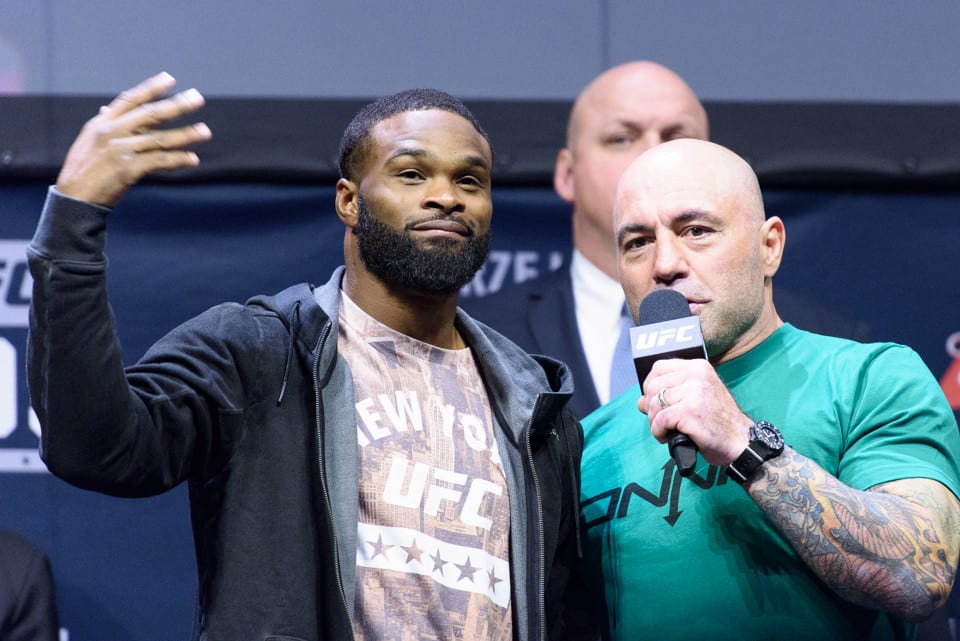 Tyron Woodley sent a warning to longtime UFC color commentator Joe Rogan for his comments about UFC welterweight fighter CM Punk.
Punk lost in his MMA debut against Mickey Gall at UFC 203 in September 2016 by first-round submission. Despite not having a ton of experience, Dana White gave the former WWE champion another shot at fighting inside of the Octagon.
His latest fight came in the opening bout of the main card for the UFC 225 pay-per-view event at the United Center in Chicago, Illinois. Fellow welterweight Mike Jackson was able to beat Punk by unanimous decision in a hard-to-watch match-up.
Now after two straight losses, Punk is not likely to fight again under the UFC banner. However, this hasn't stopped fight fans to thinking that Punk will fight again. Whether this is inside of the Octagon or another promotion.
During a recent podcast, Rogan stated that he thinks YouTube personality Logan Paul is a better fighter than Punk. He was quoted by stating, "Like, you had f*cking CM Punk fight. This guy (Logan Paul) is way better than him."
Well, the UFC welterweight champion didn't let these comments go unnoticed. It should be noted that Woodley and Punk are training partners under MMA coach, Duke Roufus. Thus, he defended Punk as well as gave a warning to Rogan.

"Watch your mouth Joe. First thing I have to stand on Joe Rogan's stones. Come up off my homie CM Punk," Woodley said on The Hollywood Beatdown. "You got smoke with him, you got smoke with me. So, watch your mouth."