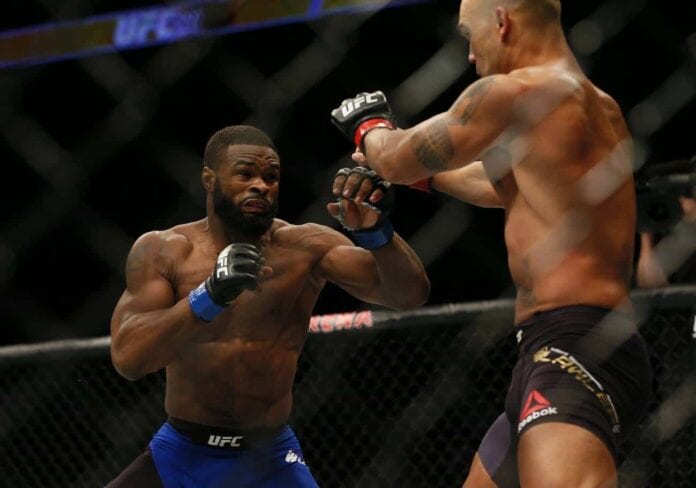 Newly minted UFC welterweight champion Tyron "The Chosen One" Woodley has received some criticism after winning the title this past weekend (July 30, 2016) at UFC 201, but not for his performance, as his first round knockout over Robbie Lawler was as definitive as it gets. Woodley, however, raised some eyebrows when he announced who he'd like to fight next.
Showing no interest in facing off with the clear cut No. 1-contender Stephen "Wonderboy" Thompson, Woodley instead said he'd like to fight retired former longtime champion Georges St. Pierre or returning fan favorite and former Strikeforce champion Nick Diaz.
Speaking on yesterday's edition of The MMA Hour, "The Chosen One" explain his reasoning for throwing out names like St. Pierre and Diaz:
"I want to say I'm the best in the world," Woodley said. "Right now I'm the UFC welterweight champion of the world. People can say I'm the best in the world, but I've fought Georges St-Pierre and Nick Diaz is not a retired fighter. So, why not compete against Nick Diaz, who is definitely a top-five (fighter)? I feel like his brother is finally cashing in on that big payday, but I do believe Nick Diaz has brought enough attention to the sport, raised enough eyebrows, put enough butts in the seats, sold enough pay-per-view buys. Maybe he deserves — since we're using this world 'deserves' so much — maybe he deserves to cash out, and that's why I made a suggestion for UFC 202. It's three weeks away, I'm in great shape, and I know he's training with his brother getting him ready for his fight.
"Secondly, Georges St-Pierre is the best of all-time. I can say I'm better than Georges, but I've not competed against him so I can't really make that bold statement. If Georges St-Pierre decides that he wants to come back and he's interested in fighting me, which he is, that's going to be my No. 1 pick.
"But in hindsight I would like to fight both of them. I would like to prepare myself, get through Georges St-Pierre, shock the world once again, they say that I'm the best in the world, and then after that I would like to fight Nick Diaz as well. Because (after) those two fights, nobody can ever say I'm not one of the best welterweights on the planet Earth. If I knock out Robbie Lawler — who was the goliath of the weight division, everybody was thinking he was so invincible and unbeatable — and if I knock out GSP and Nick Diaz, I pretty much cemented myself in the UFC Hall of Fame."
As far as Thompson goes, Woodley says his words may have come back to bite him. "Wonderboy", who is has scored back-to-back dominant wins over former champion Johny Hendricks and top contender Rory MacDonald, had previously said that he'd rather fight Lawler. Now, Woodley is willing to grant him that wish:
"Also, Wonderboy's words just bit him in the butt. I didn't put these words in his mouth. He said that Robbie Lawler would take this fight. He felt that the fans would want to watch Robbie Lawler fight against Stephen 'Wonderboy' Thompson, that it would be a more exciting fight, that I would fade in the later rounds and he felt like Robbie Lawler was going to take it home.
"When he makes those statements, and you're not the pay-per-view buy, you're not the money fight, you're not the (guy who) people are going to be jumping off the wall buying pay-per-views to watch Stephen 'Wonderboy' fight — not to say in his career that won't happen, he's an exceptional fighter, he's beaten two phenomenal athletes back-to-back — but when he said those words out of his mouth, he wrote a check his ass couldn't cash. So now he'll get his chance to fight Robbie Lawler and I'll go out and I'll prove I'm the very, very best in the world by fighting the Hall of Famers."

Do you agree with Woodley chasing the 'money fight', or should a champion face off with the No. 1 contender?