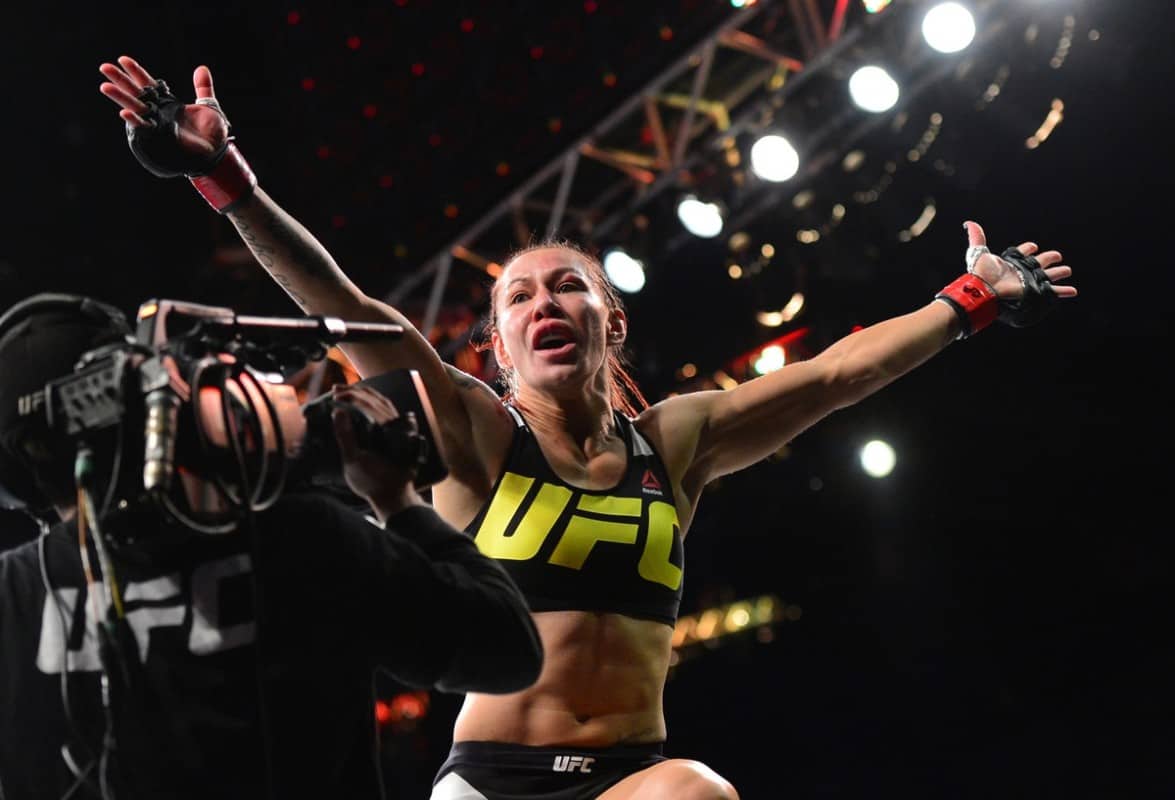 UFC Fight Night 95 (also called UFC Brasilia) went down from Ginasio Nilson Nelson in Brasilia, Brazil tonight (September 24, 2016). Headlined by Cristiane 'Cyborg" Justino's second bout in the UFC, the event featured a plethora or Brazilian talent.
The main event went down according to the script. Justino's opponent, UFC newcomer Lina Lansberg, lasted longer than many expected, making it to the second round. But she had to withstand a hellacious beating to do so. Lansberg could mount no meaningful offense, and spent the entire fight in survival mode before the referee finally intervened.
The co-feature saw former bantamweight champion Renan Barao get back on the winning track in his second fight at 145 pounds. He battled former Ultimate Fighter finalist Phillipe Nover, taking a unanimous decision after three relatively uneventful rounds.
And finally, the third from the top billing saw the heavyweight slugfest with the outcome most expected. Roy 'Big Country' Nelson and Antonio 'Bigfoot' Silva duked it out for the better part of two rounds before Nelson found the chin of his Brazilian counterpart and then finished it on the ground. Most of the chatter about the fight centered on what happened next.
Upset that referee 'Big' John McCarthy had not stopped the fight sooner, Nelson made his displeasure felt. After walking away in frustration at being forced to hit his friend Silva more than he felt necessary, Nelson came back and kicked McCarthy in the butt as the latter tended to the prone Brazilian.
Check out Twitter's reaction to these fights below:
This chicks walk in looks like the walk in the Green Mile #UFCBrasilia

— Angela Hill (@AngieOverkill) September 25, 2016
Guys, Cyborg is fighting! ???? #ufcbrasilia (@EliasTheodorou)

— UFC (@ufc) September 25, 2016
Lina Lansberg is walking to the Octagon with the look of somebody who's about to have the time of their life.

— Chamatkar Sandhu (@SandhuMMA) September 25, 2016
https://twitter.com/MaydayMcDonald/status/779907616289849344
https://twitter.com/GrabakaHitman/status/779904568004059136
Lina Lansberg is the 1st fighter since Rose Namajunas and Carla Esparza at TUF 20 Finale to headline a card in their UFC debut. #UFCBrasilia

— Mike Bohn (@MikeBohnMMA) September 25, 2016
Compared to this post weigh-in photo I think Cyborg has rehydrated really well. #UFCBrasilia pic.twitter.com/IsUx7rW7A3

— Tommy Toe Hold (@TommyToeHold) September 25, 2016
#Cyborg #UFCBrasilia @CrisCyborg pic.twitter.com/YmwOFdEITj

— UFC (@ufc) September 25, 2016
https://twitter.com/Patrick_Wyman/status/779904030826827776
What if!! #UFCBrasilia

— Derek Brunson (@DerekBrunson) September 25, 2016
https://twitter.com/allelbows/status/779905207899566080
She possesses, dare I say, that Mike Tyson must-watch quality. https://t.co/gx4D8vLaL4

— Ariel Helwani (@arielhelwani) September 25, 2016
SHOOK #UFCBrasilia

— MiddleEasy (@MiddleEasy) September 25, 2016
Akira Corrasani is Lina Lansberg's coach.

— Bleacher Report MMA (@BR_MMA) September 25, 2016
Akira Corrasani is Lina Lansberg's coach.

— Bleacher Report MMA (@BR_MMA) September 25, 2016
https://twitter.com/SecretMovesMMA/status/779906599351713792
https://twitter.com/Patrick_Wyman/status/779907174885494784
Well, Lansberg is tough.

— MMAFighting.com (@MMAFighting) September 25, 2016
Can the corner stop this?

— Mookie Alexander (@mookiealexander) September 25, 2016
Uh…has Cyborg taken any damage at all? #UFCBrasilia

— ????Big????Structural????Change (@Sugarhigh5me) September 25, 2016
Cyborg landed 62 sig strikes in round 1, Lansberg landed 1 #UFCBrasilia

— Brett Appley (@BrettAppley) September 25, 2016
Crikey. Cyborg ripped three straight kicks to the ribs, landed four punches and then went back to the kicks #UFCBrasilia

— Mike Sloan (@MikeSloan19) September 25, 2016
https://twitter.com/Patrick_Wyman/status/779908378327777280
Cyborg wins via TKO in the second. Lansberg was tough, but Cyborg just too dangerous. GnP.

— Ariel Helwani (@arielhelwani) September 25, 2016
Finally, Yamasaki has no choice but to call off the wolves. Cyborg tore Lansberg to pieces #UFCBrasilia

— Sherdog by Mandatory (@sherdogdotcom) September 25, 2016
Straight fucking mugging. #UFCBRasilia

— JustBleedMMA (@JustBleedMMA) September 25, 2016
https://twitter.com/ZPGIFs/status/779908725272416256
There is no chick in MMA that can mess with Cyborg. #letsbehonest

— Will Brooks (@ILLxWillBrooks) September 25, 2016
Beatdown. Hard to watch. Or a Cris Cyborg fight, in other words.

— Brett Okamoto (@bokamotoESPN) September 25, 2016
If they don't make cyborg vs cmpunk I'll be soooo pissed

— Al Iaquinta???? (@ALIAQUINTA) September 25, 2016
.@ufc please open up a 145lbs division for @criscyborg. Her torturing herself to make 140 is insane and she's incredibly entertaining.

— Joe Rogan (@joerogan) September 25, 2016
Cyborg: "I already have 2 belts at home. I just want to put on super fights for my fans & make them happy." Eh, wish she called someone out.

— Mike Chiappetta MMA (@MikeChiappetta) September 25, 2016
Great performance by Cyborg. She's to big and strong for pretty much all these women. Happy for her to finally get the shine she deserves

— James Vick (@JamesVickMMA) September 25, 2016
M̶O̶A̶R̶ ̶L̶I̶E̶K̶ ̶F̶E̶-̶S̶L̶E̶E̶P̶E̶ ̶N̶O̶V̶E̶R̶

Damn. So close.

— Suzanne Davis (@SoozieCuzie) September 25, 2016
Renan Barao about to pick up first UFC featherweight win. He was in full control … against Philipe Nover. A win, but not too exciting.

— Brett Okamoto (@bokamotoESPN) September 25, 2016
Nothing makes me more happy than see my boys winning!#teamgadelha #mma #ufc #teamclaudia #grinders pic.twitter.com/S2AOObsmCE

— Claudia Gadelha (@ClaudiaGadelha_) September 25, 2016
Name the best featherweight Renan Barao has a good chance of beating right now. Middle of the table guy? Top 5? Cris Cyborg?

— Josh Gross (@yay_yee) September 25, 2016
I can translate that last part. He said, "Conor McGregor you're taking everything I worked for mother fucker!" #UFCBrasilia

— Tommy Toe Hold (@TommyToeHold) September 25, 2016
Every single time, Jon Anik specifically asks who the fighters want next, and STILL the fighters almost never have a name. Let's do better.

— Bleacher Report MMA (@BR_MMA) September 25, 2016
I heard Bigfoot Silva was nearly cut after his last fight but asked for one more chance. Tonight is huge for him#UFCBrasilia

— Damon Martin (@DamonMartin) September 25, 2016
Roy Nelson has absorbed 836 sig. strikes in UFC heavyweight competition, the most in history. Of those, 556 were landed to the head.

— Mike Bohn (@MikeBohnMMA) September 25, 2016
This is the Spiderman 3 version of Bigfoot Silva. #UFCBrasilia pic.twitter.com/9wXZH6BlTg

— MiddleEasy (@MiddleEasy) September 25, 2016
There are a lot of ways this fight could go very, very bad.

— Suzanne Davis (@SoozieCuzie) September 25, 2016
https://twitter.com/ZPGIFs/status/779888337406623744
I'm surprised Hipster Big Foot Silva didn't spring for the skinny fit shorts #UFCBrasilia

— Angela Hill (@AngieOverkill) September 25, 2016
@jordanbreen @benfowlkesMMA Bigfoot: pic.twitter.com/M32zmUpVaW

— Erik Ebeling (@Fool271) September 25, 2016
Did Nelson just make contact with the referee? Haven't fighters been banned from the UFC for that before?

— Bleacher Report MMA (@BR_MMA) September 25, 2016
Nelson gave a little kick and then flipped Big John the bird.

— MMAFighting.com (@MMAFighting) September 25, 2016
https://twitter.com/GrabakaHitman/status/779891201172471808
Roy Nelson just kicked Big Dan's butt, and no I don't mean Big foot ???? #UFCBrasilia

— Derek Brunson (@DerekBrunson) September 25, 2016
You can be upset but not cool for a fighter to hit a ref. Don't want to hit a fighter more so I'll hit ref instead? #UFCBrasilia

— Kenny Florian (@kennyflorian) September 25, 2016
Roy Nelson KO's Bigfoot Silva with a huge right hand + ground and pound! #UFCBrasilia https://t.co/r5xkSKmH5W

— FOX Sports: UFC (@UFCONFOX) September 25, 2016
OMG @roynelsonmma ???????? Not only KO win but then attacks the ref, you maniac lol pic.twitter.com/qvp97dzNF6

— Big Ben Rothwell (@RothwellFighter) September 25, 2016
Nelson seems legit annoyed/pissed he had to throw some extra punches on the ground. Nice sentiment, just wish he didn't go for that kick.

— Ariel Helwani (@arielhelwani) September 25, 2016
Roy Nelson is NOT HAPPY with @JohnMcCarthyMMA's stoppage. #UFCBrasilia https://t.co/D8f1HzdFs2

— FOX Sports: UFC (@UFCONFOX) September 25, 2016
Remember when Jason High lightly shoved a ref and Dana White decided he didn't even need to review the tape to fire him? Just saying.

— Ben Fowlkes (@benfowlkesMMA) September 25, 2016
Coaches getting teep now refs getting teep what's going on lol

— Max Holloway (@BlessedMMA) September 25, 2016
@ufc pic.twitter.com/yE3jXecigk

— Derrick Lewis (@Thebeast_ufc) September 25, 2016
Nah, man, you don't put your hands (or feet) on the referee. https://t.co/uQD6vjuj4A

— Mike Chiappetta MMA (@MikeChiappetta) September 25, 2016
When you order a Pepsi and the waiter says "Diet?" pic.twitter.com/zz0vkUkbTA

— MMA Roasted (@MMARoasted) September 25, 2016