Last night's (Sat., September 29, 2018) Bellator 206 from the SAP Center in San Jose, California, was one of the best cards in promotional history on paper.
With the results now in the books, it's safe to say the event delivered on that lofty promise due to the sheer amount of action involved.
Gegard Mousasi dominated Rory MacDonald to retain the middleweight title (highlights here) in the main event. Rampage Jackson finished Wanderlei Silva (highlights) to even their four-fight series at two wins apiece.
Douglas Lima got the Bellator World Welterweight Grand Prix off to a great start by submitting Andrey Koreshkov. And finally, Aaron Pico continued his meteoric rise with another brutal first-round KO (watch it).
There's a lot to unpack. Find out how social media reacted to the action-filled event right here:
First round clearly goes to Mousasi. Size advantage is real and Mousasi definitely knows how to use it. Keeping Macdonald at the end of his offense. That jab is just state of the art, filth.

— Brett Okamoto (@bokamotoESPN) September 30, 2018
Two world-class athletes in their weight classes. This is a good fight! #Bellator206

— Michael Chandler (@MikeChandlerMMA) September 30, 2018
Ok. Mousasi is a baaaaad man… #Bellator206

— Michael Chandler (@MikeChandlerMMA) September 30, 2018
Gegard's leg kicks and jab are adding up.

— Brandon Gibson (@SixGunGibson) September 30, 2018
Quicker than I thought. Gegard is great to watch, technically proficient everywhere.

— Coach Kavanagh (@John_Kavanagh) September 30, 2018
Mousasi stops MacDonald, battering him on canvas…second round.

— Lance Pugmire (@pugboxing) September 30, 2018
Congrats @mousasi_mma!!!! Great finish as expected! ????????

— Siyar The Great (@Siyarized) September 30, 2018
Gegard Mousasi says he believes Rafael Lovato Jr. deserves the next title shot and then Lyoto Machida, if he wins versus Rafael Carvalho, but he adds, like he has before, that he wants a lot of drug testing for that rematch.

— Ariel Helwani (@arielhelwani) September 30, 2018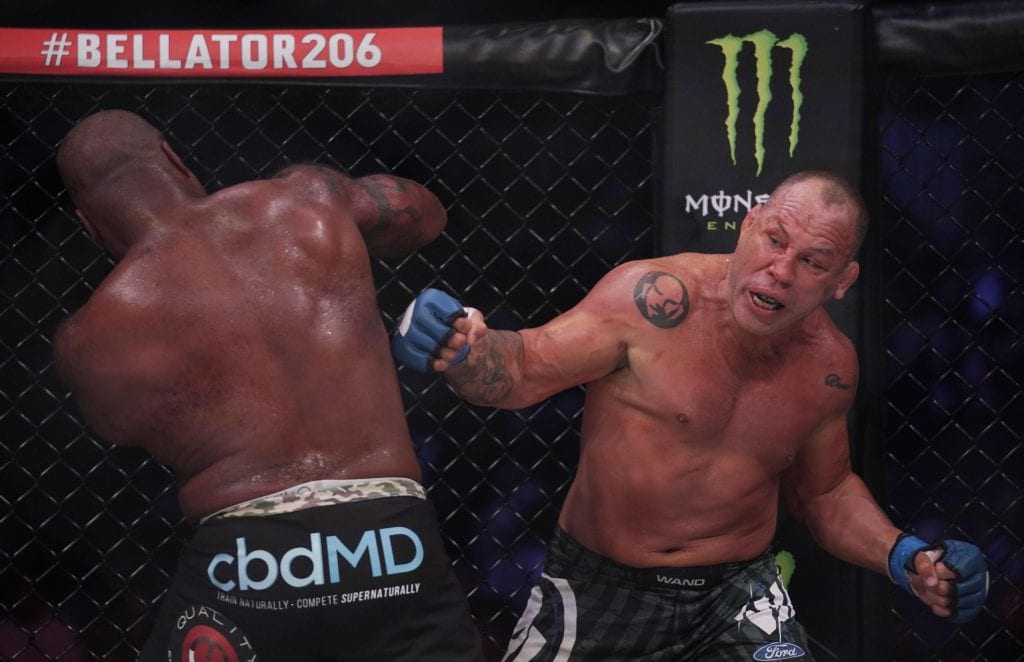 Rampage Jackson with his first KO in more than four years. Had Wanderlei Silva on the fence the whole fight, step in right hand to the chin. Axe Murderer couldn't recover. Rampage howls in the cage after.

— Brett Okamoto (@bokamotoESPN) September 30, 2018
For all of you hating on "the old men past their prime" you're watching and you're very entertained. No matter the age…we all have a screw loose and we don't just lose it with age. #Bellator206

— Michael Chandler (@MikeChandlerMMA) September 30, 2018
Rampage connects and staggers Silva as he presses him against the cage. Rampage lands uppercut on the break.#Bellator206

— BJ Penn (@bjpenndotcom) September 30, 2018
Time for the tetralogy! Pride to UFC to Bellator. I'm team Rampage on this one. ????

— Brandon Gibson (@SixGunGibson) September 30, 2018
Rampage lands a nice body kick that had Wandy finishing the 1st round by circling away with no desire to engage

— Brandon Gibson (@SixGunGibson) September 30, 2018
Rampage Jackson throwing a high kick… 2018 ya'll #Bellator206

— José Youngs (@JoseYoungs) September 30, 2018
Rampage is so quick in there. Great fight here on DIZIN or DAZL oh fuck it

— Michael Carroll (@MJCflipdascript) September 30, 2018
What a fight. Congrats my man @Rampage4real ????????????????

— KAMARU USMAN (@USMAN84kg) September 30, 2018
Can't wait to see a 5th fight!

Says no one

— Matt Brown (@IamTheImmortal) September 30, 2018
Wow, great fight Silva and rampage #Bellator206 2-2…..do a fifth!! pic.twitter.com/mksVl1c8Rm

— Coach Kavanagh (@John_Kavanagh) September 30, 2018