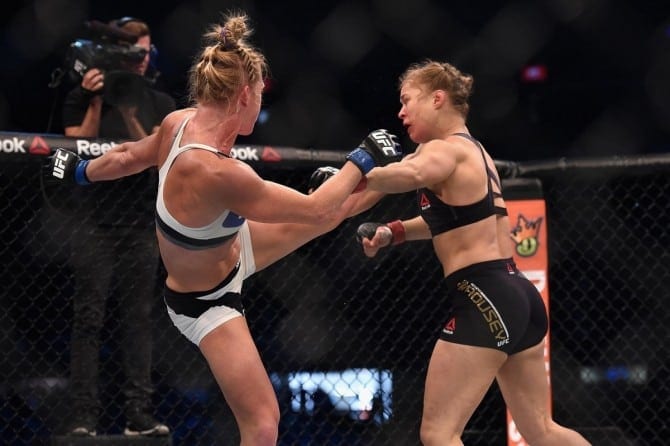 Women's mixed martial arts (MMA) has enjoyed a tremendous surge in popularity over the past few years, thanks largely to the UFC's decision to finally bring on board female fighters in 2013, coinciding with Ronda Rousey's meteoric rise to superstardom.
Even before that historic moment female fighters had proven that they can be every bit as exciting and entertaining as their male counterparts, but we've now reached a stage where it's become so widely acknowledged that it's no longer surprising to see a WMMA fight headlining a 'UFC on FOX' event or major pay-per-view show.
Of course there's always going to be some naysayers, but in this article we hope to demonstrate beyond any doubt that from the smallest shows through to the biggest events in history, women are also responsible for some of the craziest and most spectacular knockouts the sport has ever seen.
10. Zoila Frausto Gurgel vs. Rosie Sexton
Rosie Sexton is a women's MMA pioneer in the UK who had compiled an impressive 10-1 record by the time she fought the up and coming Zoila Frausto at Bellator 23 in 2010.
The bout was fought at a 121-pound catchweight and it was obvious from the outset that the 5-1 Frausto was the significantly larger fighter, and her size and superior striking quickly started to take it's toll.
Sexton knew she had to get the fight to the floor to survive, but as she moved in with her head held low, Frausto took aim and landed a perfectly timed knee to the face that practically folded her opponent backwards on her way down.
As Sexton lay dazed on the mat, Frausto then ruthlessly dropped three right-hand bombs that knocked her out cold.
Frausto would go on to become Bellator's first ever female champion, while Sexton eventually made her way to the UFC before retiring in 2014.
If you enjoyed this story, please share it on social media!