Women's mixed martial arts (MMA) has enjoyed a tremendous surge in popularity over the past few years, thanks largely to the UFC's decision to finally bring on board female fighters in 2013, coinciding with Ronda Rousey's meteoric rise to superstardom.
Even before that historic moment female fighters had proven that they can be every bit as exciting and entertaining as their male counterparts, but we've now reached a stage where it's become so widely acknowledged that it's no longer surprising to see a WMMA fight headlining a 'UFC on FOX' event or major pay-per-view show.
Of course there's always going to be some naysayers, but in this article we hope to demonstrate beyond any doubt that from the smallest shows through to the biggest events in history, women are also responsible for some of the craziest and most spectacular knockouts the sport has ever seen.
10. Zoila Frausto Gurgel vs. Rosie Sexton
Rosie Sexton is a women's MMA pioneer in the UK who had compiled an impressive 10-1 record by the time she fought the up and coming Zoila Frausto at Bellator 23 in 2010.
The bout was fought at a 121-pound catchweight and it was obvious from the outset that the 5-1 Frausto was the significantly larger fighter, and her size and superior striking quickly started to take it's toll.
Sexton knew she had to get the fight to the floor to survive, but as she moved in with her head held low, Frausto took aim and landed a perfectly timed knee to the face that practically folded her opponent backwards on her way down.
As Sexton lay dazed on the mat, Frausto then ruthlessly dropped three right-hand bombs that knocked her out cold.
Frausto would go on to become Bellator's first ever female champion, while Sexton eventually made her way to the UFC before retiring in 2014.
https://www.youtube.com/watch?v=mOeQgLuGBwU
9. Monica Franco vs. Jessica Doerner
Having logged a 1-5 amateur record, nobody would have been expecting much from Monica Franco in her pro-debut against the more experienced Jessica Doerner at Destiny MMA in 2015.
However, Franco proved to be in inspired form that night as she threw every strike in the book at Doerner, including hard punches and elbows to the head and body, a spinning kick to the midsection and even a spinning hook kick upstairs.
Somehow the granite chinned Doerner remained standing throughout all this, and heading into the second round Franco must have know it was going to take something special to put her away.
Just 12 seconds into the stanza she did just that, landing a spinning backfist to the face, with her other fist also landing afterwards for good measure as Doerner caved to the canvas to seal a dream debut KO victory for Franco.
8. Alida Gray vs. Soannia Tiem
Alida Gray wasted no time in getting down to business in her third pro-fight against Soannia Tiem at the '24/7 Entertainment 12' event in 2013.
As Tiem looked for a push kick to create distance in the opening seconds of the fight, Gray just waded in and hammered her with an overhand right that unceremoniously sent her opponent on a collision-course with the canvas.
Gray moved in for a follow-up strike on the mat to seal the deal, but to her credit she realized her opponent had already been rendered unconscious and elected not to cause her any further damage.
In total the fight had lasted just five seconds, making it one of the fastest finishes in the sport's history, while also helping Gray earn notoriety at an early stage in her career.
7. Sabina Mazo vs. Jamie Thorton
The most recent knockout on this list belongs to Sabina Mazo, whose perfectly placed head kick finish against Jamie Thorton at LFA 9 earlier this month quickly went viral and has now been seen by over a million people.
Known as 'The Columbian Queen', the 20-year-old Mazo is an up and coming prospect and had compiled a 2-0 record heading into her fight with the 4-2 Thorton.
Reflecting on the kick that's helped put her on the map and is now considered one of the early candidates for 'Knockout Of The Year' in 2017, Mazo admitted that it was a "dream come true" at this fledging stage of her career.
"It's a moment filled with adrenaline and happiness, a feeling of victory that to be honest, it's hard to describe, but there's so many emotions," Mazo told MMAFighting.com. "It's very rewarding, there is no price to that feeling."
6. Jinh Yu Frey vs. Darla Harris
In only her second professional fight, Jinh Yu Frey was suddenly being watched by millions of viewers courtesy of a particularly devastating knockout she handed Darla Harris at SCS 18 in 2015 that went viral online.
Frey has an associates degree in Nuclear Medicine, a batchelor's degree in Radiological Sciences, and was working towards an MBA as well as working full-time at an outpatient cancer facility at the time of the fight.
Perhaps inspired by her academic career, Frey appeared to choose the nuclear option in the cage that night as she first rocked Harris with a head kick, then cracked her with a straight left to the chin that sent her to sleep, with another quick left hand also connecting on the way down, leaving Harris slumped lifelessly against the cage.
The stellar stoppage led to Harris being signed by Invicta FC, where she's since extended her record to 5-2 and recently fought for their atomweight title, in addition to also successfully completing her MBA.
https://www.youtube.com/watch?v=dFTDYuerI3k
5. Kaitlin Young vs. Miesha Tate
Former UFC bantamweight champion Miesha Tate is one of WMMA's most famous stars, but if it wasn't for her strength of character she could easily have walked away from the sport after suffering a brutal knockout loss on the night of her professional debut back in 2007.
Tate had agreed to fight in a one-night tournament for BodogFIGHT and she started well enough with a decision win over Jan Finney.
In the semifinals, Tate was matched up against another up-and-coming fighter, Kaitlin Young, and it didn't take long before she was in a world of hurt as her opponent landed an early head kick, a knee and then another kick upstairs soon after that dropped her.
Showing the same heart and toughness that would serve her well later in her career, Tate bravely rose back to her feet, but just moment later Young rocketed another foot to the jawline that rendered her unconscious, with the future star's head snapping backwards as she collided awkwardly against the ropes on her way down.
Young won the tournament and would go on to fight a number of big name fighters over the years, but despite her rough debut, it was Tate who would emerge as the more successful fighter, winning titles in both Strikeforce and the UFC before retiring with an 18-7 record in 2016.
4. Kaline Madeiros vs. Stephanie Eggink
Current Invicta FC fighters Kaline Madeiros and Stephanie Eggink locked horns in the early stages of their respective careers back in 2012 at EB 10 in a fight that would last just seven seconds from start to finish.
Having had an extensive amateur boxing background, Eggink was the favorite heading into the short-notice fight, which made what was about to happen even more shocking as Madeiros almost immediately launched the overhand right from hell and violently knocked her out.
Another bombing blow from 'The Dark angel' then battered down on Eggink's face as she lay unconscious on the canvas, before the referee was able to intervene.
Eggink was rushed to hospital after the fight and was diagnosed with a grade four concussion, but thankfully her CT scan came back clear and she's since made a full recovery and been able to continue her MMA career.
https://www.youtube.com/watch?v=i0RKD6n-gTk
3. Sarah Kaufman vs. Roxanne Modafferi
At first glance, Roxanne Modafferi looks like the most unlikely fighter ever to step into the cage, but appearances can be deceiving and 'The Happy Warrior' actually had a 15-5 record heading into her fight with Strikeforce bantamweight champion Sarah Kaufman in 2010.
Kaufman was at the top of her game at the time though, having gone a perfect 11-0 in her career up to that point, so it was to the underdog Modafferi's credit that she was still battling it out with the champion deep into the third round of the fight.
All good things must come to an end though, and in this instance that would come in a brutally abrupt fashion on the mat as Kaufman suddenly elected to hoist her opponent high into the air and then powerbombed her back down to earth, knocking Modafferi out cold as her head absorbed the brunt of the impact.
In the immediate aftermath veteran commentator Mauro Ranallo declared it to be "one of the best finishes in history," while ESPN featured it on their 'Plays Of The Week.'
2. Christine Stanley vs. Katie Anita Runyan
Christine Stanley took just five seconds to land one of the most spectacular head kick finishes you'll ever see against Katie Anita Runyan in an 'Xplode Fight Series' event in the summer of 2014.
Stanley is nicknamed 'Knuckles', but if Runyan had been expecting her to come out swinging with punches then she was in for a rude awakening.
When the bell sounded Stanley immediately launched into a flying spinning hook kick that connected flush to the face of her opponent.
The violent impact left Runyan lying as stiff as a board on the mat from one of the quickest knockouts in MMA history and would lead to Stanley being signed up by the highly regarded all-female promotion, Invicta FC.
All the other knockouts on this list are spectacular, but none can compare when you factor in that this jaw-dropping finish took place during what remains to this day the biggest WMMA fight of all-time.
This was a still undefeated Ronda Rousey at the very peak of her fame, having become an international superstar who was starring in Hollywood movies, appearing on the cover of magazines, being interviewed on 'Ellen' and name-checked by Beyonce, while still finding time to rule the bantamweight division with an iron fist.
Former multiple-time boxing champion Holly Holm had long been earmarked as a major challenge for 'Rowdy' as she compiled her own unblemished MMA run, and the UFC pulled the trigger on the match-up in style by opting to host it in front of a record 56,214 fans at the Etihad Stadium in Melbourne, Australia at UFC 193 in November of 2015.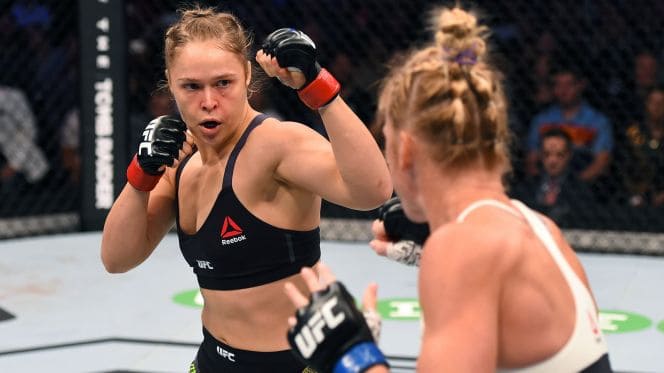 Rousey seemed invincible heading into the fight and was a heavy favorite to emerge victorious, but Holm had other plans, and from the bell it became clear that she was on a completely different level in the striking battle as she began beating 'Rowdy' from pillar to post.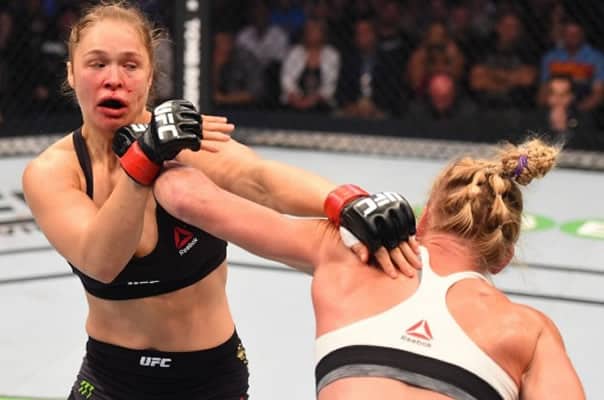 A bloodied and bamboozled Rousey continued to stubbornly press forward early in the second round, only to be clocked with a straight left that briefly saw her stagger to one knee.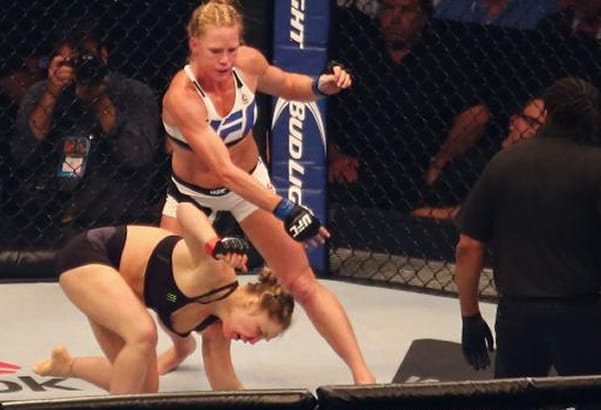 Now with her back to Holm, the dazed Rousey stood back up and began to turn, just as 'The Preacher's Daughter' launched a hellacious head kick that sent her crashing to the canvas like a felled tree, with a couple of follow-up punches on the mat sealing one of the most shocking, stunning and memorable knockouts in the history of combat sports.