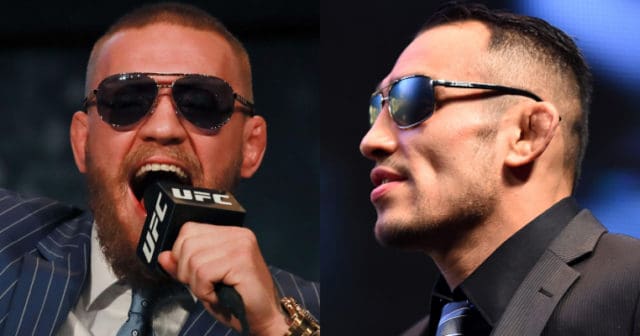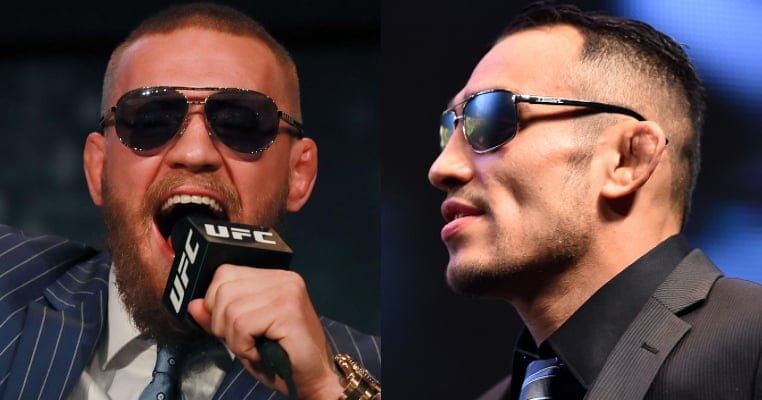 Tony Ferguson doesn't think Conor McGregor is in the mix for an opportunity at the UFC lightweight title.
"El Cucuy" is recovering from knee surgery to repair a torn ligament after a freak accident that occurred while fulfilling one of his media obligations for April's UFC 223 that forced him out of his title fight versus Khabib Nurmagomedov.
That fight has been made four times since 2015, and each time it has fallen through due to one of them getting injured. Ferguson was recently at a red carpet event for the UFC Hall Of Fame and spoke to media. He revealed that he'd much rather fight Nurmagomedov than former 155-pound champion Conor McGregor (quotes via Bloody Elbow):
"Obviously the one I prepared for the most," Ferguson said. "But, I mean, obviously if the money is right and Conor wants to fight, we'll make it happen and obviously we'll talk."
McGregor hasn't fought since November of 2016 when he defeated Eddie Alvarez for the UFC lightweight title. He was stripped of the title over a year later after failing to defend it. Ferguson would go on to win an interim lightweight belt when he defeated Kevin Lee at UFC 216 in October 2017.
Ferguson and Nurmagomedov's clash at UFC 223 was supposed to promote the winner to undisputed lightweight champion, stripping McGregor in the process. Those plans were thwarted upon Ferguson's injury.
"The Eagle" went on to defeat Al Iaquinta at the event instead for the vacant lightweight title. The Dagestani grappler now rules as the king of the UFC's 155-pound division. Ferguson has yet to be fully cleared to return by doctors but hopes to get back to training sometime next month.
Ultimately, he truly believes he will be able to fight again before the end of 2018:
"Once I start impact, then I can start jumping, start doing all these different things," he said. "Actually, I'm going to take up gymnastics. (I've done) a lot of different things for upper body. I did a lot of stuff jiu-jitsu, a lot of my lower body; my lower clinch is a lot better. Just making sure there's no holes in my game."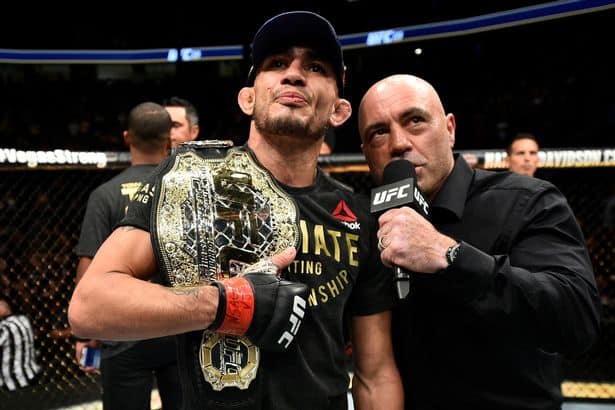 Earlier this month McGregor's head coach, John Kavanagh, claimed that a fight between "The Notorious One" and Nurmagomedov for the lightweight title is in the works.
UFC President Dana White shut those rumors down at the UFC 226 post-fight press conference, saying no fight negotiations with McGregor will take place until after the Irishman's legal issues from his Brooklyn bus attack are settled.
Ferguson doesn't even think McGregor is in the mix for the lightweight title. Instead, he thinks the spotlight is still fixed on himself and Nurmagomedov:
"McGregor, in my opinion, is not in the mix," Ferguson said. "It's Khabib and me. It's 'El Cucuy' vs. 'The Eagle.'"
Despite not believing he should be in the title picture, Ferguson does admit he hopes to see the Irishman return to the Octagon soon:
"I would like to see him fight again, not because of what the tabloids and everybody says are going on, but because he's an athlete, straight up," he said. "I've seen him, I've met him, I've talked to him. A lot of these fighters are out there, it's just a front. I'm not gonna expose his cover, but look, man, do your sh-t, handle it, and get back on the f-cking mat."