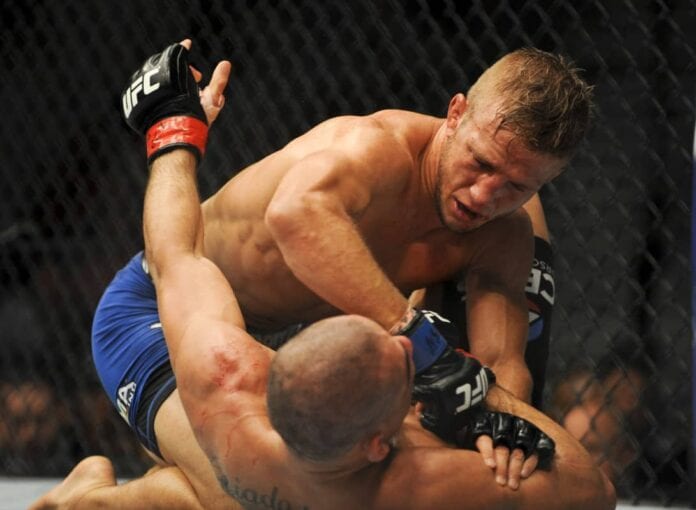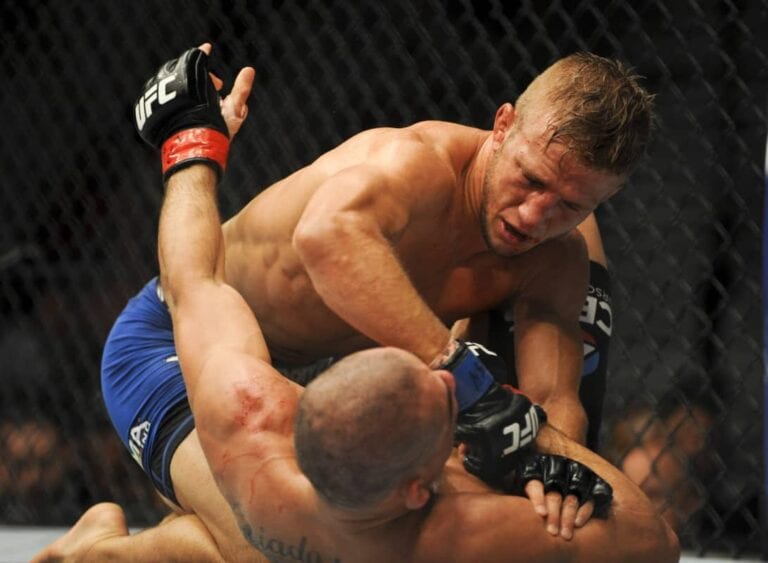 With injuries causing there to be a scarcity of ready title challengers in the 135-pound division, it's unclear who reigning bantamweight champion TJ Dillashaw will take on next.
Recently speaking on his future, however, Dillashaw made it clear who he would like to take on next and that would be former champion, and oft-injured Dominick Cruz. Due to a string of unfortunate injuries, the 30-year-old Cruz has actually only competed once over the last few years, but he never actually lost the belt, as it was stripped from him due to his absence.
"The Dominator" returned from a three-year layoff last September, and absolutely battered Takeya Mizugaki, leading many to believe that he was back for good. The UFC then scheduled a showdown between Dillashaw, and Cruz, but the former 135-pound boss once again suffered an injury, and he is hoping to return soon.
A clash between the two bantamweight stars is undoubtedly the fight fans want to see, and it turns out that Dillashaw has actually been compared to Cruz quite often, as the two seem to use a similar style based on footwork, movement, and stance changes.
However, "Killashaw", who recently appeared on an edition of the MMA Hour, didn't seem happy that he was being compared to Cruz, or being accused of copying the ex-boss so to say:
"It's so ridiculous, he's saying he's the first fighter to ever create movement?" Dillashaw said. "Was he the first fighter to ever throw a jab or feint? It's pretty ridiculous, when you really think about it. Because I switch my feet and change stances, I'm Dominick Cruz?"
Continuing on, Dillashaw went on to bash Cruz, and the Team Alpha Male staple even predicted a knockout if and when the two finally, and inevitably (if Cruz gets healthy) meet:
"For one, he switches stances to run away and throw one shot," Dillashaw said. "I've never even seen him throw a combo or look that great from the opposite stance. You know? I think I'm leaps and bounds ahead of him on my standup. I think I'm going to prove it, when we fight he's going to get knocked out."
"Killashaw" has had a crazy road to UFC stardom, as he was a massive underdog heading into his UFC 173 title bout with Renan Barao. Of course he ended up dominating the Brazilian, and once again destroying him in a rematch last July, but Dillashaw believes that he would actually have an easier time finishing Cruz:
"I think I'll finish Cruz faster than I finished Barao," Dillashaw said. "Cruz has got a crazy style. But I think I'm going to finish him quicker than I finished Barao."
Undefeated at 135-pounds, the argument could be made that Cruz is one of, if not the best bantamweight of all-time, and Dillashaw plans on using the former champion to boost his career:
"I definitely think it will help out," Dillashaw said. "The guy's been a champion, and he thinks he still should be because he's been out. For me to come and beat him the way I'm going to it's going to do wonders for my name. I'm really going to put a stamp on my career by beating Cruz."
Who would you pick to win this potential bantamweight clash?