After coming from behind to shocking finish Cody Garbrandt in the co-main event of last night's (Sat., Nov. 4, 2017) UFC 217 from Madison Square Garden in New York City, New York, UFC bantamweight champion continued campaigning for his oft-rumored super fight with dominant flyweight champion Demetrious Johnson.
It's a potential bout that Dana White cautiously wants to see how the fight performs on pay-per-view, and it would also go in line with the UFC's trend of so-called "money fights," if it could even be called that.
But one fighter is staunchly against that possibility, and that's obviously Garbrandt. The former champ appeared to have former teammate and archrival Dillashaw in trouble at the very end of the first frame, rocking and wobbling him with some big shots. Dillashaw recovered in between rounds, however, and dropped Garbrandt with a head kick before finishing him with a huge shot and follow-up onslaught of ground and pound in the second round.
Their rivalry was one that lasted for quite some time, and "No Love" wants to run it back. Yet Dillashaw isn't so enthusiastic about that possibility, noting at the UFC 217 post-fight press conference (via MMAFighting.com) that with only seven UFC fights, he's still young in the promotion and had to work his way back up.
He referred to his example of when he lost the championship to all-time great former champion Dominick Cruz in a close split decision at UFC Fight Night 81 in January 2016 and had to win three fights to get another shot at the belt:
"I just finished him in the second round. He doesn't deserve a rematch. He's very new in this sport, he needs to work his way back up.

"I should've gotten a rematch after that (Dominick) Cruz fight (in Jan. 2016), a very close split decision that I thought I won, and I did not get it. It took me a year-and-a-half — well actually, almost two years — to get it. So yeah, I think he's going to definitely (need to) build himself back up."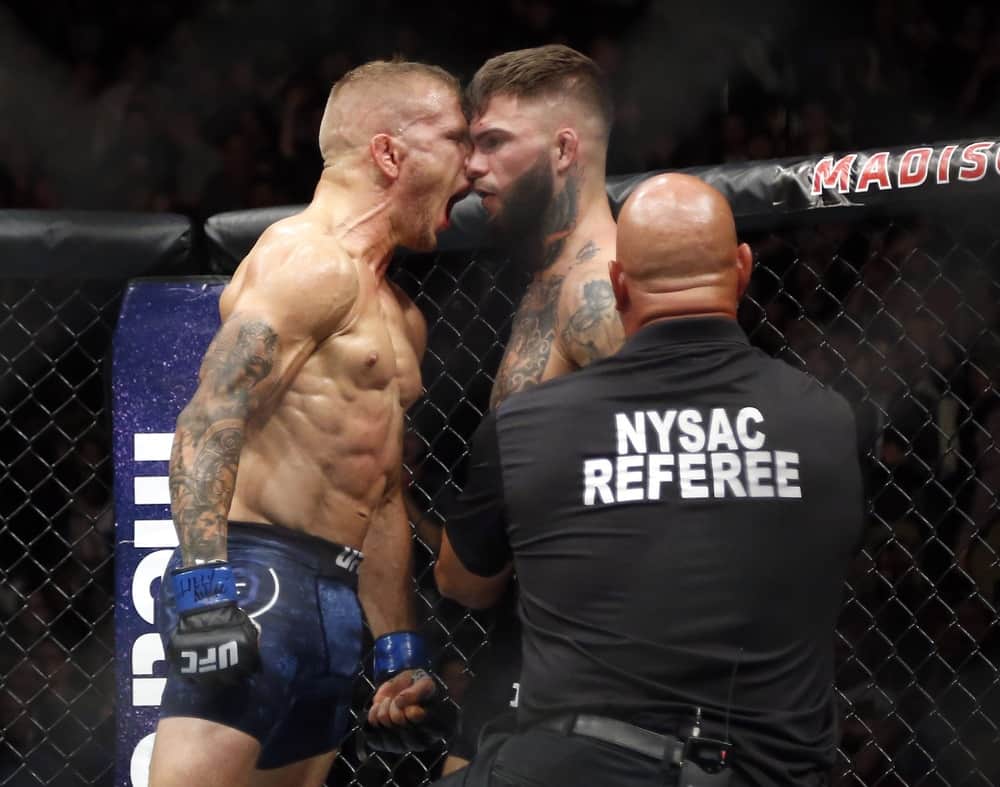 Although he unloaded a ton of personal insults including releasing an alleged knockout video, stating that Dillashaw ruined current TAM coach Chris Holdsworth's MMA career, and claiming that he taught their team how to use performance-enhancing drugs, Garbrandt said that he respected Dillashaw as a fighter, but not as a person.
The newly-crowned champion said he also respects "No Love" as a fighter, but had lost a lot of his respect for the things he said in the months building up to the fight:
"I respect him as a fighter as well," Dillashaw said. "I do not appreciate, me or my family — as you can see, my brother got very emotional after the fight — have not appreciated the accusations and just the crap talk, and trying to diminish my name and who I am. So, that's one that I won't ever forgive him for. But I do respect him for being a great competitor and I'm sure we'll see him again. But yeah, he's lost a lot of my respect. He's lost all of the respect from my family."