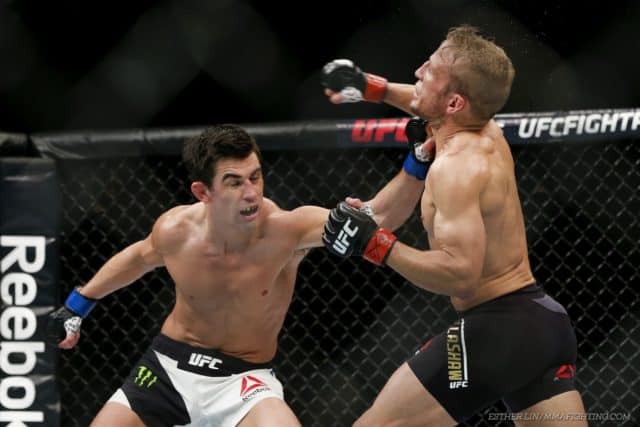 TJ Dillashaw rips former UFC bantamweight champion Dominick Cruz for calling him out for the next title shot at the strap. The current UFC bantamweight champion is not sure who his next title challenger will be but has removed one name for those talks.
Cruz is ready to get back inside of the Octagon after suffering his first loss in over eight years at UFC 207. He lost the title to Cody Garbrandt in a highly-entertaining affair. Garbrandt has since lost the title to Dillashaw.
Cruz's Journey
The former champion was expected to return to action last December. However, that was not meant to be as he was forced out of a UFC 219 showdown with Jimmie Rivera due to a broken arm.
Recently, Cruz went on record by stating in a recent interview with Ariel Helwani of ESPN that he would like a shot at the gold. However, that has not sat well with the UFC champion, who has since responded.
TJ Dillashaw Rips
Dillashaw recently made an appearance on the Below The Belt show of Brendan Schaub where he made his intentions known. He also stated that he believes Cruz making this claim is a weak move from someone like Cruz's caliber.
"The one thing I have against Cruz is that he feels entitled to this rematch. He feels entitled to this title fight," Dillashaw said (transcript via Bloody Elbow).

"You haven't been active. If you had been active, sure you deserve the title match. But you want to be sidelined for two years saying that you're 'injured.' Then all of a sudden I'm looking for a contender and you want to be like 'I'm ready.'"

"You just want to pass murderer's row up. You don't want to have to challenge yourself whatsoever. To me it's a little p—sy move."
Dillashaw is fresh off a win over Garbrandt in their rematch at the UFC 227 event at the Staples Center in Los Angeles, California that took place earlier this month.