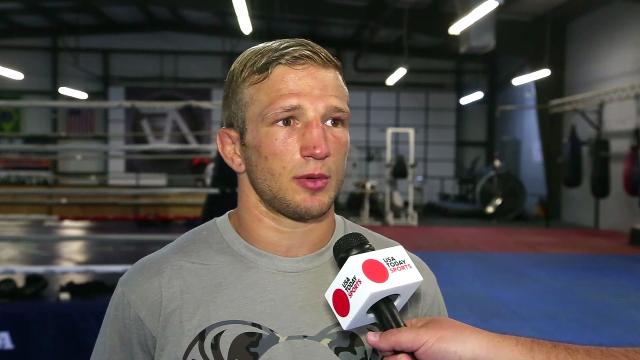 TJ Dillashaw has quickly made a name for himself in the MMA world, establishing himself as one of the best fighters in the world. Not too long ago, Dillashaw was the biggest underdog in any fight that's ever happened, when he was taking on then champion Renan Barao at UFC 173 back in May 2014.
Coming as a surprise to fans around the world, "The Viper" ended up absolutely destroying Barao and taking the bantamweight championship. However, he hasn't gotten rid of the Brazilian just yet. The two were set to fight for a second time at UFC 177, before Barao fell ill and was hospitalized the day before the fight. Now the two are scheduled for a rematch at UFC 186 in Montreal in April.
Dillashaw sees this as a chance to put Barao behind him:
"I'm ready to get Renan Barao behind me," Dillashaw told MMAjunkie. "This will be the third training camp where I've trained for him, which kind of makes it kind of easy at the same time. Obviously I get to watch the tape of my own fight and his fights and see what he's going to change up as well as what I'm going to do. But I'm excited to demolish him again and put him behind me."
Beating Barao did not surprise Dillashaw as it did many, but the way he dominated "The Baron" surprised many as well as the Team Alpha Male product himself:
"I thought it'd probably be a little bit closer of a fight, just by watching Barao's fights and how dominant of a champion he was," Dillashaw said. "I knew the way I was going to beat him was with my speed and my footwork and just taking advantage of how much slower he is than me. I feel like he's too big for the weight class and I'm going to push the cardio and I'm going to push the speed on him and he's not going to be able to handle it. I knew I was going to beat him for those reasons. I didn't have to take him down, being a wrestler, to beat him. I was going to beat him on my feet because I'm faster."
If he indeed beats Barao for a second time, the future for Dillashaw is unclear. The bantamweight division is in a limbo of sorts with a lack of contenders, and like many champions, "The Viper" has been linked to a possible "super fight" for the future.
Recently, flyweight king Demetrious "Mighty Mouse" Johnson said he'd fight the 135 pound boss for a whopping $2 million dollar payday. This outrageous number has Dillashaw questioning whether Johnson really wants to fight him:
"It's awesome, man," Dillashaw said about the idea of fighting Johnson. "I'm always up for a challenge. And $2 million? Who's not going to take a fight? He gets paid a whole lot less than that to fight, so it's kind of funny he'd say that he'd do it for $2 million. He knows they're not going to pay him that. He don't want to fight me."
Either way, Dillashaw must keep his focus on Barao in the meantime. Can "The Viper" take out the Brazilian once again and prove himself as the king of the bantamweight division?