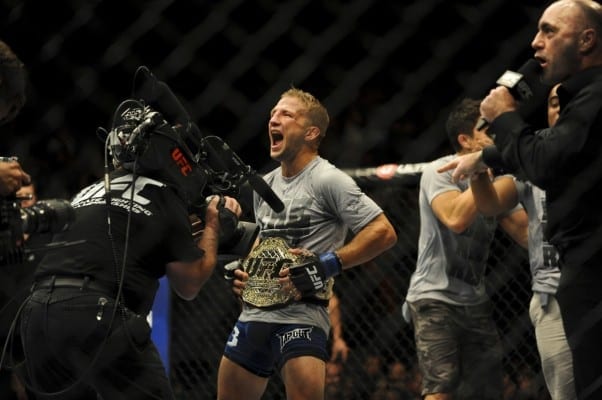 Although he may be getting a ton of heat for supposedly confirming Conor McGregor's suggestion that he was merely a "Snake in the grass," UFC bantamweight champion TJ Dillashaw is sticking by his decision to leave Team Alpha Male for a much more lucrative deal at Colorado's Elevation Fight Team.
He's been flamed online by countless haters with snake emojis, who believe that Dillashaw did nothing but cause "Mystic Mac's" prognostication to come true. Dillashaw appeared on The MMA Hour to tell Ariel Helwani that while he acknowledges the timing wasn't the best, he simply made a business decision like McGregor talks about in nearly every interview:
"Yeah, pretty crazy. It was just timing…timing's everything I guess on that, and it all happened at the time when Conor called us out. It's actually kind of ridiculous for him to call me a 'snake' or a 'traitor,' when the fact is I made a business decision. I feel like that's…that's like Conor saying it's making business decisions, it's all about business, it's the fight business."

Because of that, Dillashaw proclaimed that McGregor is a bit hypocritical for criticizing him for doing what he views as the exact same thing:

"I'm getting told I'm a snake because I make a business decision for my career. That's just pretty hypocritical, it's very hypocritical to me when other people believe what he says."
The aptly-named "Viper" then took things to a new level, deeming "The Notorious" a traitor to his own country of Ireland, where he donated 50,000 Euros to help the homeless, due to the fact that he moved to Las Vegas to better his career. Dillashaw suggests that he's simply doing the same thing, and with a dwindling coaching staff at Team Alpha Male, he needs an elite training team to help him stay on top:
"If I'm a traitor, I feel like [McGregor]'s an even bigger traitor to his country," he said. "He went to Ireland, and he's a big country man, and then he lives in the United States now. He moved to Las Vegas. Why? It's better for his career. It's business. And so, I put it so everyone understands, I'm just trying to stay on top and I want to become the best MMA fighter possible and I need coaches to do so.
Heading into his pivotal title bout against former champion Dominick Cruz in the main event of January's UFC Fight Night 81 from Boston, Dillashaw detailed the tenuous coaching situation at TAM, where they can't seem to keep anyone employed for any significant amount of time. Due to the situation, Dillashaw said he was actually coaching kickboxing at Tam, something he merely cannot do if he wants to remain a world-class fighter himself.
Closing up, Dillashaw conveyed the sense that he knows the truth, stepping aside to let the uninformed haters do what they do best:
"Right now in Sacramento, I'm teaching kickboxing classes, Martin Kampmann's moving home. He was a great mitt-man and a boxing coach, but he's a boxing coach. We have to coach each other at Team Alpha Male right now, and that's a big problem for me. Ultimately, it was a business decision," he said. "I'm going to have these haters out there, but haters are gonna hate."