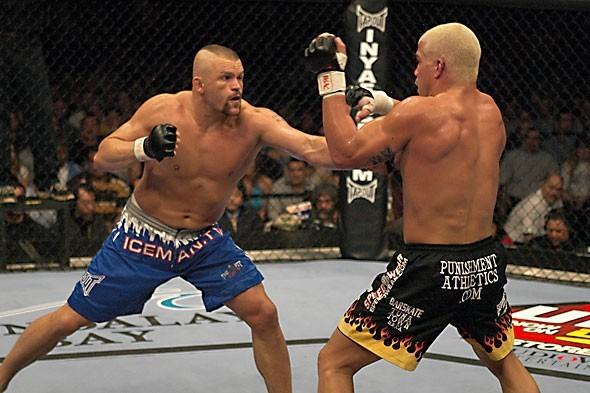 Earlier this week, former UFC light heavyweight champion Chuck Liddell made headlines when he not only announced that he would be returning to mixed martial arts at 48 years old, but that a trilogy bout between him and fellow former UFC champion Tito Ortiz could very well take place before the end of the year.
If the fight does indeed take place, it could very well be promoted by Oscar de la Hoya's Golden Boy Promotions, and although it's not a done deal just yet, Ortiz has opened up as a 2-1 betting favorite over Liddell according to gambling website Bovada (Via MMAFighting.com).
Liddell and Ortiz have fought twice throughout their legendary careers, with "The Iceman" knocking out Ortiz at UFC 47 in 2004 and UFC 66 in 2006.
Since that second fight, however, Liddell has lost five of his six bouts with four of those losses coming via stoppage. He then retired in 2010 and hasn't competed in nearly eight years.
Ortiz, meanwhile, last competed at Bellator 170 in January 2017, scoring a first-round submission victory over Chael Sonnen. Prior to that, he had won two of his three previous fights.