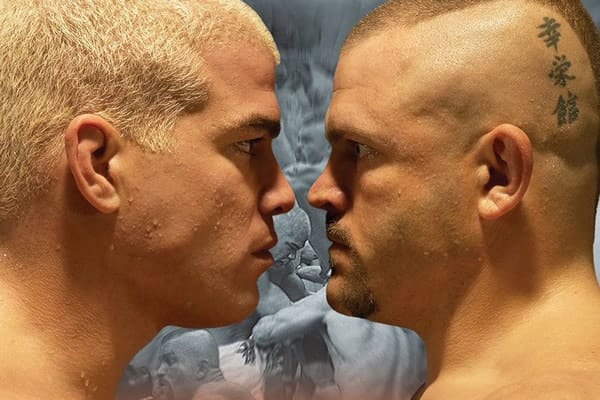 Tito Ortiz and Chuck Liddell appear to be close to signing a contract for their trilogy fight.
Talks of a third fight between these two MMA legends all started once Oscar De La Hoya teased starting a new MMA promotion alongside Liddell.
De La Hoya has gone on record in the past by stating that he and Liddell were talking about the possibility of working on "Golden Boy MMA." This led to Liddell declaring that he would be coming out of retirement to fight once again.
That led to Ortiz coming out of retirement and thus, both sides have openly talked about fighting each other for the third time.
Ortiz claimed in a recent interview by stating that although the fight is not official they are still trying to iron out the details and revenue split.
"The fight's not official, but yeah, I started working out for almost a month and a half," Ortiz told Submission Radio recently (transcript courtesy of MMA Fighting). "My body feels great, I've bounced back faster than I expected, which is great. But I feel good, man, I'm anxious. I'm just waiting on Chuck Liddell's side to kind of sign the contract, get this done. So, it's just a matter of time."

"I think Chuck's kind of holding out, trying to make more money out of it, which it just doesn't make sense because this deal is pretty much a cut and dry contract. We're both partners. De La Hoya wants his 40 percent and me and Chuck Liddell get to split 30 percent. So that's on complete revenue of the whole fight in general. And this is the whole thing that I've been waiting for such a long time in mixed martial arts, to really make a difference, and we're gonna do that with De La Hoya and Golden Boy Promotions."
Liddell and Ortiz have fought twice throughout their legendary careers, with "The Iceman" knocking out Ortiz at UFC 47 in 2004 and UFC 66 in 2006.
Since that second fight, however, Liddell has lost five of his six bouts with four of those losses coming via stoppage. He then retired in 2010 and hasn't competed in nearly eight years.
Ortiz, meanwhile, last competed at Bellator 170 in January 2017, scoring a first-round submission victory over Chael Sonnen. Prior to that, he had won two of his three previous fights.
"I talked to some of the guys like Sean Shelby, some of the other promoters, and they said, 'you guys have a possibility of doing some really great numbers because people don't know what to expect,'" Ortiz said. "So what's the magic number? Is it over 500,000? Will we meet that million number that we did last time me and Chuck fought? You know, we did over 1.4 million pay-per-view buys. If we fall right in the middle of that, I would be happy."
Ortiz was asked in this interview why he has been so determined to make this fight happen against his arch-rival. This led to the former UFC light heavyweight champion responding by saying that he wants a crack at redemption where the cards aren't stacked against him.
"It's always bothered me a whole bunch" Ortiz explained. "People don't understand, they don't know the whole story behind that . . . They sold something on television that was what people wanted to see and not what the truth was. And the truth was that I was injured, I had to have neck surgery. It wasn't like I had to have a couple of stiches in my face or I had a concussion or I hurt my elbow, I had to have neck surgery. They had to fuse my neck and I ended up coming back and I fought, and I fought many times after that. But it was just one of those things, I think it was a picture that was painted the wrong way. I think it wasn't the truth. Now I have an opportunity for redemption against Chuck Liddell on my terms.

"Let's fight on our terms, not on the UFC's terms, not on your terms when Dana and the UFC were against me, let's do it where everything's on my side now. Let's do it where everything's in my court and I'm able to push the buttons, not him or Dana."

"I really have dreamt about it, I thought about it, I've gone over in my head, over and over and over and over again," Ortiz concluded. "It's just put the pressure on him, put the pressure on him and catch him within the second round with my hands. It's either going to be a left hook or a right hand, one or the other."

"It's gonna happen. This fight is gonna happen. It's just a matter of time. Chuck Liddell, come on, buddy, stop asking for pennies, man. You're stepping over dollars, looking for pennies. Let's sign this fight, let's get it done so that we can give all the fans 25 years of UFC."