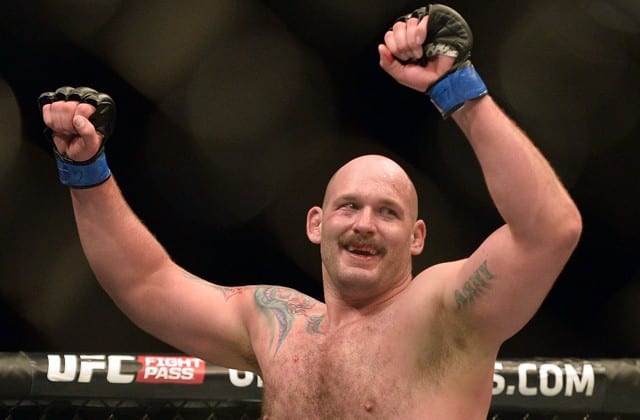 After two great fights on the main card so far, it was time for the UFC Fight Night 86 to go heavy. The first of four heavyweight fights in a row on the main card featured Timothy Johnson and Marcin Tybura, in the lead up to the main event between Junior dos Santos and Ben Rothwell.
Johnson rocking the old time weightlifter moustache here, very vintage, these guys look like they aren't going to go for that judge's decision. Grant Waterman of the UK is the referee in charge of the octagon and here we go. They touch gloves, Johnson in southpaw, Tybura in orthodox. Right jabs by Johnson, straight right down the middle for Tybura. Johnson with a nice right hook and Tybura looking a little gun shy if you ask me. They measure each other and now Tybura unleashes some big rear hooks.
Lovely uppercut to the body from Tybura, and now they clinch. Johnson weighing down on his man here, some dirty boxing and shoulder strikes, elbow from Tybura, and a hard knee to the belly too, Waterman rightly separates them. Nice 1-2 combo from Tybura, a couple wiffed replies from Johnson. Nice front kick from Tybura, Johnson throws from outer space and hits air. Round ends, 10-9 Tybura. There seems to be some sound errors as the corner cut scenes play out. Round two begins.
They touch gloves and Johnson lands a few, Tybura isn't bothered by the awkward southpaw though, remaining very composed in the exchanges. Nice jab by Marcin now, slips the counter too, but now Johnson rips a right hook that cuts Tybura. They exchange and it leads to a clinch. Now the fight cuts out and rewinds to the prelims, and we're back again more punches from both men but nothing clean. Tybura looking a bit flat now, Johnson landing some better punches. A straight left send Tybura back, and again, but a nice front kick gets Johnson's attention. Johnson responds with a wild storm of punches, Tybura lasts out the round. 10-9 Johnson.
Round three begins, Johnson moving well, looks to be the fresher man but Tybura lands a takedown and gets the back. Johnson could shake Tybura off from this high position though, he escapes and they stand again. Uppercut grazes the forehead of Tybura, and they clinch again. Johnson winning the fight from position here but it's not much fun, Waterman intervenes again, just as we rewind again to the prelims. Come on UFC get this sorted out please. Tybura rocks Johnson now with a kick, moving in for the kill and now whips an elbow to the head. They clinch again. Nice knee for Tybura, Johnson has a badly swollen eye now, one minute left. That left eye is brutally swollen, Johnson can't see from that side surely. Right hand from Tybura, Johnson wings some counters but hits air. Fight over. 10-9 Tybura.
29-28 x 3 victory for Tim Johnson