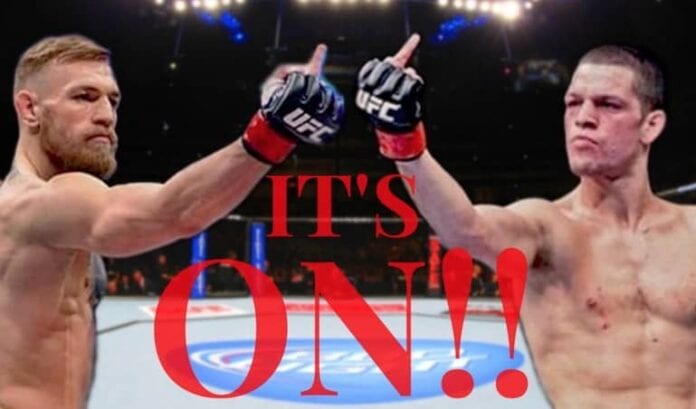 Although fans won't get what they were originally promised at March 5's UFC 196, which will go down at the MGM Grand in Las Vegas, the masses seem to be overly joyed with what we have now received.
After lightweight champion Rafael dos Anjos pulled out of his bout with featherweight kingpin Conor McGregor, brash and outspoken bad boy Nate Diaz stepped up on just over a week's notice.
McGregor and Diaz, two of the sport's most highly touted trash talkers, have had some bad blood in the past, specifically when Diaz went on a rant about the Irishman after his UFC on FOX 17 victory over Michael Johnson.
The Stockton native repeatedly called the "Notorious" one out, and Diaz obviously has gotten what he's wanted.
The two men met face to face at a press conference in California yesterday, going back and forth in epic war of verbal attrition.
While that frenzy probably did enough to hype up fans for the fight, the UFC has continued to promote the short notice bout with two official UFC 196 promo videos.
Check them out below: