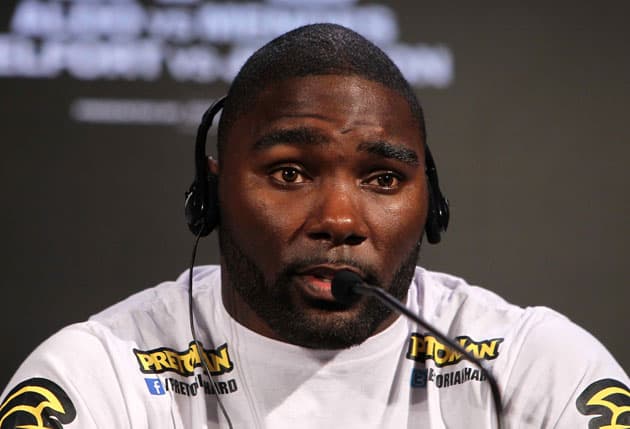 Despite being revered for his career turnaround, and his successes inside of the cage, top UFC light heavyweight and former title challenger Anthony "Rumble" Johnson has had his fair share of problems so to say outside of the cage.
Of course we all remember his weight issues. As a gigantic light heavyweight, it's hard to believe that Johnson ever fought at welterweight, but he indeed used to make the cut down to 170-pounds. However, he began to miss weight too much and was eventually cut by the UFC.
Turning his career around as a vicious light heavyweight, Johnson returned to the world famous Octagon in 2014 looking like a force to be reckoned with inside of the cage. He then ran into more problems outside of the sport, as he was temporarily suspended from September to November in 2014 due to domestic violence accusations. Nothing came of the accusations, but there was an investigation done on "Rumble".
The knockout artist seems to have found himself in some mischief once again, as news broke yesterday that Johnson had gotten into a confrontation with a female inside of the Blackzilian's gym. Matters got worse when "Rumble" took to his official Facebook page, bashing the woman in a nasty post that has garnered quite a bit of attention.
Johnson has since apologized for his actions, taking full responsibility for the situation, but it seems as if the UFC will investigate the situation as well.
The promotion released a statement last night (August 19, 2015) regarding the situation, stating that they have enlisted the help of a third party law firm to investigate the problem (via MMAFighting):
"UFC is aware of the situation involving Anthony Johnson. We take these matters seriously and have commenced a formal investigation by a third-party law firm. We will act accordingly once we gather more information."
Do you expect any punishment for "Rumble" Johnson to come out the UFC's investigation?
If you enjoyed this story, please share it on social media!