The Seven Most Undeserving Title Challengers in UFC History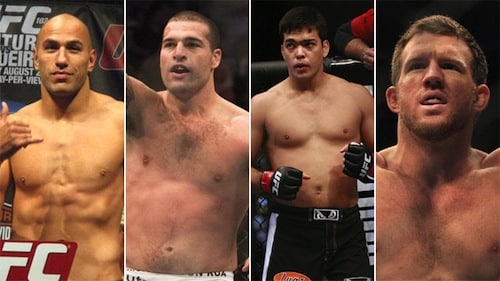 (Who wants to be #8?? / Image via Sportsnet.ca)
By Ben Goldstein
In case you haven't been paying attention — or simply refuse to believe it — the next UFC light-heavyweight title contender will be selected from a crop of four guys who have previously been destroyed by current champion Jon Jones. And I mean destroyed. Obviously, the lucky challenger could wind up taking on Dan Henderson instead, but we're still talking about a quartet of fighters who have already proven that they're somewhat less than belt-worthy.
Does the weak contender pool at light-heavyweight represent a low-water mark for UFC title challengers? Hardly. Even if the shot goes to Brandon Vera — a guy who has gone 1-2 with one no-contest in his last four fights — he'd be coming in with a win over a legend like Shogun, which is nothing to sneeze at. So let's put all this criticism into perspective, and take a look at seven guys who really didn't deserve a UFC title fight when one was handed to them…
TANK ABBOTT
Fought Maurice Smith for the heavyweight title @ UFC 15, 10/17/97

In Tank's defense, he was coming in on short-notice as an injury replacement for Dan Severn — but still, you'd think the UFC could hustle up a more legitimate challenger for their heavyweight belt. After all, we're not talking about the Tank Abbott of 1995 who was knocking dudes out then mocking their seizures. We're talking about the Tank Abbott of 1997 who had already been exposed as hopelessly one-dimensional, and had lost his last two fights against Vitor Belfort and Don Frye. Coincidentally, Belfort was on the UFC 15 card as well, in a heavyweight title eliminator against Randy Couture — and if either of those guys were drafted for the main event in Tank's place, we might not have been subjected to the sad sight of Abbott stumbling around and wheezing after eight minutes of battle, too exhausted to defend leg kicks.
JOHN LOBER
Fought Frank Shamrock for the light-heavyweight title @ UFC Ultimate Brazil 1, 10/16/98

In 1997, light-heavyweight rookie John Lober won an upset split-decision against Frank Shamrock at a Super Brawl match in Hawaii. Later that year, Shamrock made his way to the UFC and became the promotion's first 205-pound champion. After Shamrock defended his belt twice, the UFC decided to sign Lober for a rivalry match against Shammy at UFC Brazil. There was just one small problem — Lober had gone 0-5-1 since meeting Shamrock the first time, and it was pretty obvious that he was getting the title shot based on a storyline, not on his recent accomplishments. Frank pounded the shit out of his old buddy, making Lober tap to strikes, and proving that Lober's win over Shamrock was probably a fluke in the first place.
ANDRE PEDERNEIRAS
Fought Pat Miletich for the welterweight title @ UFC 21, 7/16/99

Of all the UFC's early champions, Pat Miletich might have the least impressive resume. From Jorge Patino (who came into his title fight against Miletich riding two consecutive losses against Pele Landi-Jons) to John Alessio (who was plucked out of utter obscurity to get his ass kicked by the Croatian Sensation), Miletich's list of title challengers was a who's-who of "who's that?" But Andre Pederneiras has to take the cake, simply based on his MMA record, which was just 1-0 when he fought for the UFC's 170-pound title. (And you thought Brock Lesnar got fast-tracked.)
Sure, the Nova Uniao co-founder was a masterful jiu-jitsu black belt under Carlson Gracie, and his first fight was pretty damn impressive, but in retrospect, even one tune-up match in the UFC would have legitimized "Dede" and prepared him for the UFC's level of competition. Miletich was simply too experienced in the realm of MMA, and punched a fight-ending cut over Pederneiras's eye during the second round of their bout. Pederneiras never fought in the UFC again, and closed out his MMA career with a pair of draws against Caol Uno and Genki Sudo in Japan.
ELVIS SINOSIC
Fought Tito Ortiz for the light-heavyweight title @ UFC 32, 6/29/01

Sinosic's freakish upset of Jeremy Horn in his Octagon debut at UFC 30 launched the Australian journeyman into the spotlight. (It also bumped his MMA record above .500 for the last time in his career.) In retrospect, the UFC probably should have continued developing Elvis against other up-and-coming prospects, instead of tossing him directly into the frying pan with a title fight against superstar champion Tito Ortiz. He wasn't ready for it — and the remainder of his UFC career proved just how not-ready he really was. Sinosic was TKO'd in the first round, courtesy of the Huntington Beach Bad Boy's trademark ground-and-pound. On the bright side, he got to meet Carmen Electra.