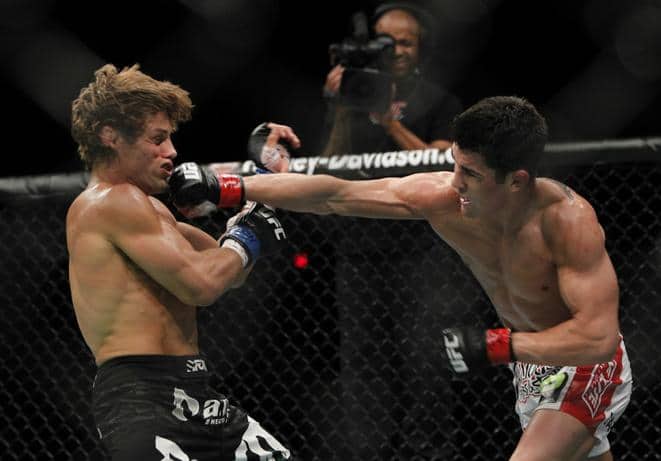 A decade of trash talk, and three fights later, and Dominick Cruz and Urijah Faber still possess one of the deepest rivalries in the history of mixed martial arts (MMA).
Cruz attempted to close the door on the ageing bad blood in the co-main event of last night's (June 4, 2016) UFC 199 from The Forum, scoring a decisive decision victory over "The California Kid" in the rubber match, extending his lead in the series to 2-1.
I say 'attempted', however, because although he settled the score, the rivalry proved to live on at the post-fight press conference, as the two got caught up in yet another verbal battle.
This time, it seemed to stir up after Faber mentioned rising talent Cody Garbrandt, a teammate of his and a potential future title challenger.
When "No Love" was brought up, "The Dominator" claimed to be unsure as to who he was, taking the opportunity to blast Faber for collecting a percentage off of his teammates as Cruz has accused him of:
"I mean, I've heard that name before," Cruz said. "But, I think that's somebody that Faber manages and collects a percentage off of when he fights. So, I think that would make sense for him to mention him. But, I saw him and just thought he was one of the new kids on the block. I don't know who he is."
Faber was quick to point out that Cruz and Garbrandt had previously engaged in a twitter war, and warned the champion that "No Love" was on the rise.
In the end, the two were asked if the rivalry would ever end, and although "The California Kid" said that 'Dom is ok', he admitted that the bad blood could live on forever:
"Yeah, I don't mind," Faber said. "It's been an interesting relationship throughout the years. We've been locked in PR arrangements where we've had to work as a team. We've had to share the disappointments of injuries and missed opportunities. There's been a lot of getting to know each other. I feel like he's grown up a lot since the original days of me thinking he was just a punk. I think he's grown up a lot and has gotten better as a fighter, as well. The truth is, though, our team is full of killers. So, there's always going to be that rivalry there. I feel like we've made up at points for, like, a day, and then it just goes right back to some negativity. Who knows what's going to happen in the future. But Dom is ok."

Have you enjoyed the long lasting feud between two of California's finest?