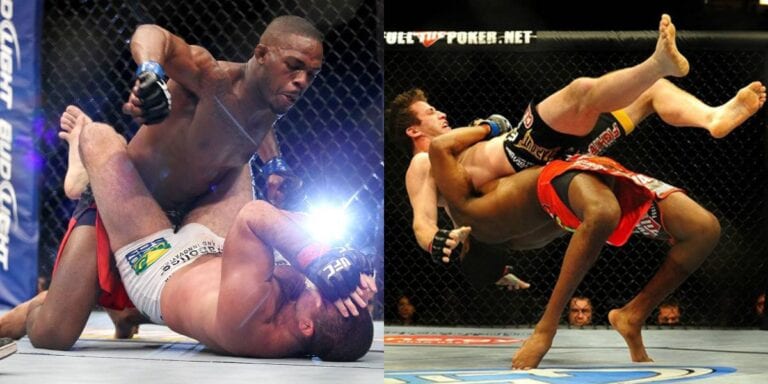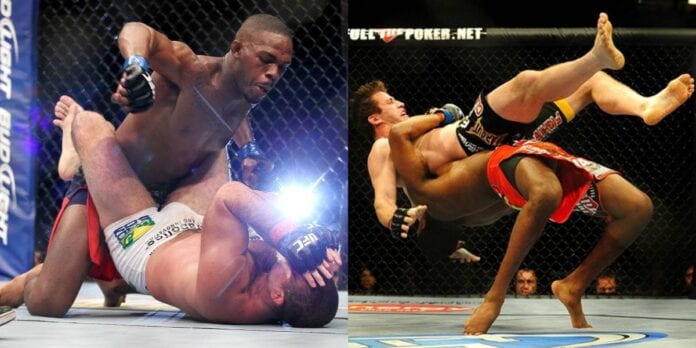 The return of Jon Jones is nearly upon us.
As the pound-for-pound best mixed martial artist in the game today, Jones possesses an uncanny ability to make fans wants to witness his excellence. Except for past run ins with the law and personal decisions that many of us would deem irresponsible acts of immaturity, the former light heavyweight king has forged undeniable greatness over the past five years.
On the heels of his Octagon comeback this weekend against a dangerously underrated and super athletic Ovince Saint Preux at UFC 197, we take a look back at the times that have made Jones the legendary mixed martial arts (MMA) character that he is today.
Here are the nine most memorable, remarkable, illustrious moments in the career of the 28-year-old phenom from Rochester, New York.

9) Bewildering a mentor
Jones may not have gotten his start in MMA from Rashad Evans, but he certainly learned a lot from him.
As two light heavyweight members of Greg Jackson's team out in New Mexico, "Bones" and "Suga" grew close in the early going. But as Jones began to evolve past Evans' capabilities, the mentor was fazed out and fled to sunny Florida.
When the two 205-pound dynamos finally met at UFC 145, it was Jones who took Evans to school, defeating him via a vastly one-sided unanimous decision.
8) Unhinging the undefeated
There's no denying that Daniel Cormier is Jones' greatest rival to date. That's why there impending rematch is such a highly-sought after event in MMA history.
But forget about a reboot. The two first waged war at UFC UFC 182 back in 2015. Despite carrying an undefeated record and legendary wrestling pedigree with him to the cage, "DC" was unable to ward off the athletic advancements and late-fight pressure by Jones, which ultimately spelled the Olympians' first professional MMA loss.
It was one of Jones' most gutsy performances of his career, and a victory that solidified his capability of beating any discipline that's thrown his way.
7) Choking out a dragon
When Lyoto Machida was in his prime, few fighters were able to even touch the Brazilian.
So when Jones withstood early pressure from "The Dragon" in their UFC 140 matchup en route to putting Machida to sleep on his feet, the MMA world was in absolute shock and awe. It was the first time Machida had ever looked completely helpless inside of the Octagon, and the last time he ever fought for light heavyweight gold.
The finish remains the most memorable in Jones' book of legendary performances.

6) The Toe
Remember when Jones was forced to sit on a stool after his fight opposite Chael Sonnen at UFC 159?
He broke is toe in the middle of the first round and nearly lost it with every movement he made. For those of you who are man enough to take in the real image, click here.
The fact that Jones fought through the injury and finished Sonnen moments before the first round ended is an absolute savage moment in his career. If he hadn't pulled out the TKO victory, doctor's may have deemed him incapable of continuing leading into the second, which would have awarded Sonnen the belt.

5) The Suplex
There aren't too many situations in MMA when the action crosses over to that of a WWE hardcore match.
But when Jones took TUF veteran Stephan Bonnar off his feet and threw him across the Octagon with the most devastating suplex we've ever seen in the UFC, it marked one of the only times when fight fans thought they were watching a Vince McMahon production.
The fact that this memorable performance came just one year into his professional MMA career goes to show you how natural Jones' ability truly is.
4) The Brawl
No words are needed to explain the video above.
With one of the most volatile relationships in MMA today, Jones and Cormier couldn't stomach their bad blood for one second longer during a press conference leading into their UFC 182 showdown.
The ensuing brawl in no way, shape, or form encapsulates either fighter's ability inside of the cage or ever-lasting legacy in this sport, but it's certainly one of their most iconic moments.

3) Greats don't tap
For the most part, Jones has been an untouchable light heavyweight monster throughout his promotional tenure.
But if there was ever one moment when he was inches away from losing the first fight of his career (outside of his disqualification opposite Matt Hamill), it was when legendary Brazilian fighter Vitor Belfort nearly snapped Jones' elbow in half with a nasty arm bar attempt at UFC 152.
It was a fight that shouldn't have happened in the first place, seeing as Belfort failed a pre-fight drug test and the UFC still allowed him to compete, but it was the first moment that Jones successfully fought through near-detrimental adversity.
He would go on to defeat "The Phenom" by fourth-round submission (americana).
2) Capturing history
When Jones defeated light heavyweight champion Mauricio "Shogun" Rua at UFC 128, he became the youngest champion in UFC history.
Jones battered, bruised, and bewildered the MMA legend to the tune of a third-round TKO victory. He capped off the finish with what now is remembered as an iconic knee to Rua's face.
It remains one of Jones' most complete performances to date, and one that sparked an unfiltered UFC reign of terror over the following five years.
1) Defeating "The Mauler"
For intents and purposes, Jones' battle with Alexander Gustafsson at UFC 165 is the greatest title fight of all time.
Some may point fingers at either one of Robbie Lawler's last championship defenses, but they don't add up to the legendary clash that "Bones" and "The Mauler" enacted back in 2013.
In a collision that saw Jones fight someone his size for the first time in his UFC career, he struggled to find his range and usual offensive fluidity for the majority of the bout. But in the eyes of defeat and relinquishing his light heavyweight title, Jones dug deep, nearly scalped Gustafsson with a spinning back fist along the way, and closed out the performance by wobbling the Swede for almost the entirety of the fifth round before winning by unanimous decision.
There's simply nothing that compares to this fight when discussing the memorable moments and accomplishments of Jones' storied career. It takes the cake in every way.