The Six Best Kimbo Slice Moments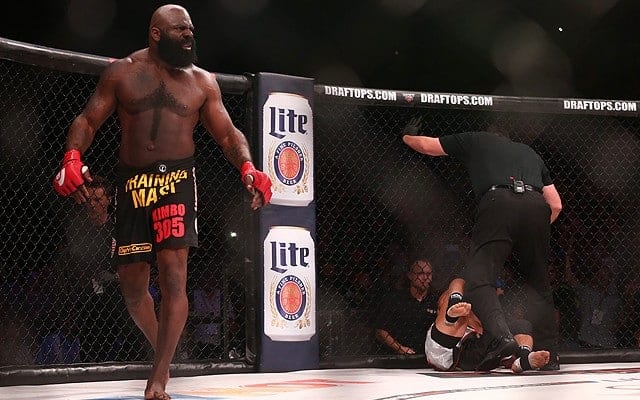 Kevin Ferguson, you will be missed.
Earlier this week the news broke that the man known as "Kimbo Slice" had passed away due to heart failure. The MMA community mourned his passing. Despite his look and reputation as a hard man built to do hard things, Slice was universally liked and respected by anyone who came into personal contact with him. From journalists to coaches to fans, anyone who talked to Kimbo Slice came away saying the same thing: he was a genuinely warm, funny guy.
Slice was responsible for some of the greatest ratings in the history of the sport. His combination of easy charisma, distinct appearance, and appeal to non-fight fans made him a audience magnet whenever he was in front of a camera.
While he would never be confused for an elite mixed martial artist, he had an undeniable place in the sport nonetheless. His ability to draw brought people to MMA who otherwise wouldn't tune in, and his ratings boon allowed promoters to get other talented fighters over with fans. Love him or hate him, he was an asset to the sport in a way few others could match.
As we reflect on the life and accomplishments of Kevin Ferguson, let us look back at the greatest moments of his alter ego, Kimbo Slice.

1. Punching a Dude's Eye Out
It makes sense to start at the place that "Kimbo Slice" was born.
Ferguson rocketed to internet fame on the back of his unsanctioned brawls with other local tough guys from his hometown of Miami, Florida. He fought people in backyards. He punched dudes in boatyards. Slice even beat up two guys back to back.
But the name "Kimbo Slice" originated organically because in one fight, his adversary left with a cut up and grotesquely swollen eye.
Although he lost at least one of his underground slugfests (to former police officer/UFC washout Sean Gannon), the battles he waged on the internet buoyed the stardom that he would parlay into a lucrative MMA career. Others rode the rising tide of his fame to heights they would not have achieved otherwise. And it was all due to the "Slice".

2. EliteXC Knockouts
Kimbo Slice began his professional MMA career in the now-defunct EliteXC organization, and was a massive boon for the company.
One of the first promotions with a network television deal, Slice's fights drew huge ratings to broadcast partner CBS. His first three bouts with the company all ended with Slice's hand raised via KO or TKO, boosting his profile and that of the company.
First, he forced journeyman Bo Cantrell to submit to punches in under 20 seconds in his professional debut. With fights against legitimate competition under his belt (including Roy Nelson, James Irvin, and Paul Buentello), Cantrell helped to legitimize Kimbo Slice as a bonafide MMA fighter.
His second fight came against fellow former brawler David "Tank" Abbott. The potbellied and bearded slugger had risen to prominence in the early UFC's and was seen as a good stylistic match for Slice. Ferguson passed this test as well, knocking out Abbott in under a minute and leaving him face-planted on the canvas.
Slice's third bout under the EliteXC banner was not without controversy, but ended with a similar result. In the third round of his fight with (slightly more legitimate) heavyweight journeyman James Thompson, Slice landed a punch that exploded Thompson's ear. The referee was forced to intervene on his behalf, leaving Slice victorious and his unblemished record intact.
Despite this early success, it would all come crashing down, for EliteXC at least. Kimbo Slice's ill-fated final fight with the promotion saw him take on late replacement Seth Petruzelli. Slice was knocked out in 14 seconds. EliteXC closed up shop for good soon after.

3. "The Ultimate Fighter" Season 10
With EliteXC folded up, there was room for the UFC to move in to acquire the services of one Kimbo Slice. He had proven he could give ratings a major boost, and marketable stars are always in short supply in the fight game. With the taping of an all-heavyweight season of "The Ultimate Fighter", a marriage of the two made all the sense in the world.
Unfortunately, in a horrible blunder by the showrunners, Slice was paired with former IFL champion and BJJ black belt Roy Nelson for his first fight. They met in the third episode, and Nelson embarrassed the relatively unschooled Ferguson. ""Big Country" quickly nabbed a takedown, moved to a topside crucifix, and tapped his way to a first round TKO victory with a million tiny arm punches.
Still, Kimbo Slice's presence was felt. Despite being in its tenth season and being viewed as a bit of a failure, Slice helped generate huge ratings for the show. His season still holds the record for viewership by a comfortable margin.

4. Winning Official UFC Debut
Despite the protestations of Dana White prior to the show that Kimbo Slice would have to "earn his way" into the UFC, Slice was granted an official UFC bout at the TUF 10 finale.
Facing fellow knockout artist Houston Alexander, the bout was expected to be a short-lived fireworks display. Instead, what transpired was a bizarre match that saw Alexander extremely hesitant to engage. He perpetually circled on the outside as Slice tried to walk him down, but "The Assassin" was in no hurry to end up on the Miami brawler's highlight reel.
Much to the chagrin of the audience, the fight went the full 15 minutes. But when the scorecards were read, it was Slice with his hand raised, victorious by unanimous decision. So despite everything else his detractors want to say, Kimbo Slice had a legitimate UFC victory under his belt.

5. Drawing Frequent Comparisons in Rap
For evidence that Kimbo Slice transcended MMA and fighting in general, look no further than how often he was shouted out in hip hop. From Gucci Mane to Snoop Dogg to Wiz Khalifa to Rick Ross, rappers loved to invoke Slice's name.
Was it because he was hard and tough and could crack? Maybe.
Was it because he built himself up from nothing to become extremely famous and successful. Could be.
Was it because his name was insanely fun to rhyme? That's where my money is.
Whatever the reason, MCs couldn't incorporate enough Kimbo Slice into their bars. My personal favorite came in 2009 from Dorrough on "Ice Cream Paint Job":
"Rearview mirror, jumbo dice, trunk hit hard like Kimbo Slice."

Lyrical genius.

6. Coming Back to KO Ken Shamrock
After his win over Houston Alexander, Kimbo Slice had one more fight in the UFC, this time against fellow TUF 10 alumnus Matt Mitrione. Slice's sophomore effort did not go well. His lack of cardio and a non-existent ground game ultimately doomed him, as he was mounted and TKO'ed in the second frame.
After washing out of the UFC, Slice embarked on a semi-serious professional boxing career, going 7-0.
When he finally returned to MMA, he did so under the newly-Scott Coker-led Bellator MMA banner. Admittedly, I wrote about this not being the best long-term strategy for Bellator, but it was undeniably lucrative for Slice.
Slice's first scrap with the #2 MMA promoter was against Ken Shamrock. Ironically, the UFC legend was the man Slice was supposed to fight at EliteXC "Heat" when he was unceremoniously KO'ed by Seth Petruzelli.
After getting his back taken by the former world class grappler, things looked grim for Slice. But he somehow escaped back to a standing position and promptly knocked Shamrock silly. The victory marked his first MMA win in five and a half years.
Slice was an incredible asset to the sport of MMA, even when what unfolded in the cage was wacky or downright ugly. He advanced the popularity of the sport, helping make "MMA fighter" a financially viable career path for many others after him. And he did so while being a generous, fan-friendly guy. He will be sorely missed.
What is your most enduring memory of Kimbo Slice?