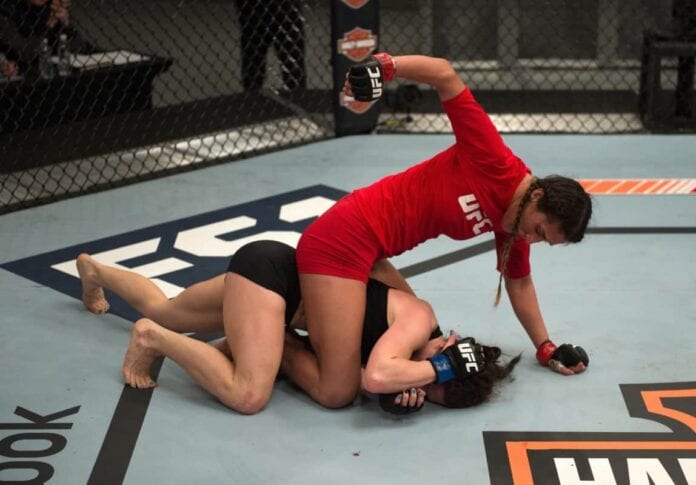 In the strawweight finale of The Ultimate Fighter season 23, Tatiana Suarez took on Amanda Bobby Cooper, and took care of business.
The much bigger Suarez exchanged a few leg kicks with Cooper to begin the fight, but soon after dropped for a takedown. The Millenia MMA rep easily gained top control.
Cooper immediately threatened with an armbar, but Suarez extricates herself. Suarez goes to work from top position, but as she postures up to rain down blows, Cooper pushes off and sweeps into top position. Cooper briefly maintains a top half guard position, but Suarez gradually moves back to her feet and dug in for a takedown of her own.
Suarez postures up and tries to pass the guard of Cooper, pushing her legs to the side. Cooper does a good job of keeping her from passing, but Suarez drops down and laces her arms for a D'Arce choke. Suarez elicits the tap at 3:43 of the very first round.
And with that, Tatiana Suarez becomes the TUF 23 strawweight champion, earning herself a coveted six-figure UFC contract.
Final Result: Tatiana Suarez def. Amanda Cooper via 1st Round D'Arce Choke